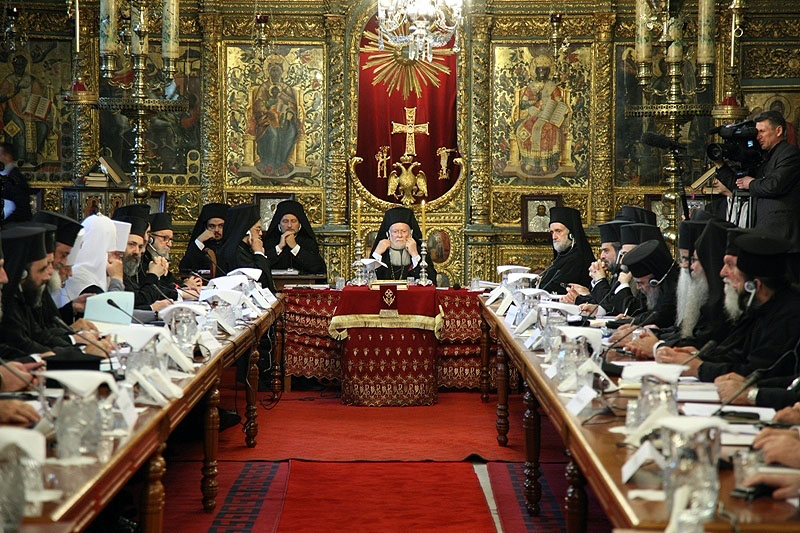 What do we mean when we say that Orthodoxy is the same everywhere?
One of the "features" of Orthodoxy that is commonly put forward especially by converts as proof of the truth of the Orthodox Christian faith is that Orthodoxy is the same everywhere. They may point to the unanimity of liturgical practice, that all Orthodox look to the same councils and patristic sources for exegesis of the Scriptures and theological thought, or that you can hear very similar sermons or at least similar homiletic themes on any given Sunday throughout the Orthodox world.
But are all those things really the same? One might get the impression from some Orthodox Christians that they really are. And one might also get the impression from some critics of Orthodoxy that those who say such things are fooling themselves, that there are major divisions in Orthodoxy that belie her supposed unanimity.
Since this coming Sunday is the Sunday of the Triumph of Orthodoxy, which has not only the theme one will hear preached about in most Orthodox churches—the restoration of the icons, which happened historically in AD 843—but also has the theme of the unity of the Orthodox faith (witnessed to by the anathemas against heresy that are sung in some Orthodox churches), I thought it might be useful to reflect here on what the unity of the Orthodox faith really means, at least from my own perspective and experience.
When I first encountered Orthodoxy, I very much believed that Orthodoxy truly was the same everywhere—same liturgy, same theology, same doctrine, same dogma. And in my limited experience, it pretty much was indeed the same. Everyone seemed to be celebrating the same liturgical services (allowing for differences in language and musical style). Everyone talked about salvation as theosis. Everyone said that the Ecumenical Patriarch was "first among equals," that no bishop was truly higher than any other. Everyone fasted the same way and was serious about fasting to the same degree.
But after I spent a few years in the Orthodox Church, I learned that things like fasting customs actually have some variety to them, and that not everyone was serious even about the tradition that was their own. I even encountered a very large parish where very few people fasted at all, such that those who did were actually referred to by an odd adjectival phrase—they were said to be "on Lent." I guess most folks were "off" it.
When I went to seminary, my exposure to the variety of Orthodox practice increased significantly. It was there that I learned I was something called "Antiochian," a term which had been in parentheses on the sign outside my home parish but didn't really mean much to us overall. I also learned there that Antiochians (and Greeks, who were off somewhere in the wings, apparently, despite being more numerous than all other Orthodox in America put together) did certain things "wrong," that we were "liberal," etc. (These things were not taught by professors in class, mind you.)
I also eventually learned that there was something called the "Western Rite," an entirely different liturgical tradition which differs from just about everything else in Orthodoxy. I've subsequently learned that there are folks who hold it up as a major force in Orthodoxy (although it is a very, very tiny number of parishes, really), and there are also folks who think it is a major problem. (I think it's neither. I have great respect for my Western Rite Orthodox brothers and sisters, few though they be.)
Further, I learned that the current near-unanimity of liturgical practice in Orthodoxy was not the rule for more than a millennium of Church history. We all largely now live in an age in which the liturgical traditions of Constantinople have mostly replaced the native liturgical traditions of most of Orthodoxy. The much-lauded "I can go to liturgy anywhere in the world and figure out what part of the service I'm in" is not the experience of most Orthodox Christians in the history of our Church.
Another thing I learned is that there are ecclesiastical controversies in Orthodoxy. One patriarchate puts a bishop on territory claimed by another. One Orthodox delegation walks out of theological dialogue while others do not. Some churches are willing to participate in the World Council of Churches while others are not. Some folks break communion over the calendar and other issues. There are squabbles, fights and outright retaliation. And there's even overt racism and an almost mafia-like atmosphere in certain quarters.
Most converts eventually do learn about all that—they learn there is a certain variety in Orthodox practice. And while certain folks think it's the end of the world when the priest does not hold the Gospel book vertically in front of his face when from reading it (yes, I had someone tell me that that was Holy Tradition and heretical if not practiced), most Orthodox really don't have an issue with that. And when we encounter fights and squabbles and even outright evil, we can chalk it up to there being sinners in the Church, something that doesn't have any direct bearing on the truth of the Orthodox faith. After all, we have the same faith, the same theology, etc.
Right?
Eventually, Orthodox Christians who read more than just saints' lives and their parish bulletin (and perhaps some ecclesiastical tabloids on the Internet) may come to discover that there is also theological variety in Orthodoxy, too.
The first place they may encounter it is in debates about hierarchical primacy or relations with other Christian bodies. Is the Ecumenical Patriarch an "Eastern Pope"? (Is he actually claiming to be?) Are all autocephalous Orthodox churches absolutely independent? What does this mean for ecumenical dialogue with the Roman Catholic Church? Is it permissible to join in prayer with the non-Orthodox? If so, in what ways? Will there ever be a Great and Holy Council (now in the planning since the early 20th century)? If so, how will decisions be made there?
There are some who point to the different answers to these questions given by the Orthodox and see there an ecclesiological crisis with fundamentally distinct and contradictory faiths being preached by different Orthodox Christians. Most Orthodox don't even bother with such questions, of course. But some do. And this variety is a favorite point of attack for critics of Orthodoxy. This variety has even been the occasion for the departure of some ex-Orthodox.
Another place that readers may encounter variety in Orthodox theology, perhaps a much more disturbing place, is in questions of soteriology (theology of salvation) or cosmology (theology of creation). Some can probably write off issues of ecclesiastical primacy and ecumenism as just the squabblings of bishops, that there is nothing really deep at stake in their debates and that it will all eventually work itself out. But when you have different answers to questions like "What happened on the Cross?" or "Is biological evolution compatible with Orthodox Christianity?" the path through the variety can be harder to find.
And the weeds and brambles get even harder to navigate when one begins reading up on questions like the Sophiology of Bulgakov, the personalism of Zizioulas or the Neo-Palamism of Lossky. And what exactly does "Neo-Patristic Synthesis" mean? There is no single, unanimous consensus to be found here, not even for the astute reader who has the needed philosophical, historical and theological background to make sense of these writers.
So what are we to do?
The point of this post is not to provide a sort of "answer key" to all these questions, if only because I don't even know what I think about some of them yet. But I believe some guidance here from Fr. Georges Florovsky is apt. Here's a brief passage from a translation by Fr. Matthew Baker which we published here in November:
Unity in faith, of course, does not require uniformity in theology. A certain freedom in theological interpretation remains, but under the condition of the living and organic conjugation of those things which are interpreted. Of course, we must strictly distinguish between levels: dogma, doctrine, theology. The distinction is not so easy to hold, in fact, for all levels are related to each other in the unity of ecclesial consciousness. In any case, in the dogmatic realm, there can be no room for pluralism.
It's hard to break down exactly what Florovsky means here (this is part of a larger passage on whether the "Unia" is an appropriate means to Orthodox unity with Rome). But here at least is how I understand the distinctions he's making and how I think they can apply to the issue of what a faithful son of the Orthodox Church is to do when he encounters what at least look like major fractures in the unity of the Orthodox faith.
Note first that Florovsky does not simply appeal to a kind of empirical ecclesial unity. The solution to this problem is not simply to say, "Well, we all belong to the same one Orthodox Church, and that's what really matters." There is a certain incomplete truth to that, of course, but that's not enough and should not be enough for any Orthodox Christian, because theology really does matter, and it matters enough that merely having membership in the same organization is not the solution. And, if I may say so, such a solution is really a kind of crypto-papal solution, in which catholicity and therefore ecclesial identity is ultimately defined by submission to the Pope of Rome, which is why even major departures from Catholic teaching such as Liberation Theology or from liturgical decorum such as the "clown mass" can be tolerated. Except here we Orthodox would just put our identity in the body as a whole and not in reference to one man. "I don't believe in organized religion; I'm Orthodox" becomes more than a joke about the messiness of ecclesiastical polity. It devolves into a claim that I belong to a church that doesn't know what it believes.
Instead of an appeal to mere institutional membership, Florovsky makes the point that there is no room for pluralism in dogma. And that really is where the unity of the Orthodox faith lies. There is no room for pluralism in the content of the Creed. We have Ecumenical Councils that have ruled decisively on dogmatic issues, and they are really where we find that unchanging unity. The content of that dogmatic unity is not difficult to point to and not the subject of debate in Orthodoxy.
Historically, Orthodoxy actually does not merely point to a "consensus of the Fathers" (which is actually a Reformed idea, by the way), if only because that leaves a lot of room for ambiguity as to who has properly identified that consensus. Yes, there is a remarkable similarity between the Fathers on many questions, but not on everything. Does the human person have two parts or three? What about the soul? Is theosis the primary model for soteriology or an atonement theology? Is apokatastasis (universalism) true or not? What exactly is the content of Holy Tradition? (One can even get more abstruse here: What do "economy" and "strictness" mean in interpreting and applying the canons? Does the wine in the chalice change to the Blood of Christ when the Presanctified gifts are placed in it? Those are theological issues, too.)
Florovsky does not here define exactly what the differences are between dogma, doctrine and theology, and he notes of course that such a distinction is "not so easy to hold, in fact, for all levels are related to each other in the unity of ecclesial consciousness." That said, I'd like to attempt a brief set of definitions here as I might understand them and as I have attempted to explain them in educational settings:
Dogma: The unchanging, non-negotiable core elements of the Orthodox Christian faith. Dogma is defined mainly by Ecumenical Councils.
Doctrine: The ways in which dogma is explained to those who are learning it, especially catechumens and in the process of exegeting Scripture. This changes over the centuries, especially as new dogmatic definitions (though not new dogmas) are promulgated through the conciliar process, and also as influenced by the reflections of theology. This is more variable than dogma but less variable than theology, since it tends to get codified for teaching purposes.
Theology: Expansive, creative reflections and applications of dogma and doctrine. Here there is more room for speculation and elaboration. There may be multiple models in theology for interpreting and understanding dogmatic definitions and what is in Scripture. Such models may all be true in their way and yet not be compatible or reconcilable with each other.
That, at least, is how I understand what Florovsky is saying. Here is one brief example of how this might work out with one dogma of the Orthodox faith:
Dogma: Jesus Christ is fully both God and man. (This is non-negotiable and pretty simple.)
Doctrine: We refer to this as the "Incarnation," which literally means "enfleshment," an emphasis on how divinity has become truly united with humanity in the person of Jesus Christ. (Note here the emphasis is actually on how God became human, not on a precise insistence on the fullness of both natures. The emphasis on calling this the "Incarnation" and describing what that means is for teaching the dogma, not because the humanity is more important than the divinity.)
Theology: Because of the Incarnation, we engage God sacramentally and physically. We adorn our churches with icons, ordain clergy, venerate relics, etc. We believe that salvation consists in theosis, which joins the human person to God through the Incarnation. (None of this is controversial in Orthodoxy, but the model of using the Incarnation to link all these things together and especially as the basis for theosis is not itself dogma. One might alternatively give a theology of the goodness of creation and approach the question cosmologically rather than soteriologically.)
With this set of distinctions in mind, it seems fairly clear to me that almost every controversy in Orthodoxy today is really on the theological level, not the dogmatic. Theological reflections sometimes really do contradict each other, but not usually because they contradict dogma. Or if they do contradict dogma, the problem is that the theology has not been sufficiently criticized and refined in order to make it consistent with dogma.
Of course, theology and doctrine are, as Florovsky notes, related to dogma and sometimes are part of the process of introducing new dogmatic definitions. But those definitions are themselves in some sense (though not every sense) on the level of doctrine, as they are attempts to put into human language what has always been believed by the Church but perhaps not yet articulated in such a way as to address whatever questions the controversy at hand raises. So while there are new dogmatic definitions, there really are no new dogmas. Dogma is what the Church has always believed, while dogmatic definitions happen in history for specific historical reasons.
At least intellectually speaking, one of the most difficult things that I have learned in the process of trying to become more fully Orthodox in every way is that there is not a single way of describing nor reflecting on the central truths of the Orthodox faith. This means that what is dogma, what is really non-negotiable, is actually only a subset of everything that I think of as "Orthodoxy."
Now, that doesn't mean that the doctrinal and theological realms are free-for-alls. They're not. There's a reason why theologians criticize each other and don't just say, "Oh, well, that's just theology, so everyone's opinion is fine." But the boundaries there are not quite so clear as they are for dogma. And there really is a lot of freedom.
In my experience, that freedom is something that gets mentioned a good bit in talk about Orthodoxy, but is often left to the side much of the time when someone says "Orthodoxy teaches…" or "The Fathers say…" as though there really is only one answer on absolutely everything. (And, it must also be admitted, as though the speaker really has read the Fathers.)
My parish recently has been studying the whole of the Gospel of Luke in our adult education class, and our primary guide to this study has been the commentary of St. Theophylact of Ohrid. His work is largely a summary of the exegesis of St. John Chrysostom, but he often includes ideas other than Chrysostom's, usually introduced by "Some also say…"
Sometimes, those ideas don't always perfectly align with what he has presented from Chrysostom. But I don't find that to be a problem. There is a delightful variety there that explains the text in numerous ways, and one model brings out one truth that another model by its character cannot.
I rejoice in the variety of Orthodox theology. It is one of the reasons why I see no problem with remaining Orthodox for my whole life. Even if I ever exhaust reading the Fathers (which is unlikely), there will nevertheless always be some new insight, new "a-ha" moment, new reflection on the timeless, unchanging truth of the Orthodox faith.
Firmly anchored in the truth of Orthodoxy, I'm looking forward to what comes next.