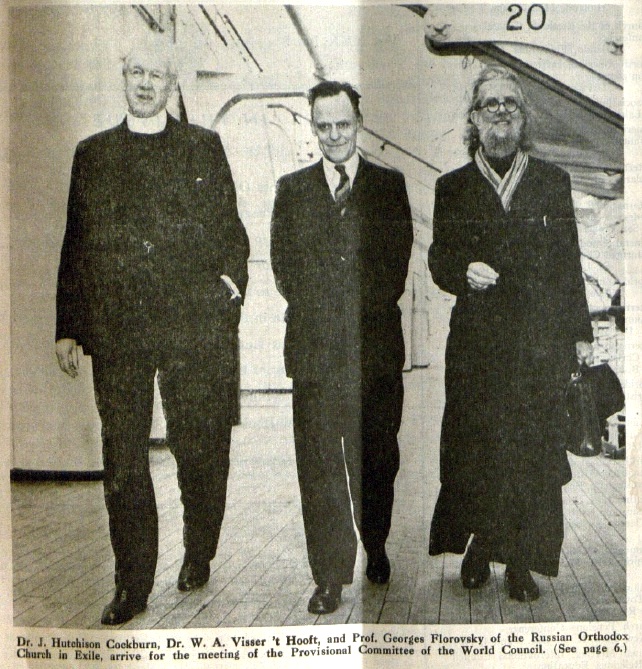 A short piece on the ecumenism of Fr. Georges Florovsky has been written by Florovsky scholars Fr. Matthew Baker and Seraphim Danckaert and published in Orthodox Handbook on Ecumenism: Resources for Theological Education. It's brief but fascinating it its detail. Here are a few highlights:
Georges Florovsky (1893-1979) was the leading architect of Orthodox ecumenism in the 20th century. He combined magnanimity towards non-Orthodox with staunch adherence to patristic Orthodoxy, exhibiting the courage to challenge any interlocutor, whether Orthodox hierarch or WCC secretary general. Florovsky maintained lasting ecumenical commitments, but warned against any ecumenical endeavor that would settle for doctrinal minimalism or privilege common action over theological confrontation.
In Florovsky's account, the main ecumenical problem is the "paradox" of schism. The Church is one — the Christian world lies in division. Faith in Jesus as God and Savior creates a real ontological bond. Yet the divisions are no less ontological — marking separations, not only in love and creed, but the very experience of faith. In the phrase "separated brethren," the adjective weighs as heavily as the noun. True ecumenism demands a "theology of the abnormal."
While Florovsky pushed the ecumenical conversation towards ecclesiology, he underscores nonetheless that existing divisions concern the whole of faith, involving doctrines of God, Christ, Mary, man and — not least — the understanding of history implied in these. Florovsky observes a certain "hyper-historicism" in Roman Christological consciousness — as if the Ascension marked Christ's exit from history, leaving his deputy behind to govern.

In Protestantism, conversely, Florovsky detects a "hyper-eschatological" reduction of history: human striving is undervalued; sacraments become nearly Old Testament signs; the Church's historic visibility is not fully recognized. The Reformation divorce of "Jerusalem" from "Athens" marks yet another departure. It was in defending Christian metaphysics against the perceived fideism of early dialectical theologians that Florovsky introduced his call for return to the "Christianized Hellenism" of the Fathers of both East and West.

Florovsky regarded the recovery of patristic theology as ecumenically crucial. It is in this light that his 1937 masterwork, Puti Russkogo Bogoslovija — a book meant for Russian readers, which Florovsky intended to revise for translation — must be understood. His sharp critique of Westernizing "pseudomorphosis" was aimed, not at the West per se, but at a Russian theology alienated from its own liturgical sources and unmoored from its roots in patristic theology, as well as a spirit of "servile imitation" that made real ecumenical confrontation impossible. Florovsky's alternative is not isolation, but "free encounter with the West" — conducted on the common recovered ground of patristic and classical conciliar theology, which Orthodoxy claims as her own. It was this vision that accompanied his concepts of "neo-patristic synthesis" and "ecumenism in time" which, he stressed, were closely correlated.

"Ecumenism in time" searches the shared past of apostolic tradition, seeking recovery of a "common mind." Florovsky celebrated the decision of Lund 1952 to retire the confessional method of "comparative theology" in favor of this more historical approach. Florovsky's goal, however, is "ecumenical synthesis," rooted in the Fathers but responsive to questions surrounding present divisions. Such synthesis presumes discrimination: not every belief can be reconciled. Agreement in truth requires conversion, response to a divine gift. The Orthodox uniquely remind all Christians of the faith of the "undivided Church." Culturally speaking, however, the East too is a
"fragment" and must also enlarge its theological vision, avoiding exaggerating local particularities. Christian unity understood as "universal conversion to Orthodoxy" entails neither submission to the East nor rigid uniformity, but rather "agreement with all the ages" and "mutual acknowledgement in the truth."
Read the full piece.