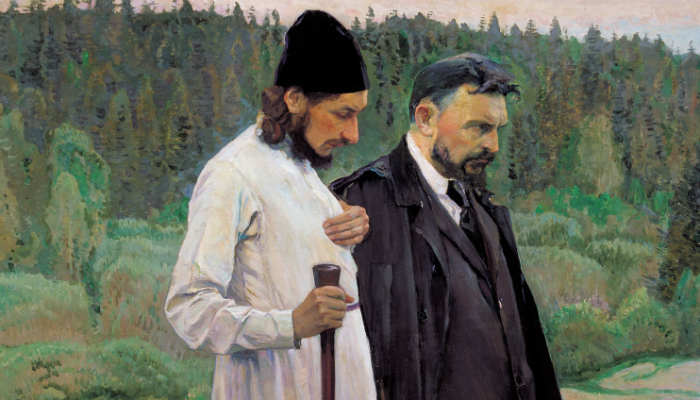 Peter Leithart is a prolific writer, and this typically necessitates that one be a prolific reader, as well. He often shares insights from his current reads over at First Things, and there was an example of this Friday (Dec. 6) where he shared thoughts on Andrew Louth's Introducing Eastern Orthodox Theology (IVP/SPCK 2013).
In this particular entry, Leithart offers brief commentary in response to Louth's apparent advocacy of Sophiology. Sophiology—from the Greek Σοφια or "wisdom"—is a doctrinal distinctive unique to the Russian émigré philosophers and theologians of the early-20th century; e.g. Sergius Bulgakov, Vladimir Solovyov, and Pavel Florensky, to name just a few. Sophiology has been categorized as erroneous doctrine by both the Moscow Patriarchate and the (then) Russian Church Abroad (ROCOR, ca. 1935). St. John Maximovitch of San Francisco, in The Orthodox Veneration of the Mother of God, categorizes this viewpoint as a heresy on par with Nestorianism (p. 40).
Despite this, Leithart implicates both Louth and Orthodoxy as a whole with both Sophiology and "uses of the energies/essence distinction" that Leithart argues "arise from a less than fully Trinitarian theology."
Obviously, these are serious charges. But has Leithart adequately represented both Louth and the Orthodox Church on this issue?
Leithart quotes Louth from pages 44–45 in Introducing Eastern Orthodox Theology, where he is attempting to fairly summarize Bulgakov's viewpoints on the issue, and then responds:
But you can get everything Louth says you get from Sophia without positing Sophia, and the intuition that he claims leads to Sophiology seems to rest on an elementary mistake: God isn't "in opposition to creation" because God is both within and outside, filling and embracing creation simultaneously. The Father holds creation in the "two hands" of His Son and Spirit. Or, to borrow from John Frame: God's transcendence, rightly understood, is not in opposition to His immanence; rather, God is everywhere near precisely because He transcends all created limitations – immanent because transcendent. Why does God need a face other than that of the Son, the image of the Father, to face creation? Why need for anything other than the Spirit's presence and operation to say that creation is "graced"? When [sic] need is there of a metaxu? Why can [sic] the Spirit be the "between"?
Again, if read in context, this is not so much about what Louth himself claims, but a fair assessment of Bulgakov. Why Leithart failed to note this is beyond me. However, I think Louth deserves a fair shake. Just prior to this passage, for example, Louth writes:
Sophiology has experienced something of a revival in the last decade, especially among the movement in modern theology known as 'radical orthodoxy'. It is, nevertheless, still the case that in (authentically) Orthodox circles, sophiology is treated with suspicion, and even those willing to be sympathetic towards Bulgakov often take the line that everything he wants to say using the notion of divine Sophia could be said just as adequately without invoking the notion of Wisdom or Sophia. (Bulgakov's late work, The Orthodox Church, in which he gives an account of Orthodox beliefs without using the notion of Sophia, is cited in support of such an opinion.) —p. 44
In other words, Louth says exactly what Leithart says above, even as Leithart implicates Louth (and Orthodoxy) with Sophiology. Leithart responds "you can get everything Louth says you get from Sophia without positing Sophia," while Louth himself says (of Bulgakov/Sophiology), "everything he wants to say using the notion of divine Sophia could be said just as adequately without invoking the notion of Wisdom or Sophia." In fact, Bulgakov himself has done so in his The Orthodox Church, a detail Leithart fails to mention.
Even before this description of Sophiology, Louth seems clear that he is only attempting to give an adequate account of the doctrine, while not necessarily espousing his own beliefs on the subject:
Sophiology, the doctrine associated with the Russian religious philosophers at the end of the nineteenth and the beginning of the twentieth centuries — especially Vladimir Solov'ev, Pavel Florensky and Sergii Bulgakov — can also be seen as an attempt to articulate a sense of God's presence to, and yet distinction from, the cosmos. For most of those who advocated sophiology, it was bound up with their own experiences — of nature, of human love. —p. 43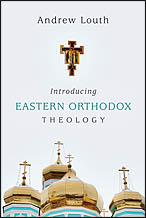 Again, the purpose of Louth's book—adapted from a series of lectures—is to provide a critical and succinct introduction to the theological distinctives of Orthodoxy for those in the modern, theological world. Since Sophiology has had an impact in the last century of Orthodox thought, it is only reasonable that he would dedicate a mere three pages to it in a book that covers so much more.
As an aside, by rejecting the essence/energies distinction (as far as the Church properly understands it), Leithart is forced to conceive of both transcendence and immanence in practically identical terms. This results in not only a misunderstanding of Orthodoxy and many of the Greek fathers, but also a misrepresentation of both Louth and Orthodoxy in his reflections on the present subject. In this case, a failure to embrace paradox leads to an advocacy of something less-than-orthodox with regards to the Holy Trinity.
Returning to Leithart and his comments, then: disagree with Orthodoxy if one wants, but at least do so in a way that represents the actual beliefs of Orthodoxy. Tearing apart exceptions to the rule or examples of contrary thought is not dealing with Orthodoxy itself. When representing the beliefs of others, one should do so both adequately and accurately—context always matters.
I think it's unfortunate that Leithart has misrepresented both Orthodoxy and Louth in his post, and it's something he (or First Things) should consider retracting—if for no other reason, than for the sake of both charity and intellectual honesty.