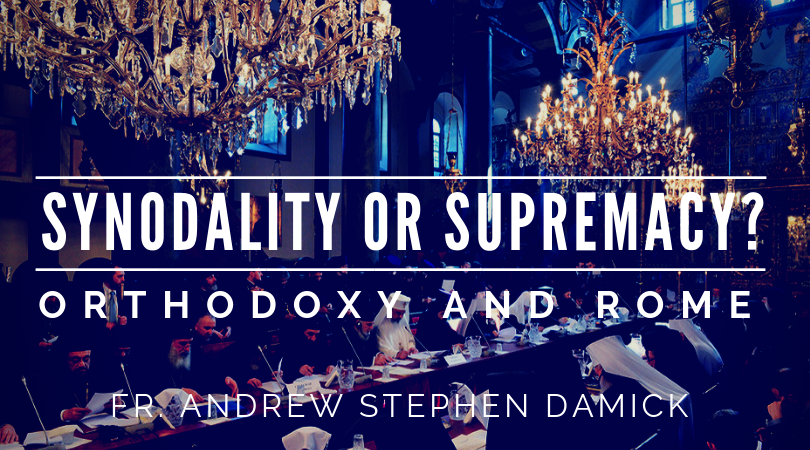 Catholic University professor C. C. Pecknold has a column out today regarding the failure of "synodality" in the modern Roman Catholic Church as practiced under Pope Francis. There is a reference there to Orthodox conciliarity:
Governance within Orthodoxy is built not around the papacy but around "sister churches" gathering together for collaborative, deliberative self-governance in synodal assembly. It is important to understand that "synodality" applies models of governance derived from Eastern Orthodox ecclesiology to the Latin Church, whose fundamental governing structure is Petrine rather than Synodal. As Lumen Gentium 22 clearly states, "the body of bishops has no authority unless it is understood together with the Roman Pontiff, the successor of Peter as its head." So what do you get when you haphazardly tack on Eastern synodality to Western papal primacy? You don't always get the Vatican II collegiality you want. Instead, you might just get the appearance of caprice and conflict in governance currently rocking the East. Synods have been a mixed bag for over fifty years, but the attempt to elevate "synodality" brings with it all the tensions and divisions that we see unfolding within Orthodoxy. It might be that the problem is "synodality for me but not for thee." But it also might just be that synodality doesn't govern the Church well.
I've been working for a while on formulating in my head why the RCC misunderstands what Orthodox conciliarity is actually for, and I think this piece helps me articulate it.
"Synodality" (in English for the Orthodox, it's usually conciliarity) is supposed here as a kind of representative republican replacement for a centralized papal supremacy. But the presumption is still supremacy rather than service to tradition, and the Petrine trump card is always on the table. For the Orthodox, there is no such card.
Once you presume papal supremacy, merely delegating some elements of it to a group of bishops doesn't actually achieve conciliarity. Orthodox conciliarity works because there is no supremacy to be had among men at all, papal or otherwise.
Yes, one sees that this makes for a messy governance at times, but the overall historical result is observable: Fidelity to dogmatic, moral, theological tradition. How is that possible? God makes it possible.
That's no cop-out, either, and it might be hard to believe but for the historical record. There is simply no way that a governance model as messy as the Orthodox one could produce dogmatic fidelity as one sees in history if God were not involved. His strength is made perfect in our (often tragically obvious) weakness.
Models that presume supremacy of whatever type, however, are inherently progressive and innovative, because that is who man is. The question is simply who gets to do the innovating.
Supremacy models in church governance ultimately presume a kind of deism, which is why you need a vicar of Christ. The model presumes that Christ isn't actually trusted to work things out or isn't going to do it. God isn't actually governing, so you need a vicar or a vicariate.
That is why the messiness of Orthodox governance is in this piece used as a warning. Orthodox fidelity to, well, orthodoxy, isn't even mentioned, because it's not understood as part of why conciliarity works over time. Orthodox conciliarity isn't supremacy by a group instead of a man. It's not supremacy at all.
It is true, of course, that international governance in the Orthodox Church is currently in something of a mess, and it is also true that there are challenges to our understanding of how ecclesiology works. So I won't pretend that there aren't major theological issues in play at the moment. But there is no risk of altering our dogmatic or moral tradition, and even if one great Orthodox primate or another should attempt it, such an attempt will simply fall flat. That is what history shows, and even at this moment, there really is little apparent appetite for the kind of innovating language one sees in certain ecclesiological pronouncements.
Make no mistake: The current RC crisis is a crisis precisely of orthodoxy, and because of the RCC's supremacy model for church governance, it's really just a matter of which faction will capture the moment. Theologically, the moment can be captured. Because papal supremacy is a thing and because papal infallibility is a thing, that means that if the papacy can be captured, then dogma itself can be captured.
For the Orthodox, there is no way to make such a capture. Even though we do have people who frustratedly (and loudly) wish otherwise, there is literally no mechanism in place to innovate in dogma, morals, etc., and attempts to put such mechanisms in place never go anywhere.
To be honest, I don't know how Rome can put the supremacy genie back in the bottle. Once that power is arrogated to men, there will always be a contest for who will try to wield it. And even if one pope should say that he's giving it up forever, there is nothing at all to stop his successor from taking it up again.