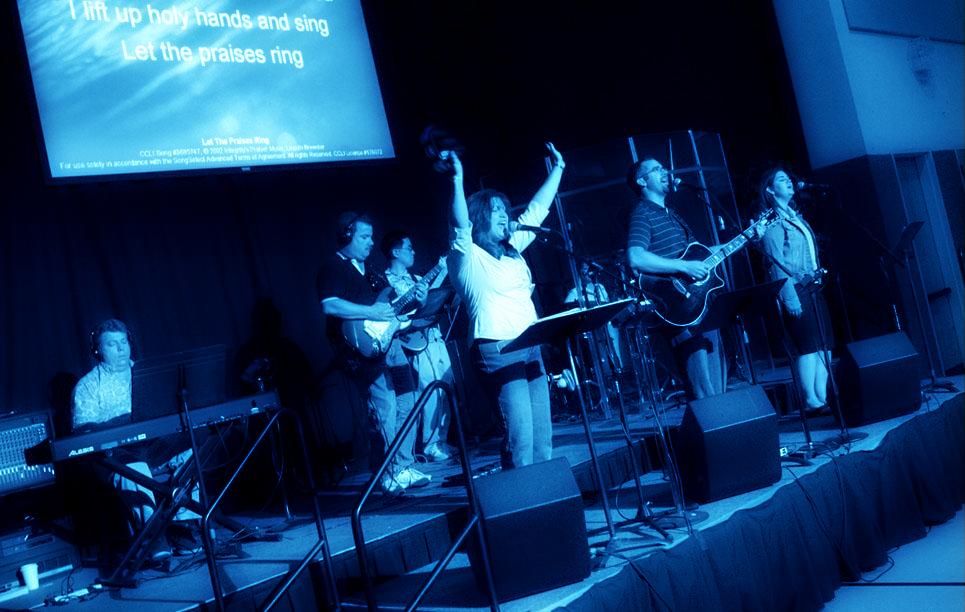 A reader alerted me to best-selling author Donald Miller's Feb. 3 post "I Don't Worship God by Singing. I Connect With Him Elsewhere," and I was immediately struck by both the rightness and the tone of his critique:
I've a confession. I don't connect with God by singing to Him. Not at all.

I know I'm nearly alone in this but it's true. I was finally able to admit this recently when I attended a church service that had, perhaps, the most talented worship team I've ever heard. I loved the music. But I loved it more for the music than the worship. As far as connecting with God goes, I wasn't feeling much of anything.

I used to feel guilty about this but to be honest, I experience an intimacy with God I consider strong and healthy.

It's just that I don't experience that intimacy in a traditional worship service. In fact, I can count on one hand the number of sermons I actually remember. So to be brutally honest, I don't learn much about God hearing a sermon and I don't connect with him by singing songs to him. So, like most men, a traditional church service can be somewhat long and difficult to get through.
It's been nearly two decades since I was one of those men standing somewhat awkwardly at a praise-and-worship style Evangelical Sunday service (hardly what I would now describe as "a traditional worship service," of course)—a session of emotional Christian music followed by a 45-60 minute sermon, which has been cynically described as "a concert followed by a lecture."
Unlike Miller, I was okay listening to the "lecture" (his term), perhaps because I have long been attuned fairly closely to the sound of the spoken word, but, like him, the music left me a bit cold. Also like him, it wasn't that I didn't like that kind of music at the time (I did), but it just didn't seem fitting to me. At one point, after having meditated for a while on John Keats's dictum "Beauty is truth, truth beauty" (which I first encountered around that time), I remember thinking to myself, "I believe what is being preached is true, but I don't see how this [i.e., the whole church service] is beautiful." And the deep identity of truth with beauty had struck me so intensely by that point that my liking of Evangelical contemporary worship music was not enough to convince me that it was truly beautiful.
Miller chalks up his discomfort with Evangelical music and sermons to the different kinds of learning that appeal to varieties of human personality:
There's an entire demographic of people who have to learn by doing, not by hearing. So you can lecture to them all day and they're simply not going to get it.

Research suggest there are three learning styles, auditory (hearing) visual (seeing) and kinesthetic (doing) and I'm a kinesthetic learner. Of course churches have all kinds of ways for you to engage God including many kinesthetic opportunities including mission trips and so forth, but if you want to attend a "service" every Sunday, you best be an auditory learner. There's not much out there for kinesthetic or visual learners.
As an Orthodox Christian who converted from Evangelicalism, this previous paragraph made me jump. I remember thinking almost exactly this same kind of thing, though I didn't think it in Miller's terms. At the time, I just thought, "I want something to do." The idea of "learning styles" didn't really enter into it for me.
Before we get too deeply into what I would love to say to Miller if I could in response to this, I want to say something about "learning styles." It seems to me that, even though Miller is essentially rejecting the modern Evangelical worship mode, he still accepts its basic premise, i.e., that worship is about learning. Now, I have no problem with learning in church, but this is an assumption that I think is worth at least questioning: Is learning what worship is supposed to accomplish?
Miller also suggests that worship is supposed to make him feel intimacy and connection with God, something he gets more by building his company. Church? Not so much. So he doesn't go to church much any more. (And he expands on this in a follow-up post.)
So why bother going to church?
That's a big question that I think is getting asked more and more by the unchurched, ex-churched, de-churched, the post-Evangelical, etc. If you don't happen to get into the "style" of what's going on at your church, why bother going? Certainly there are attempts to reinvent church, to make it more visual or kinesthetic, but what if you don't connect there, either?
What I'm going to say next might come off as triumphalistic or "advertisey," though I don't mean it that way: Has Donald Miller ever heard of Orthodox Christianity?
For one thing, Orthodoxy engages every element of what Miller is talking about here: It is auditory, musical, rhetorical, kinesthetic and visual, all to a degree that would probably be bewildering to the average Evangelical. As soon as one steps into an Orthodox church, he is bombarded with images, with sounds, with smells, with words, with things to touch and even to taste. There are icons, incense, architecture, the sermon, chant, holy oil, holy water, the Eucharist and a good bit more, and it all comes at you often without much apparent order, especially to the newcomer.
The current crop of Millennials making their way up the generational ladder (along with their fellow digital natives in the younger part of Generation X) are significantly formed in their assimilation of information and experience by the multi-vectored flow of the Internet. Consider Facebook or any other social media website—there is a certain order to it all, but it is highly non-linear. This mode of appropriating knowledge—not just "learned" knowledge but also knowledge that is experienced—serendipitously is aligned with the modes of experience and knowledge acquisition that Orthodoxy has long preserved and practiced.
At the most fundamental level, though, worship isn't about learning or feeling anything at all—not according to the Bible or Church history, anyway. Rather, worship is about mystical union with God in the sacrificial unifying power of the liturgy, especially in the Holy Eucharist. There is both beauty and truth, the place where beauty and truth are authentically the same one thing. And that access to physical/spiritual communion with God is simply not available outside of the liturgical life.
Miller has hit on something that is at the very core Evangelical worship, and that is that it only really appeals to a certain piece of humanity, and not just in terms of "demographics" (as he identifies it) but in terms of the human person himself. Contemporary Evangelical worship is not only addressed to certain kinds of people, but it is also addressed only to certain parts of people.
Yet no matter one's learning style or one's demographic, Orthodoxy will connect, and Orthodoxy will also connect with the whole person. Whether anyone feels intimacy with God or not, whether he is learning something about God or not, through the mystery of the God-given sacraments of the Church, he will be attaining knowledge of God, which is what Jesus Himself said is eternal life.