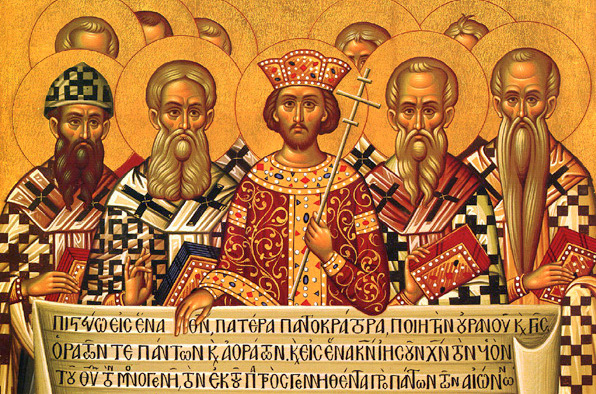 Recent discussions on some posts on this weblog, as well as some I've seen elsewhere on social media, have spurred questions about what the official positions of this site are, what my own positions are, etc. I have even had a few instances where commenters quoted to me from Orthodoxy and Heterodoxy, attempting to catch me in a contradiction with something I am posting now. Supposedly, I have turned my back on things I wrote earlier. Supposedly, this site has turned into a den of "ecumenism" (a word I'll return to in a moment).
So I thought it might be worth it to review and reflect on my own reasons for participating in theological discussions involving non-Orthodox doctrines and practices. And I'll also note here that, even though I'll be talking about this website in general, I'm only speaking here for myself. There actually is no "party line" for this website.
That said, I have discriminated on certain grounds when inviting ongoing contributors and guest posts: I regard all the participants as being traditional, faithful Orthodox Christians, who are all convinced that the Orthodox Church is uniquely the Una Sancta of the Creed, who are not interested in revisionist, "liberal" theology or morality, who regard the Ecumenical Councils and Scriptures as our highest dogmatic authority, and the Holy Fathers as our most authoritative exegetes, interpreters of dogma and teachers of doctrine. None of them think the canons are irrelevant, the Scriptures outdated, our morality unclear, etc. If I thought that any of them were the least bit sketchy in any of these things, I wouldn't have invited them to contribute.
I'm actually extremely pleased with the chorus of voices we've had here. We don't always agree on everything, and that's fine. The discussions we've had (both on this site and privately—yes, we have a little "cabal" where we hash things out) have helped to sharpen our arguments and engage viewpoints we hadn't considered or even disagreed with.
All in all, this site really has become what I hoped it would be—a kind of "extension" of the material in the Orthodoxy and Heterodoxy podcast and book. Where there wasn't space there to deal with a particular subject in detail, there is room here. Where there wasn't space to work on a question of discerning issues of orthodoxy and heterodoxy within the Orthodox Church, there is space here. This is a project I think is worth continuing, and while we generally operate on a more "popular" level here rather than with a densely academic approach, I believe there is a need for both the former and the latter.
So that brings us to the question of "ecumenism," a word that seems to mean a lot of different things. Let me tell you some meanings of that word which I reject—that is, I reject the positions I'm about to list. (I don't care whether they are the correct definition for the word.) Here are some things I don't believe:
That the Orthodox Church is not uniquely the Church.
That Orthodox dogma needs to be revised to keep up with the times or to make non-Orthodox people happy.
That the canons of the Church are irrelevant.
That the Orthodox Church should be working hard to "merge" with another religious body, and that that merger is imminent.
That there should be concocted "joint services" with non-Orthodox clergy.
That "unity" can happen without full dogmatic agreement.
That the Orthodox Church lacks something essential to churchliness and needs to get it from some non-Orthodox group.
I don't know whether they should be called "ecumenism" or not, but here are some things I do believe:
That the Orthodox should meet with anyone who is willing to talk peacefully, even if we suspect that they are total cads, even if we suspect that it is a waste of time.
That the point of those meetings should not be "agreed statements" but to learn about each other. Agreed statements can be part of that process but are not necessary.
That the Orthodox should do the very hard work of trying to learn what other religious groups teach and practice.
That the Orthodox should not rely only on what other religious groups used to teach and practice but should learn about what they're doing now, how they've been changing, how they're becoming more Orthodox and how they're becoming less so.
That that is going to take a lot of work.
That the Orthodox can learn something about Orthodoxy by doing that work, not because the Church lacks anything, but because those in the Church lack something.
That the Orthodox should not rely on non-Orthodox criticisms of other religious bodies but should go and find out what they're like for ourselves.
That the Orthodox faith has been and can continue to be expressed in ways that genuinely vary yet are still authentically Orthodox.
That the Orthodox should want everyone to become part of the one Church and should find the best way to help that happen without compromising Orthodoxy.
That, while it is perfect for eternity because its chief Member is Christ, what the Orthodox Church lacks in time is the presence of every human person within its fold.
There's a lot more that could be said for both of those lists, but I hope you get the idea.
There is also something I would like to address, and that is that this website's writers have sometimes addressed themselves not only to the non-Orthodox but to fellow Orthodox Christians, even critiquing positions which are popularly held. Some have called this "Orthodox vs. Orthodox," have seen it as "divisive," have seen it as evidence of liberalization, revisionism, betrayal of Church tradition, etc.
We have to understand several things here. First, Orthodoxy (and here I mean the Orthodox community, not the faith qua faith) is not monolithic. There is room for disagreement within the Orthodox Church. Why? Because not everything has been dogmatically defined. We have a whole realm of theologoumena (theological opinions) that is actually a good bit broader than some may realize. As long as one is faithful to Orthodox dogma, one can indeed be "creative" in theology. That is not a call for being experimental but rather for recognizing that there are indeed new challenges in every age and that Orthodoxy needs to meet them.
We should also recognize that, just because something is popular within the circles that we happen to run in (e.g., English-speaking Orthodoxy on the Internet) does not mean that it is held universally within all of Orthodoxy or that it actually represents the Orthodox tradition throughout history. I've seen people hold tenaciously to something that's only a century or two old. It may well be a perfectly acceptable theologoumenon, but unless it's actually in the dogmatic decrees of the Church, we have to be careful not to treat it as dogma.
And it's also possible that some Orthodox people hold to heterodox positions. It's true. So sometimes we need to engage in serious study of the Orthodox tradition to see whether what we hold is actually consistent with the tradition, whether it should just be held as a theologoumenon, etc. That doesn't mean that the Church has lost the truth. It means that we're imperfect and always need to be striving for it ourselves, to become more churchly ourselves.
Finally, especially in connection with one of my points above, I think it's pretty important that we really seek to discover what the other person believes and then try to give the most charitable interpretation to it that we can. Does it really make sense that someone who could seem so committed to being faithful has suddenly become unfaithful? Why not ask to find out what he really thinks? These discussions often devolve into various sides responding only to caricatures of the other, sometimes in the face of the other actually explicitly rejecting the positions we ascribe to them. I have sometimes been guilty of that, but I'm working to understand better. I've been grateful for the ways the rest of the Orthodoxy and Heterodoxy writers have helped with that, and even for the ways some of you irascible commenters have, too! So, thank you.
And let's keep striving.