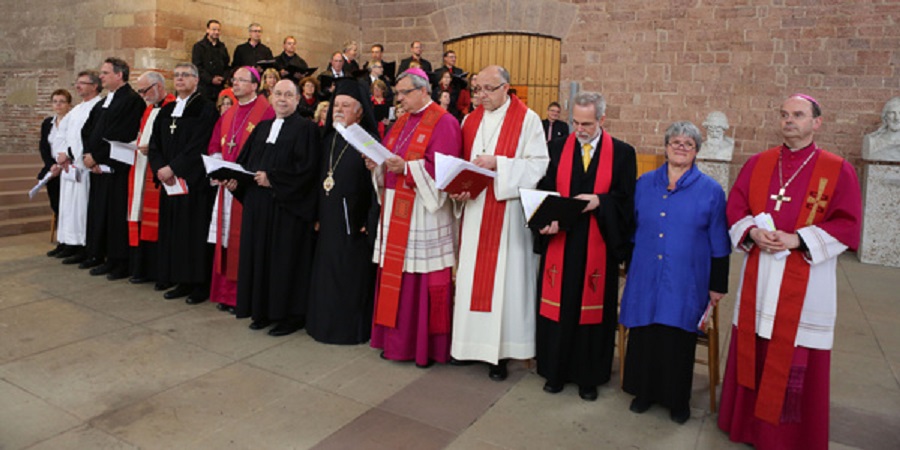 When the blog Red River Orthodox announced a change in format in order to attempt a "liberal engagement with the 'West,'" many of us were both intrigued with the hopeful possibilities of such an endeavor but troubled at what might actually occur.  Now that a number of posts have been published, I would like to take this opportunity to reexamine the notion "liberal engagement" for fear that an authentic "liberal engagement" has not in fact occurred.
In a recent post, Orthodox priest Fr. Oliver Herbel asks why Orthodox Christians would not participate in a suggested joint Orthodox-Catholic service of Forgiveness Vespers. His reply is a vitriolic assertion that Orthodox bishops and priests simply don't have "the guts" to do so.  In referencing Eastern Catholic scholar Adam DeVille's original suggestion of the idea, we find that he intends it as an effort to "heal the divisions of the dead, and moreover, the memory of those divisions among the living."
So I ask the question: Is this a true, liberal engagement with "the other"? May Catholics and Orthodox engage each other authentically with such a service?  In order to extrapolate this question, we must delve further into the concept of "liberal engagement."
What does a "liberal engagement" actually look like?  I propose we tackle the issue by expressing it in simpler terms, terms that I encountered and embraced while an undergraduate student at a Southern Baptist liberal arts university – the integration of faith and learning.
The impetus behind this concept is to help students successfully navigate the turbulent waters of education, being hemmed in, as it were, by the Scylla of agnosticism or atheism and the Charybdis of fundamentalism.  The former represents an extreme acceptance of secular learning to the exclusion of faith claims, and the latter represents an extreme rejection of secular learning because of perceived conflicts with faith claims. Both are irrational distortions of reality and are driven by fearful reluctance to engage the other. The integration of faith and learning is guided by the axiom "All truth is God's truth," and while this axiom may not be epistemologically satisfying (it does not answer the riddle of how we actually determine what is truth), it does go a long way in assuaging the fear of the unknown. Wherever we might encounter something we deem to be truth, we can be assured that it is God's truth as well; that is, it will fit within the general framework of our religious faith.
When conflict between faith and learning is encountered, one is forced to conclude either that  there is error or misunderstanding in what has been learned, or there is error or misunderstanding in one's religious beliefs (not necessarily in the religion itself, but in one's subjective holding of that faith).  These waters remain turbulent, as there is no formula for resolving these difficulties with ease.  It requires authentic faith and true learning—diligent work, time, and above all, humility.
But there are other obstacles in the water besides the extremes at either end.  There is a giant boulder in the middle of the water that threatens to stop all progress, the boulder of indifference to both faith and learning.  I suggest that this indifference is the result of what may be pejoratively called "ecumenism."  To be sure, there are beneficial forms of ecumenism that do seek to integrate faith and learning, yet what often passes for liberal engagement of other belief systems, especially those more similar to one's own, ends up being neither liberal nor an engagement.  It is not liberal, because it restricts one from fully operating within the fullness of his or her own faith tradition.  The person indifferent to his or her own faith tradition and indifferent to the acquisition of authentic knowledge of the other will compromise his or her own faith tradition. This places one on the periphery of that faith tradition or causes one to abandon it altogether.  In such a case, one ceases to be a faithful representative of that faith tradition, and because of this, no real engagement with the "other" can happen. If a Roman Catholic and an Eastern Orthodox Christian come together for an ecumenical gesture, and either one or the other compromises the integrity of his or her own tradition, a tertium quid ("third entity") is created that is neither Catholic nor Orthodox – no true engagement between Catholicism or Orthodoxy may then occur.
This may become a litmus test of sorts whereby we might judge whether or not an ecumenical encounter is genuinely beneficial.  Is one free to operate within the fullness of his or her own faith tradition, or is one required to ignore some aspect of it for the encounter to happen? Is one engaging with a truly authentic representation of "the other" or rather with some overly progressive or overly conservative version of it?  Finally one might ask what the end result of such an ecumenical encounter might be – will it bring true engagement, i.e. the integration of faith and learning, or rather indifference for the sake of the appearance of union?
Let us then take the example of the proposed joint Orthodox-Catholic Forgiveness Vespers service proposed by Adam DeVille.  Would an Orthodox attendee be free to operate within the fullness of the Orthodox tradition?  I argue that he or she would not, for the purpose of Forgiveness Vespers is to provide a corporate expression of repentance for sins committed against the Church, the Body of Christ, and Roman Catholics are not acknowledged to be within that covenant community, which is signified by the union of the Chalice, for their union is a union different than the one we confess. A rite intended to express the mutual repentance of members of the Body of Christ should not be bent toward the intention of expressing rapprochement between two rival claimants of that title.
Of course, it is not as though a non-Orthodox person would be barred from participating in the rite of forgiveness, for there is no sacramental action being performed.  In such a case, however, forgiveness would be exchanged for general sins against the world, for the failure of the Church to faithfully engage the world with the Gospel of Jesus Christ. But an explicitly Orthodox-Catholic joint rite of forgiveness would fail to bring together authentic expressions of Orthodoxy and Catholicism, and thus it would fail to truly engage the other on authentic terms.  Nothing could then be accomplished by such a ritual. To participate in such an ecumenical service would be a sin against the Church and a sin against the "other," because it would fail to engage the other authentically, that is, to engage the real issues that bring division between us. And because the doors of the house of faith would be explicitly opened to those who are not members of the family, the intimacy of the rite is also cheapened and ultimately discarded.
And herein lies the problem with many gestures of ecumenism, that one or more party believes the other to be really more or less the same, and any difference between the two is not so serious. Some Roman Catholics (certainly not all would agree, lest I be accused of creating a straw man) might claim that the Orthodox are truly, authentically Catholic, but they are merely being stubbornly independent in their irrational rejection the Roman papacy.  In this case, such a Roman Catholic would fail to engage the Orthodox as authentically Orthodox, but assume something about him or her that is not shared.  The real fissure in theological belief is not engaged. No authentic learning of the other can take place. DeVille's language quoted above suggests that the divisions are only "of the dead" or simply "memories of divisions among the living." In other words, there are no real divisions. Such an expression is not an authentic engagement of Orthodoxy, nor is it liberal, for it disallows the Orthodox to maintain that there are in fact real divisions between us.
True liberal engagement with the "other" is a quest to learn about the other with true and transparent authenticity, which is followed by the integration of the knowledge gained from the other with the faith that one holds in his or her own heart.  Real healing and real forgiveness can only occur within this context, within a true liberal engagement of the other.