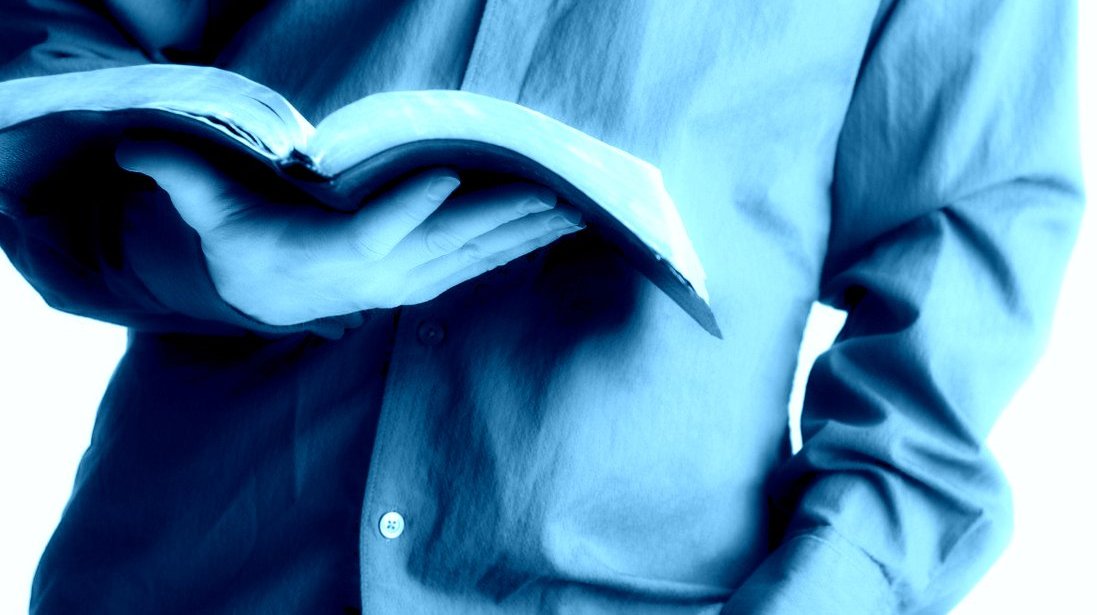 I recently came across a conversation online in which someone insisted that he didn't need tradition at all, because he had the Bible. Why trust the word of men when you have the word of God? I was reminded again of just how complicated it is to try to believe in what the Bible says while rejecting Christian tradition.
We've covered matters relating to sola scriptura ("by Scripture alone") and Christian tradition here before, but I thought I might do a little thought experiment here to illustrate just how complicated it is to try to hold these two beliefs, namely, 1) that the Bible is true and also 2) that Christian tradition is false or at least unnecessary. For the purposes of this thought experiment, we're going to define "tradition" as anything which is seen as necessary and yet is not explicitly endorsed in the Biblical text. The idea here is that the Bible comes from God and tradition comes from fallible human beings, so tradition should be ignored while the Bible should be heeded.
Of course, there is a vast landscape of things that Christians do that are not commanded in the Bible, and they could all be understood in some sense as traditions. But let's focus in on just one thing that Christians do—reading the Bible.
Just the simple act of reading the Bible requires the use of tradition on multiple levels, or at least the imposition of extra-Biblical processes and opinions. How? Let's see seven reasons:
1. If you are reading the Bible for yourself at home…
…then you are unlike most Christians in history, most of whom could never afford a Bible and many of whom could not read. And you are unlike anyone ever described anywhere in the Bible itself. No one in the Bible anywhere says that you should own your own Bible or even that you should read it for yourself. Most people in the history of Christianity heard the Bible both read and explained to them in church services. That doesn't mean you shouldn't own a Bible you read at home, but if you do, you're doing something that isn't in the Bible. And it's also worth noting that there was no complete Bible for the first few centuries of Christianity, so no one could own one they could read at home.
2. If you believe that the Bible's meaning is simply apparent to you without anyone's help…
…then you are discounting everything you have learned about what the Bible means from other people and even what language itself means. You are discounting that someone else taught you to read. You are ignoring every sermon you've ever heard, every Bible commentary you've ever read, and every Sunday School class you have attended. All those people told you things about what the Bible means. And the words they used weren't just quotes from the Bible. Even if they were, which quotes they chose required an act of their own wills. The Bible didn't tell them which ones to use.
3. If you are reading a translation of the Bible…
…then you are trusting someone else's word about what it says. The Bible never says it's okay to use translations, and it doesn't endorse one over another. Translators have to make choices, and every choice they make can either add or subtract meaning from the text. The Bible doesn't tell them which choices to make. And different translators make different choices. Which translators do you trust? The Bible doesn't tell you.
4. If you are reading the Bible in the original languages…
…then you not only had someone teach you Greek or Hebrew, but you also made a choice or accepted someone else's choice when it came to which version of the Biblical text you would read. There are multiple manuscript traditions, and they're not all the same. And the Bible doesn't tell you which one you should follow or how you can recognize which is the right one. Whichever one you pick requires trusting centuries of copyists (usually monks) to keep the text straight. Even using an amalgam text (which is what most translations are based on) is itself an extra-Biblical choice. There are no surviving original manuscripts from the apostles or prophets.
5. If you are reading the Old Testament in Hebrew…
…then you're not using the Old Testament most often used by the apostles in their writings, which was the Greek Septuagint, a translation of the Old Testament made by Greek-speaking Jews completed perhaps as early as the late second century BC. Using Hebrew rather than Greek is an extra-Biblical choice, but using Greek rather than Hebrew is, as well.
6. If you are reading the Old Testament at all…
…then you are benefiting from the Jewish community's traditions of textual transmission and editing—and not just the Jewish community in general, but particular parties within Judaism, which as a whole had several different incipient canons all by the time of Christ. And within the text itself, there are clear signs that not everything written under someone's name is from that person. For instance, the Books of Numbers and Deuteronomy, both attributed to Moses, include the details of his death and burial. How could Moses have written that? He didn't. Those details were included in a process of tradition.
7. If you are reading from a book labeled with the word Bible…
…then you are reaping the fruit of the canonization process of the Biblical text, which took roughly three hundred years for the New Testament alone (the earliest known complete list of the New Testament books dates from AD 367). (The Old Testament's process is somewhat more complicated.) This process chose which books to include and even edited the texts themselves. Even the idea that the Biblical texts should all be included in a single volume called "the Bible" is not something found in the Bible. No one in the Bible talks about a thing called "the Bible" (i.e., a single book). The Bible includes no table of contents anywhere in its texts, and there's certainly nothing saying that Genesis should be first and Revelation should be last or that there should be Old and New Testaments. And the Bible you read may have a different Old Testament than the one the apostles did, i.e., not just different in language but with a different list of books (the Septuagint includes books like Tobit, Baruch and the Maccabees). And the people who completed the canonization process in the fourth century strongly endorsed tradition, both for Christian life in general and for understanding the Scriptures in particular.
You can't get away from tradition while reading the Bible.
So, in short, the Bible can never serve as a direct, unaided line of access to God's message to mankind without the involvement of other people. Other people are involved at every step of the way. That you can own a Bible and read it at home is the result of not only the labors of the apostles and prophets who wrote it under divine inspiration, but it is also the result of many centuries of thousands of people putting it together in various ways that have all contributed to making possible what seems like a very simple act—reading the Bible.
It's impossible to read the Bible without tradition. Tradition gave you the Bible. So the question really is: Which tradition?