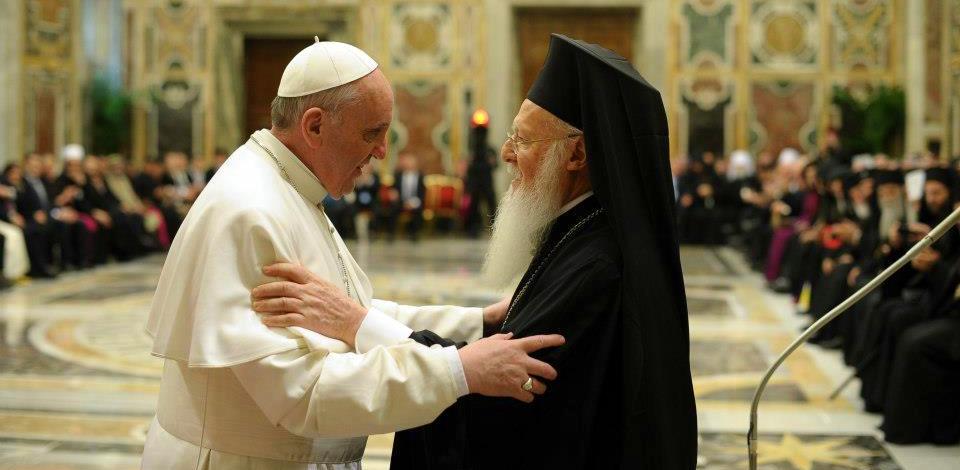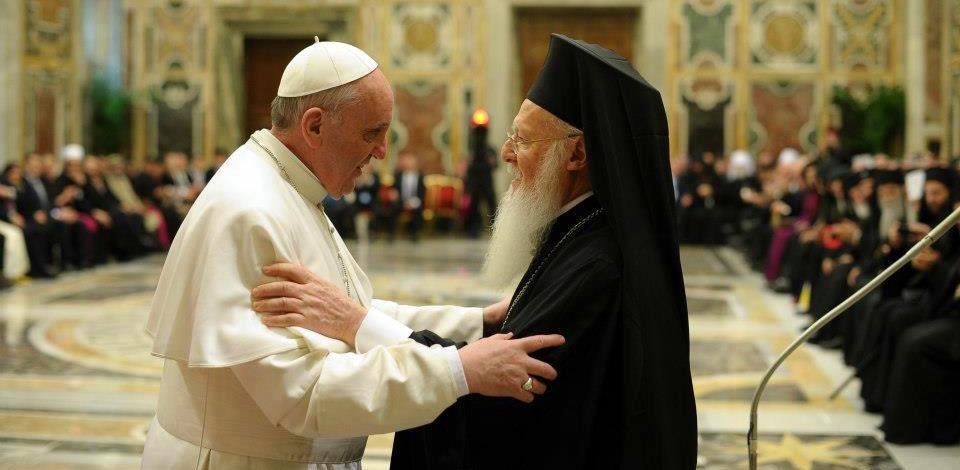 An anonymous piece by a self-identified Greek Orthodox priest entitled "On the Recent Events in Jerusalem and their Ecclesiological Underpinnings" has recently been circulating in response to the recent meeting in Jerusalem by Ecumenical Patriarch Bartholomew and Pope Francis, especially regarding certain statements by the Ecumenical Patriarch about the Church being "divided in time" and its ecclesiological ramifications. It's been republished in several locations online, perhaps most notably on the ROCOR's Holy Trinity Monastery (Jordanville) website.
I thought that this was worth a brief response. I will note that I am indebted here especially to Fr. Matthew Baker, who made some cogent comments in an email exchange I recently had with him and provided some of the text incorporated into my piece below. I also very much recommend both his recent appearance on "Ancient Faith Today" with Orthodoxy and Heterodoxy contributor Fr. John Whiteford as well as his comments and translation of the Fr. Georges Florovsky piece "A Sign of Contradiction," which was written on the occasion of the 1964 meeting in Jerusalem between Pope Paul VI and Ecumenical Patriarch Athenagoras. I hope you will also excuse the temerity of my recommendation of my own 2013 appearance on "Ancient Faith Today," which discusses some of these same issues.
We should deal first with what is perhaps most distressing about the anonymous priest's piece, namely, the ecclesiology that it puts forward itself, which is actually not in keeping with Orthodox history and tradition. There are numerous places in the piece which are problematic, but perhaps the most egregious among them is this passage:
If we recognize their baptism as the one baptism, it is inconsistent not to recognize the Eucharistic Synaxis in which their baptism is performed. And if we recognize their Eucharist as the One Body, it is both hypocritical and sinful not to establish Eucharistic communion with them immediately.
The logic here is of course quite appealing. It is a logical series of identifications: Baptism = Church = Eucharist = Communion. So one must conclude from this logic that the Orthodox Church has never in any sense recognized baptisms outside the canonical boundaries of its communion, and it has also always shared communion with all those whose baptisms it recognizes.
Yet if we were to buy into this ecclesiology, we would have to conclude, for instance, that the entire Russian Orthodox Church Outside Russia, which was out of communion with most of Orthodoxy throughout much of the 20th century, was not really Orthodox for all that time, at least not in the eyes of most Orthodox. We would have to conclude this about every single break in communion, in fact. Right now, for example, we would have to say that the Patriarchate of Antioch does not regard the Patriarchate of Jerusalem as part of the one Church because it is out of communion with it in protest against the latter's placement of a bishop in Qatar.
After all, if Antioch recognizes Jerusalem's baptisms, shouldn't it recognize its Eucharist? And if it recognizes its Eucharist, why are they not in communion? If most of Orthodoxy was not in communion with ROCOR for several decades of the 20th century, doesn't that mean they also didn't recognize their Eucharist and therefore not their baptisms? Is this what the author really means to say? Perhaps he does, but I rather doubt that most of those who are publishing and sharing his article would mean to say that.
To go a little deeper here, we should examine (though just briefly) the question of what the recognition of baptism by the Church really means. One example should suffice. In the time of St. Basil the Great, he wrote canons stipulating how various heretics and schismatics were to be received into communion in the Church. He explicitly stipulated that some were to be baptized, some to be chrismated, and some to be received by profession of faith. It doesn't matter which were which for our purposes here. The point is that there were people he was out of communion with whose baptisms he regarded as valid.
Now, some might say that chrismation or profession of faith makes a baptism valid when receiving a convert, but that's nonsensical on its face. If that previous baptism was not a baptism, then the convert has to be baptized. One does not baptize by chrismating or by hearing a renunciation of heresy. You can't reach back in time and turn an invalid baptism valid, nor can you baptize someone by chrismating him.
Interestingly, the canonist Archimandrite Daniel Griffith argued in an unpublished document Fr. Matthew mentioned to me, basing himself on a close study of canons, that in fact whenever the canons accept baptisms, they also accept the priestly orders of those bodies as well. Fr. Matthew hadn't heard this argued by anyone else, but Fr. Daniel apparently made a compelling case. According to his argument, we are inconsistent in reordaining Roman Catholic priests when we accept Roman Catholic baptism; but likewise, since we don't accept Protestant orders, we ought not to accept Protestant baptisms. This is very different from the Roman Catholic scholastic ecclesiology which does not see baptism and Eucharist as so closely aligned as we do. Also it is out of accord with the ruling of the Russian church which has accepted Lutheran baptisms for centuries, though not Lutheran orders. It accepts both Roman Catholic baptisms and orders, usually converting their clergy just by vesting and not by reordination. The point of mentioning all this is that things are very much not so cut and dry as our anonymous priestly author would like us to believe.
So what this means is that the Church in its practice has indeed recognized baptisms outside its canonical boundaries as being in some sense valid. Whether they fully join one to the Church, whether they are efficacious for salvation, etc., is another whole discussion. But the fact remains that not just Basil but the Church throughout its history has in its strictest applications of the canons regarded some heterodox baptisms as in some sense valid. But when it looked upon those baptisms in that way, it did not immediately establish communion with those who did the baptizing. Recognizing baptisms outside the Church's canonical boundaries does not mean an endorsement of the "branch theory" of ecclesiology.
That said, what are we to make of the author's identification of the "branch theory" of ecclesiology with the documents of Vatican II? He writes that the Patriarch's alleged ecclesiology "is in total harmony with the Second Vatican Council's new ecclesiology as laid out in the conciliar documents Lumen Gentium and Unitatis Redintegratio."
I mean no disrespect to my brother in the priesthood here, but I have to wonder whether he's actually read those documents. The key text from the Dogmatic Constitution Lumen Gentium is in paragraph 8:
This Church, constituted and organized as a society in this present, world, subsists in (subsistit in) the Catholic Church, governed by the Successor of Peter and by the Bishops in communion with him, although (licet) many elements of sanctification and truth can be found outside her structure; such elements, as gifts properly belonging to the Church of Christ, impel towards Catholic unity.
This is not the branch theory. This is, in plain language, a claim in Vatican II by the Roman Catholic Church that only the Roman Catholic Church is truly the Church, but there are some churchly "elements" outside its structure. Since the Orthodox, for instance, are not "governed by the Successor of Peter" nor by "the Bishops in communion with him," then that means we're in the realm where there are such elements. These elements are "properly belonging to the Church of Christ," but don't make those who have them the Church.
For Rome the Orthodox are true "churches," local churches, and indeed a communion of local churches: authentic churches having almost everything in common with the Rome but having a "defectus" on account only of their lack of union with the Pope. This is what the 2000 document Dominus Iesus says. In contrast, Protestant bodies are not churches, but communities having some marks of the Church. This is still not the branch theory, however.
So there is no way that one could speak of the One Church as being divided according to Vatican II. What Vatican II does allow for, and demand, would be a recognition that there are marks of the Church, and even local churches lacking in almost nothing, which stand outside the pale of full communion with the Catholic Church but which are nevertheless united to her, though defectively so.
Also it is strange that the author says that recognition of sacraments beyond canonical boundaries is at odds with the Eucharistic ecclesiology movement, especially given the fact that all of the major architects of Eucharistic ecclesiology in the last century—people like Florovsky, Afanasiev, Schmemann, Meyendorff, Zizioulas and others—did in fact recognize the reality of sacraments beyond canonical boundaries. So did Lossky, Elder Sophrony and Staniloae, who don't reflect the Eucharistic theology of those other names but are nonetheless not rigorists about these things.
Also the author does not seem to acknowledge that even within the Orthodox Church we have had divisions, including breaks in communion, without denying that all of the local churches are united to Christ, as mentioned above regarding ROCOR, for instance. The anaphora of St. Basil prays for an end to the schisms of the churches (παῦσον τὰ σχίσματα τῶν Ἐκκλησιῶν; not "schisms from the Church"). It acknowledges the divided churches as churches, not parasynagogues. Whether one can apply that to our relationship to the Roman Catholic Church is another question, but still, the insistence that any division whatsoever means that one or the other side must be utterly cut off is highly doubtful and not congruent with the Church's own history.
So what is one to make of this language by the Ecumenical Patriarch that has the author writing his opposition? Here's the relevant passage from the May 27 speech by the Patriarch:
The One, Holy Catholic and Apostolic Church, founded by the "Word in the beginning," by the one "truly with God," and the Word "truly God", according to the evangelist of love, unfortunately, during her engagement on earth, on account of the dominance of human weakness and of impermanence of the will of the human intellect, was divided in time. This brought about various conditions and groups, of which each claimed for itself "authenticity" and "truth." The Truth, however, is One, Christ, and the One Church founded by Him.

Both before and after the great Schism of 1054 between East and West, our Holy Orthodox Church made attempts to overcome the differences, which originated from the beginning and for the most part from factors outside of the environs of the Church. Unfortunately, the human element dominated, and through the accumulation of "theological," "practical," and "social" additions the Local Churches were led into division of the unity of the Faith, into isolation, which developed occasionally into hostile polemics.
Taken with the extreme interpretation that the anonymous priest gives it, the Patriarch's statement is actually irreconcilable with both Orthodox and Roman Catholic ecclesiology. Personally, I find the "divided in time" language (much like the "two lungs" language) quite problematic, though it could be interpreted in a much more charitable way, indeed, in a way which is very much in keeping with other statements which the Patriarch has either made or approved.
For example, here is a well-known passage from the famous Georgetown University speech by Bartholomew made on October 21, 1997:
Assuredly our problem is neither geographical nor one of personal alienation. Neither is it a problem of organizational structures, nor jurisdictional arrangements. Neither is it a problem of external submission, nor absorption of individuals and groups. It is something deeper and more substantive. The manner in which we exist has become ontologically different. Unless our ontological transfiguration and transformation toward one common model of life is achieved, not only in form but also in substance, unity and its accompanying realization become impossible. No one ignores the fact that the model for all of us is the person of the Theanthropos (God-Man) Jesus Christ. But which model? No one ignores the fact that the incorporation in Him is achieved within His body, the Church. But whose church?
One who says there is an ontological difference—a very difference in being, "not only in form but also in substance"—between his church and another isn't teaching the branch theory.
And here's something from the oft-discussed, but much-misunderstood (and, I fear, little-read) Ravenna Document, which has no official canonical standing but was approved by theologians on both sides of the Orthodox and Roman Catholic international dialogues:
Orthodox participants felt it important to emphasize that the use of the terms "the Church", "the universal Church", "the indivisible Church" and "the Body of Christ" in this document and in similar documents produced by the Joint Commission in no way undermines the self-understanding of the Orthodox Church as the one, holy, catholic and apostolic Church, of which the Nicene Creed speaks. From the Catholic point of view, the same self-awareness applies: the one, holy, catholic and apostolic Church "subsists in the Catholic Church" (Lumen Gentium, 8); this does not exclude acknowledgement that elements of the true Church are present outside the Catholic communion.
This is both sides saying that they each see themselves as uniquely the Church. Again, not the branch theory.
This language of "divided in time" is, at best, "imprecise." Does that really mean that the Ecumenical Patriarch is teaching that the Body of Christ is truly divided? And does that mean that anyone who speaks of the first millennium of Christianity as the "undivided Church" (as many Orthodox writers do) means the same thing regarding its second millennium?
Surely the Patriarch's own actions indicate that what he meant is that those who seek to follow Christ have been divided from each other. I'm not sure why some folks are so eager to interpret these comments in the worst possible way. If we must, then we should also turn that same interpretive method to the Ecumenical Patriarchate in its letter to the Russian church in 1663:
Question: Can an appeal against the judgment of any other church be brought before the throne of Constantinople, and can the latter resolve every ecclesiastical matter?

Answer: This privilege was that of the pope before the Church was torn asunder by presumptions and ill will. But since the Church was split apart, all the affairs of the Churches are brought before the throne of Constantinople, which gives judgment, for, according to the canons, it enjoys the same primacy as the Rome of former times (emphasis added).
As Fr. John Whiteford said in the "Ancient Faith Today" discussion linked above, such words can be interpreted in multiple ways, some good and some bad.
For someone who's supposedly about to bring us any moment into a new Unia, the Ecumenical Patriarch certainly continually seems to balk at the actual action of communion with Rome. Perhaps it's because he isn't actually pursuing that with anywhere near the speed that some suggest. Honestly, if he really meant that the Church itself had been "divided," then why wouldn't he be joining in communion with Pope Francis? But he's not. As noted in brief above, his own representatives at various theological consultations with Roman Catholics repeatedly stress that Orthodoxy regards itself as fully the one Church.
I'm not a fan of concocted joint prayer services nor of everything that gets done in these meetings (and this recent one in Jerusalem was short on substance and long on media exposure), and there are a lot of directions one could go in regarding all this. It should at least be noted that most of the relevant canons regarding relations with the heterodox aren't strictly enforced by any Orthodox church in the world. For instance, the canons would prevent any attendance at heterodox services or even eating at the same table with the heterodox. You also can't give gifts to the heterodox on feast days (so no icons given at official prelate visits, etc.). These strictures are probably because they were devised in a time and place where heretics and schismatics were actively interfering in the canonical Church. That doesn't make them irrelevant in the context of the modern age of respectful theological dialogues, but how and when to apply them is not an easily answered question. But all that is somewhat beyond the scope of this post.
In short, while I think that the Ecumenical Patriarch's statement is very much not the best way to say what he was trying to say, I do not think that he should be interpreted as endorsing a branch theory of ecclesiology, which Rome itself isn't endorsing, either. His own words and actions aren't consistent with such an interpretation.
We should have no problem criticizing the public actions and words of those engaged in theological dialogues and ecumenical meetings, but if we're going to do it, we have to do it in the most charitable way and in a way that is consistent with the actual evidence. The article by the anonymous Greek Orthodox priest doesn't do that.
Editorial Note: Please remember to keep your comments both cordial and about the subject of this post, namely, the ecclesiology being taught by these various people. Also please remember that this post is not an endorsement of the comments of the Ecumenical Patriarch nor the ecclesiology of Rome, but rather a critique of the ecclesiology of the anonymous Greek priest.
This post is also not an invitation to comment about any problem somewhere in the Church, nor is it about ecumenical relations in general, the Ecumenical Patriarchate in general, alleged creeping liberalism in Orthodoxy, etc. We're even getting comments from folks who want to talk about whether practicing homosexuals should be communed. I'm not really sure what that has to do with this post. That should all go without saying, but based on some of the comment submissions we're getting, it seems it needs to be said.
As always, comments which are ad hominem or off-topic will not get published, and a persistence in that approach will get the commenter dropped into the "unpublished" category permanently.
Thanks!