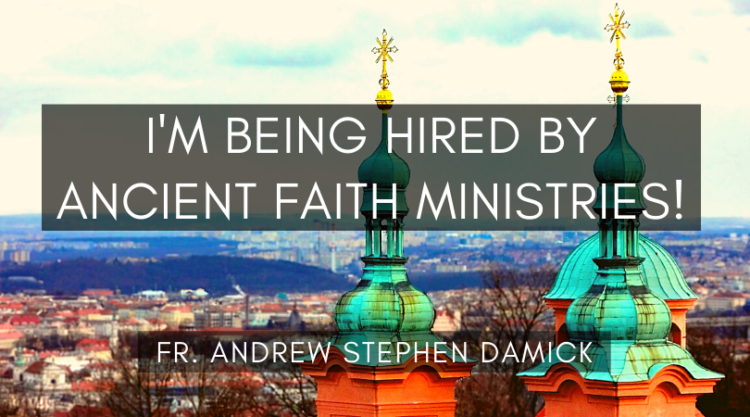 After almost 11 years of partnering with Ancient Faith Ministries as a content contributor for their podcasts, books and blogs, I'm being hired!
Starting Aug. 1, I will be coming on staff at AFM as Chief Content Officer, a newly-created full-time position, working from a studio space right here in Emmaus, Pennsylvania, which I'm going to be dedicating to the patronage of St. Raphael of Brooklyn, the great missionary and communicator of the Orthodox Christian faith to all peoples in North America.
My job will mainly focus on that second word in the job title — content — and it's my love of communicating Christ in the Orthodox tradition that is why I'm being hired and why this position is being created. So what you're used to seeing from me in my partnership with AFM you're going to see even more of! And it will be better and more comprehensive, too, because instead of doing this work in my spare time, I will be a full-time professional whose job it is to make Orthodox Christian media to evangelize, educate and edify — and engage.
Although making content will be the thing I do most, my job will also have an administrative side: As CCO, I will be helping to recruit and mentor new content contributors for AFM on all their platforms. I will be an integral part of the process of deciding which books get published, which bloggers are chosen, and which podcasters come on board. I will also be helping these content creators function appropriately as Orthodox Christians in the public eye as makers of media.
My graduate theological education and training, my undergraduate work in English language and literature, a decade as a live theatre/production professional, 13 years of full-time parish ministry and more than 25 years of experience online will all be part of what I bring to the mix at AFM.
What might I do that would be new? Well, to give one example, I have loved making podcast documentaries like "Out of Appalachia: Orthodox Christianity and the Old Regular Baptists" and "The Equal of Martyrdom: Fr. Nicola Yanney, Holy Man of Nebraska." But being a full-time pastor and making that kind of complex content on a regular basis is just impossible. Now it's becoming possible. Expect more of that kind of thing — and expect it to include some travel adventures, too! There are so many powerful stories of Christ's grace to be told, and I'm excited to be able to tell a lot more of them.
Although there are people doing some work like this in some media ministries or ecclesiastical departments, as far as I know, this will be the first position of this kind in the English-speaking world of the Orthodox Church. But I hope that there will be many more people to come. I believe that it's now time that we have full-time, trained professionals making the next generation of literature, audio and film to bring people to Christ's Church and to deepen their faith in Him.
It will be part of my task to make sure that AFM's productions are faithful to Orthodox Christianity — not compromising with worldly distortions nor given over to harmful polemic. My philosophy for a long time has been this: Neither polemic nor compromise, but engagement.
What does faithful engagement look like? I'll be talking a lot more about that, but you probably already know what I'm about, because many of you have been with me on this journey for years.
This full-time position means that I will be stepping aside from my pastorate at St. Paul Antiochian Orthodox Church in Emmaus, a position I've served in joyfully since 2009. I will miss being a pastor, but this change is made easier by two things:
1) My family will be staying in Emmaus. This is huge not just because my wife and I love the town after moving so many times in our lives (23 for her and 22 for me) but also because our four children will have something neither of us ever had — a hometown. They will be able to answer "Where are you from?" in a way that my wife and I have never been able to.
2) Fr. Joseph, the man I will be handing the pastoral baton over to, is a good friend whom I love and with whom I already have a great relationship. He has strengths I don't, and I think he's going to bring St. Paul's to a higher level. When I heard he had been assigned as my successor, I was relieved and very happy. The Damick family will remain part of the parish community, but I plan to give Fr. Joseph plenty of space to be the father of the parish. (I get to be the fun uncle!) And having a full-time job of my own to focus on will make that pretty easy, I think.
In a lot of ways, including the literal, this job was made for me. And it is a natural fit and a natural next step for AFM, for me and for my family. It's a little scary for all of us, but our feeling is mostly joyful anticipation.
How can you help? Above all else, I ask for your prayer. Please pray for me, for my family, for AFM and for my parish community. I may sometimes ask for your support in other ways, but it's prayer that is most effective and what I really want and need the most.
So keep reading, keep listening and keep watching! And engage for Christ and in Christ. Because He is all in all.
You can watch a video of the announcement being made live with AFM here:
---
Post Script: I know that some might be a little confused by my hiring by AFM, considering that just a few weeks back, AFM made a big push for emergency survival funds in the wake of sudden losses due to the novel coronavirus pandemic. Is it really responsible for them to take on a new full-time employee right now?
First, it's important to note that this move has been underway for a long time now, and the final decision was made before the effects of the virus had set in. And once that decision was made, lots of wheels starting turning, not the least of which is the wheel that assigned my successor in the parish. To change course at the last minute would have been irresponsible for a lot of reasons and disruptive for a number of people.
Second, AFM determined a while back that this CCO position really was needed for the ministry, especially as it's grown in size and complexity. My being hired started out a few years back as an interesting idea, but it's come into sharp focus as an actual need for the ministry.
Third, especially in times of crisis, the Church isn't called to shrink back and cut losses. The witness of the Church in history in times of crisis is to step up and expand ministry, not cut back.
So, yes, it is a little scary for all concerned, because we never know exactly what the financial future will look like. But with the success of the fundraiser and other indications of financial stabilization for AFM, all concerned believe we're on firm footing.