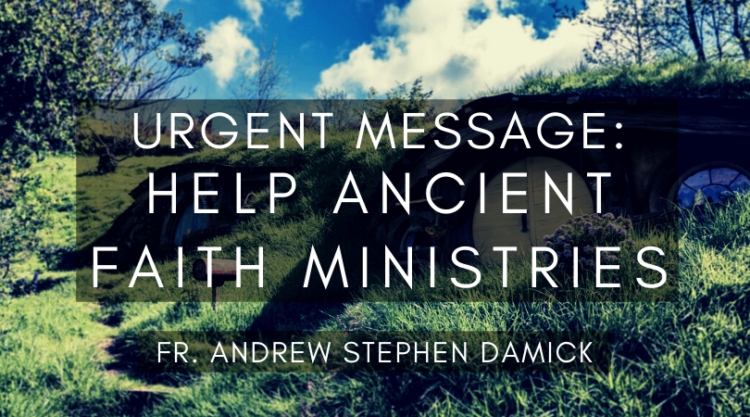 In moments of crisis, we don't let the crisis kill good things. And we also don't draw back and do less. We rise up and do more.
Many ministries have been hit hard as a result of COVID-19, and one I work a lot with and love — Ancient Faith Ministries (AFM), which hosts my podcasts and blogs and also publishes my books — is among them.
WHAT HAPPENED?
2020 was shaping up to be a record year for AFM — significant growth once again in both sales and donations — but then April 2020 happened. People stopped coming to church because of lockdowns, and parish bookstores stopped ordering. Wholesale is about 1/3 of AFM's income, and as a result of this (very understandable) sudden decrease in sales, Ancient Faith's existence is now actually threatened.
There has not been a drop in retail sales or in donations — just a sudden one in wholesale orders. So we know that this drop is directly attributable to COVID-19. In fact, a lot of Christian publishers and media are experiencing this exact same problem with the exact same timing. AFM is not being mismanaged, and there is no drop-off in readership or listenership.
WHY HELP KEEP AFM AFLOAT?
No one wants to imagine English-speaking Orthodox Christianity without this vital ministry's live streams, podcasts, books, videos, blogs, etc. — the list goes on and on.
And as a parish pastor, I know that the material they provide is vital for me to minister in my own parish. I also appreciate the journalistic and engagement side of AFM, not being afraid to engage with the world and even discuss controversial issues within the Church, all for the sake of the gospel.
Once our world opens up again and people can start coming back to church, I'm sure that wholesale orders will pick back up for AFM, but if there's going to be an Ancient Faith around when that happens, they need our help right now.
And this isn't just about survival, by the way, but about expanding the mission, too. In moments like this, withdrawal is not the Church's mission. A crisis moment is one of the best moments to do new things, to innovate in ministry, and AFM has already been leading the way with lots of pandemic-specific content and coverage.
WHAT IS AFM DOING TO SOLVE THIS PROBLEM?
AFM has organized a "regatta" campaign with various people serving as boat captains "racing" each other to help get donations. The goal is to raise $80,000 with people who also believe in the mission and who have benefited from AFM's work.
I've named my boat after the Bucklebury Ferry, that little hand-pulled raft that helps the hobbits escape from a Ringwraith in "The Lord of the Rings." (You can launch your own boat, by the way!)
All that said, you should keep up your giving to your own parish church first. No question about it. Parishes are the absolute front lines in the spiritual battle against evil and for the hearts of mankind, and my own parish is what receives the lion's share of my own giving.
But if you want AFM to be around after this pandemic is over, and if you believe in its future growth and in its mission of evangelism, edification and education in Christ, then give something, and please do so right away.
---