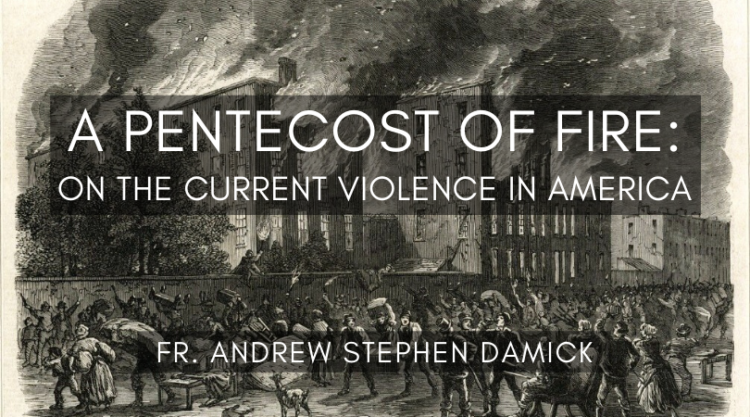 I have been asked to say something about recent events here in my country of the United States, following on the death of George Floyd, which at least to me looks like a callous, almost casual crushing of a man who did nothing to deserve it.
I have felt at a loss, because there is no end to people making statements (official and unofficial), expressing their feelings, being outraged, being counter-outraged, etc. It is such a blasted cacophony of noise. And my first feeling is that anything I might say would come off as just another white man pontificating from his quiet little town about things that aren't in his own backyard.
It is easy to look and feel righteous when there isn't anyone burning down your church or suffocating your neighbors or smashing your livelihood to pieces, to feel that you are right because you are impartial. And it is also easy to look and feel righteous even when those things are happening to you, to feel that you are right because you have suffered.
How Do I Talk About This?
I thought for a while about reverting to culture-critic mode, a kind of analysis I'm quite comfortable with. I could note that there are so many factors that go into these events — police brutality, systemic and institutional and personal racism, peaceful protests, violent protests, opportunist rioting and looting, seething rage, politics, race-baiting, racial supremacy, socio-economic conditions, centuries of division, militarization of police, etc., etc.
So many elements go into the utter horror that we're now seeing on the streets — again — that there is a virtual smorgasbord of people and currents to blame for what is happening. In the past week, I've seen so many people and problems being blamed that it makes my head spin.
No one factor is to blame. But even pointing out "all sides are to blame" is the choice of a "side" that often obscures rather than illumines.
There are so many pitfalls, so many traps, so many eggshells to be walked on here.
Is There Even a Solution?
I would very much love to be able to present you all with some skeleton key that will unlock the door of love and finally heal all these gaping, sucking wounds that our society has in it, wounds that I mostly read about and hear about and don't have any direct, existential experience of.
I see people doing a lot of work to try to open the gates of love, to suffer for one another in sacrifice. And then so often it seems like that all gets engulfed in flames because one person listens to a demonic thought and tosses a Molotov cocktail. And then someone else will be there to throw one back or to justify the first one. And then another.
I am reminded of that line from the movie versions of "The Lord of the Rings": "What can men do against such reckless hate?"
(The book version is a little more specific: "How shall any tower withstand such numbers and such reckless hate?")
What, indeed? We are indeed seeing reckless hate.
Generational Suffering and the Day of the Lord
No doubt some of the hate that we see is indeed justified in its way — some people have suffered generationally. I would be willing to guess that most of my readers (though certainly not all) have not inherited suffering in this way.
I have not suffered this myself, though I did marry into that suffering — my wife's grandparents were driven from their multi-generational home by genocidal militias whose people many of them have hated ever since. But that doesn't give me some kind of credibility, either. I am not the inheritor of generational suffering.
Yet the world into which Christ came was one in which generational suffering was the norm. Most people lived lives that included crippling, long-term suffering imposed on them, their families and their ancestors.
Christ came into that world and indeed entered into that same experience Himself. He was bruised and suffered and died for the sake of those who cried out for vindication. He was not born into a palace, though He could have been. He was not born into a royal life, though He was the Son of David and the Son of God. He was born into the life of an occupied people who were basically considered on the level of livestock by their conquerors. The Roman term for the people they ruled was literally "non persona."
And in His own paradoxical self, He condemned in His flesh the sins of both those who oppressed His people and those who responded to oppression with other kinds of oppression. Both oppressive Romans and oppressive Jews — the unrepentant of all kinds — had their sins condemned. And He lifted up all the fallen, whoever they were and whoever had knocked them down.
The Day of the Lord comes with vindication for no tribe nor movement nor nation, but for those who obey Him. And it comes with burning wrath for no tribe nor movement nor nation, but for those who rebel against Him. We will all be judged, in other words, not by the color of our skin (or our voter registration or zipcode, etc.) but by the content of our character.
A Pentecostal Hope
This week, we are between the celebrations of the Great Feast of Pentecost held by western Christians this past Sunday and by Orthodox Christians this coming Sunday. In this feast, we Orthodox will sing the following two hymns:
Apolytikion: "Blessed art Thou, O Christ our God, Who hast revealed the fishermen as most wise, having sent upon them the Holy Spirit, and through them Thou hast fished the universe, O Lover of mankind, glory to Thee."

Kontakion: "When the High One descended, confusing tongues, He divided the nations. And when He distributed the fiery tongues He called all to one unity. Wherefore, in unison we glorify the most Holy Spirit."
The giving of the Holy Spirit is the giving of fire as gift to those who are in Christ. This fire is the fire of wisdom, the fire of understanding, the fire of unity, the fire indeed of unison.
It is contrasted with the division that happened at the Tower of Babel, when mankind was divided by going after false gods, made emblematic by the division of language. We tribes of the earth ceased to think and speak like one another, as we followed after fallen angels who were supposed to help govern us on behalf of God and unite us to Him and through Him to one another but instead wickedly oppressed us and through idolatry made us like them.
So What Can I Say?
I do not think that I am really qualified to speak on how to do racial reconciliation, how to fix the political problems of our age, how to make our broken system and the broken people in it actually serve love and not hate any more. I don't think I have much credibility on speaking to those specific issues in a way that could be heard and would not inadvertently trigger someone's sense of injustice or hatred or entitlement — often based on real, deep wounds. I am no activist nor politician nor social worker, etc. I'm just not.
I feel helpless when I see these things happening and feel like I'm supposed to do something or say something. What can be done by me that would be the best thing? What can I say that has not been said or would not hurt someone without my meaning to? I don't know.
What I am, deep down, is a preacher and a priest.
A preacher is tasked with speaking the gospel — Who Christ is, what He has accomplished, and what He expects of us. In this instance, what He expects of us is that we return love for hate, peace for violence, blessing for cursing, martyrdom for persecution — because that is what He did. That means that we will help the fallen even when it hurts. And it means that we will not rise up in outrage and harm others, even if we have a very good reason. And especially when we do not have a very good reason.
A priest is tasked with two things — offering sacrifice and intercession before God. We Christians each have our own priesthood, and there are many ways that we offer sacrifice and intercession. That means that we have to worship even when we don't feel like it and pray fervently even for those who hate us or — God forbid! — that we hate ourselves.
I have myself failed in both these things many times in my life, but as a Christian, I do not accept that failure but get up and move forward again.
The Only Basis for Unity
In Pentecost, Christ sends His Holy Spirit to unite all together — not in a false, worldly unity, but in true unity. There is no unity without Christ. And the way to achieve unity in Christ never involves forcing someone else to agree with us, but rather in uniting ourselves so deeply with Christ that even those who hate us will want to join us there.
Christ told us what to do with our enemies — love them. And He didn't allow for any exceptions to that rule.
The primary saint for June 1, Justin Martyr, said this:
And thus do we also, since our persuasion by the Word, stand aloof from them (i.e., the demons), and follow the only unbegotten God through His Son — we who formerly delighted in fornication, but now embrace chastity alone; we who formerly used magical arts, dedicate ourselves to the good and unbegotten God; we who valued above all things the acquisition of wealth and possessions, now bring what we have into a common stock, and communicate to every one in need; we who hated and destroyed one another, and on account of their different manners would not live with men of a different tribe, now, since the coming of Christ, live familiarly with them, and pray for our enemies, and endeavour to persuade those who hate us unjustly to live conformably to the good precepts of Christ, to the end that they may become partakers with us of the same joyful hope of a reward from God the ruler of all. (First Apology, 14)
I am not qualified to speak very well of racial reconciliation, but it seems to me that St. Justin shows well exactly what the key to any reconciliation is — turning away from idolatry to demons and their fornication, sorcery, greed, hatred and tribalism, and turning toward worship of Christ in chastity, generosity, brotherhood, and love for enemies and those who hate us.
It's true that I really don't have the qualifications to speak about the death of George Floyd and what has now followed it, and perhaps many of you do not, either. But no matter what our backgrounds or credibility regarding the specific problems before us, these are things we all can do.
The seeds of hatred, murder and violence are sown in the ground prepared by fornication, by sorcery (which is about controlling others), by greed and by tribalism.
If we prepare our ground instead with prayer, with piety, with generosity, with chastity, with fasting — in short, with love — then the seeds of hatred cannot grow there. Instead, what will grow there is the gospel.
And instead of a "civilization" torn with pride and dehumanization of the other, we will have the Kingdom of God, in which all see Christ in one another and in whom it is not we who live, but Christ Who lives in us. I cannot do this. But Christ can. And He is doing it.
Forgive me for any of my misspoken words.
---
ILLUSTRATION: "Riots in New York: Destruction of the Coloured Orphan Asylum." In July 1863, the New York City Draft Riots destroyed many African-American neighborhoods and institutions, due to a law that drafted only white men to fight in the Civil War, since black men were considered non-citizens at the time. About 120 people were killed.