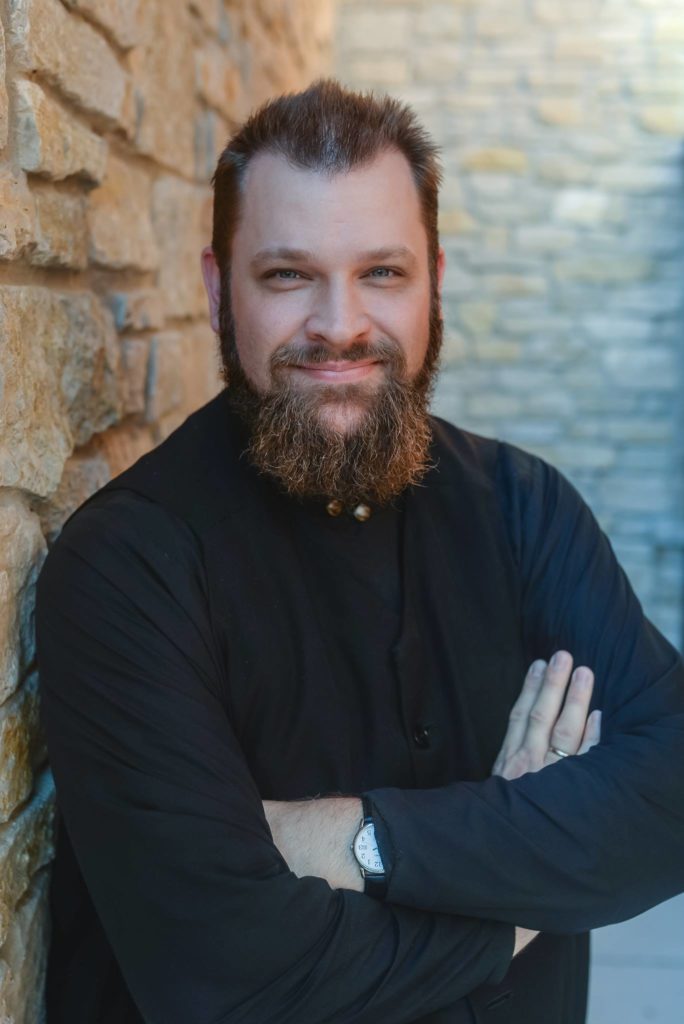 The Very Rev. Archpriest Andrew Stephen Damick is pastor of St. Paul Antiochian Orthodox Church of Emmaus, Pennsylvania, author of Orthodoxy and Heterodoxy (Ancient Faith Publishing/Conciliar Press, 2011 and 2017), An Introduction to God (Ancient Faith Publishing, 2014) and Bearing God (Ancient Faith Publishing, 2017). He is also host of the Amon Sûl, Orthodoxy and Heterodoxy and Roads from Emmaus podcasts, co-host of The Areopagus Podcast, and he is a frequent speaker at lectures and retreats both in parishes and in other settings.
Fr. Andrew was born in 1975 in Newport News, Virginia, to a U.S. Navy family that in 1983 became an Evangelical missionary family, living in Virginia, upstate New York and Ohio. In 1985, his family moved to the Pacific island of Guam, where they stayed through the end of his freshman year of high school in 1990, when they moved back to Ohio. After graduating from high school in 1993, Fr. Andrew moved with his family to North Carolina.
From 1994 to 2001, Fr. Andrew studied at North Carolina State University in Raleigh, North Carolina, while working as a professional theatre technician/stagehand, becoming a supervisor at NCSU's Stewart Theatre and also working in various freelance production positions. During this time, he completed a Bachelor of Arts degree in English Language and Literature, along with minors in Religion, Classical Studies, and Ancient Greek, as well as completing most of the coursework for a B.A. in Communication. While in college, he began reading about Orthodox Christianity and was received into the Orthodox Church at All Saints Antiochian Orthodox Church in Raleigh at Pascha of 1998.
After graduating from the university in 2001, Fr. Andrew continued to work as a stagehand, technical theatre supervisor and theatrical lighting designer. In May of 2002, he met Nicole Ann Boury, the daughter of Bechara and Shirley Boury, and the two were married on August 17, 2003. In 2007, Kh. Nicole gave birth to their first child, Evangelia; in 2009 Elias was born; Raphael was born in 2012; and Iskander was born in 2017.
In September of 2004, Fr. Andrew and Kh. Nicole moved to northeastern Pennsylvania, where Fr. Andrew studied in the Master of Divinity program at St. Tikhon's Orthodox Theological Seminary until May of 2007. On May 26, 2007, he graduated summa cum laude with Distinction, with honors in the field of Church History. The title of his master's thesis was "The Archbishop's Wife: Archbishop Aftimios Ofiesh of Brooklyn, the American Orthodox Catholic Church, and the Founding of the Antiochian Archdiocese (1880-1934)." Aside from the standard coursework, Fr. Andrew specialized in studying the history of Orthodoxy in America, and he also continued his previous study of Byzantine chant.
Fr. Andrew was ordained to the holy diaconate on October 30, 2005, by His Grace Bishop THOMAS of Charleston and Oakland at St. George Antiochian Orthodox Church in Allentown, Pennsylvania, and to the holy priesthood on October 29, 2006, by His Grace Bishop ANTOUN of Miami at his home parish of All Saints Antiochian Orthodox Church in Raleigh, North Carolina.
From June 2007 to June 2009, Fr. Andrew served as the Assistant Pastor at St. George Orthodox Cathedral in Charleston, West Virginia, under the direction of the cathedral dean, the Very Rev. Olof H. Scott. In July 2009, he was appointed as pastor of St. Paul Antiochian Orthodox Church in Emmaus, Pennsylvania.
On October 2, 2016, Fr. Andrew was elevated by His Grace Bishop THOMAS to the rank of archpriest at St. Paul's.
Fr. Andrew's hobbies and interests include local and world history; folklore and mythology; traditional, folk and modern music; science fiction and fantasy literature and film; scenic and art photography; English Medieval and Renaissance drama and poetry; dabbling in ancient and modern languages and etymology; and localism/regionalism. He also enjoys keeping aquarium fish and occasionally plays the Appalachian mountain dulcimer.
In addition to his pastoral work at St. Paul's and his publishing and podcasting, Fr. Andrew is a regular blogger and he serves as editor-in-chief of the multi-author Orthodoxy and Heterodoxy weblog.
He additionally serves on the editorial board of The Word Magazine (originally founded as Al-Kalimat by St. Raphael of Brooklyn), as a member of the Antiochian Archdiocese Department of Liturgics and Translations, and since 2013 as President of the Lehigh Valley Orthodox Clergy Brotherhood. Since 2007, he has served in the Communications Staff of the Antiochian Orthodox Christian Diocese of Charleston, Oakland and the Mid-Atlantic.
Fr. Andrew is a founder and serves on the Board of Directors of the Society for Orthodox Christian History in the Americas (SOCHA), and he also serves on the board of the St. Basil Center for Orthodox Thought and Culture. He was also one of the founding administrators of the OrthodoxWiki website, where he authored or made major editorial contributions to more than 250 articles.
Fr. Andrew has delivered public lectures on comparative theology, evangelism, ecology and Church history, as well as on other topics pertaining to Orthodox Christian spiritual life, at numerous parishes in North America as well as at Cornell University, Princeton Theological Seminary, St. Tikhon's Orthodox Theological Seminary, the Antiochian Village, Penn State University, Lehigh University, Bucknell University, Eastern University, Grove City College and Muhlenberg College. He has also given talks for Orthodox Christian Fellowship (OCF), the Antiochian Archdiocese's Department of Christian Education, the Orthodox Church in America's Diocese of New York and New Jersey and Diocese of Eastern Pennsylvania, and the Ukrainian Orthodox Church of the USA.