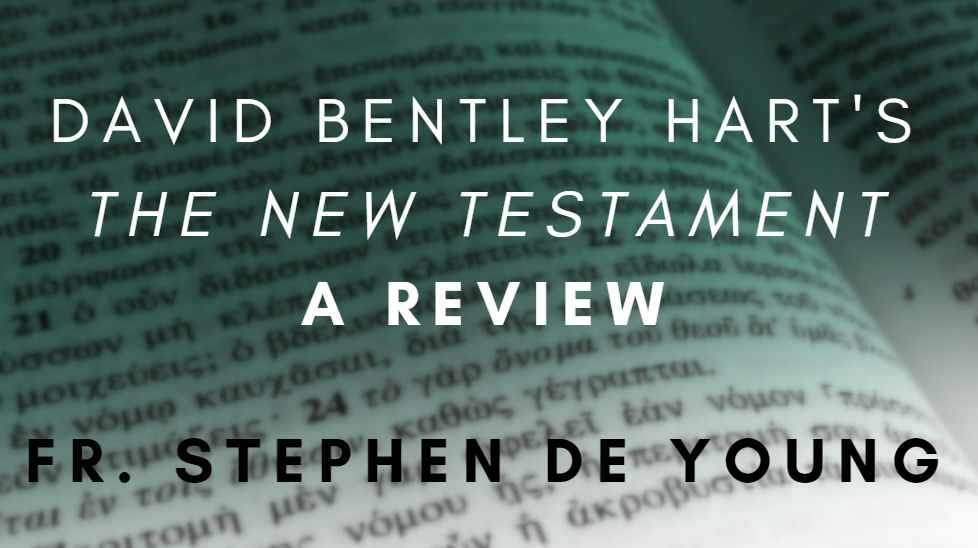 That David Bentley Hart was asked to produce a translation of the New Testament may at first seem counter-intuitive.  His field is philosophy and philosophical theology, not New Testament or Greek language (though he reads Greek).  Further, with the wide range of New Testament translations available to a general audience in English, not to mention the variety of Greek critical editions available to scholars, the need for another English translation of any kind is not obvious.
A philosopher tries his hand at translation
Hart's translation work here is a project akin to having a New Testament scholar translate the works of Philo Alexandrinus.  Though they are philosophical works, a New Testament scholar would bring a perspective to them informed by knowledge of Hellenistic Judaism, the Greek scriptures, and the Greek language that scholars of philosophy might not possess.  Such a project might therefore produce unique insights into the texts that had gone unnoticed by specialists in the field.  On the other hand, there would probably be matters of philosophical importance which the New Testament scholar might miss or misinterpret working outside of his own field.  Both of these aspects, positive and negative, are true of Hart's New Testament translation.  He both makes significant and worthwhile insights into the text, and occasionally misses resonances with, in particular, Old Testament traditions and Second Temple Judaism.
For his Greek text, Hart has chosen to work primarily from the 1904/12 Greek text issued by the Ecumenical Patriarchate of Constantinople.  He says that he has chosen this text as being representative of the Byzantine text type in general.  This is not actually correct.  The 1904/12 text is an eclectic text produced from 250 contemporary lectionary texts of the Patriarchate, and is heavily influenced by printed editions of the Greek lectionary received from Venice.  There is no overlap in manuscripts between this text, and the secondary texts which Hart utilizes in addition from the Byzantine tradition.
That said, without saying that he is doing so, Hart corrects the 1904/12 text on many occasions.  He, for example, omits the Comma Johanneum, found in the 1904/12 text through Venetian influence.  He does include the Pericope Adulterae, bracketed, but handles the issue of this piece of text well in a lengthy footnote.  He includes the more expansive form of Luke/Acts, including Luke 22:44 and 23:34, for example, without comment.  Hart is generally consistent in supporting ancient readings without fixating on the earliest manuscripts in a conjectural attempt to produce 'the original text'.
Rigorous literalism?
In his introduction, Hart sets forth his translation strategy as being one of rigorous literalism.  One of his primary stated goals is to give, as much as possible, those without Greek access to the Greek text.  He translates idiomatic phrases literally, for the most part, rather than replacing them with a similar English idiom.  On the other hand, Hart's forceful presentation in this regard is potentially misleading and frankly, he has read enough Heidegger to know better.  Any translation of any document requires interpretation, as words in one language do not simply 'equal' words in another language.  There are conceptual realities in Hellenistic Greek for which there is no adequate English words and vice versa.  As much as Hart wishes to present what he does here as science, there is a great degree of art as well.
That said, an attentive reader of Hart's introductory material and his appendices will see his various presuppositions laid out rather plainly.  Hart is, for example, a universalist and makes no effort to disguise this, though his blanket statements that nothing in the New Testament opposes his view on this and a handful of other issues is again a bit disingenuous given his knowledge of philosophy of language.  Suffice it to the reader to know ahead of time that there is nothing in the New Testament which Hart is going to read as opposing this and other views as openly stated in the introduction and apparatus.  Hart lays out his presuppositions, though he seems reticent to acknowledge that they are, in fact, presuppositions.
The strongest element of Hart's translation is his refusal to use stereotyped phrases and 'church vocabulary' in translating the Greek.  So, rather than the transliteration Devil we have the Slanderer.  Rather than eternity or eternal we have of the Age or the Age to come.  While many have seen the latter as an attempt to again bootstrap universalism, it is, in fact, more accurate to the actual text.  More importantly than bare accuracy, it points to a corrective to popular sub-Christian eschatology that has overtaken much of American Christianity.  Christ and the apostles speak, as the Creed has it, of 'the life of the world to come', of another coming age of the cosmos, not of some disembodied positive or negative eternal state.
Hart's use of cosmos rather world is likewise helpful, in drawing attention to the true scope of redemption, beyond merely the world of human interactions.  Blissful for blessed is a master stroke both in bringing across original meaning, and in avoiding a word which has become uncertain in meaning due to its continued use.  The portion of Hart's concluding postscript in which he lays out many of these translation choices is likewise extremely helpful, and shows the strength of the project in bringing his facility with non-Biblical Greek sources to bear on the text of scripture.
Some oversights
Less helpful are the places in which Hart ventures outside of his academic wheelhouse.  This includes the material, not completely confined to the postscript, on authorship and composition of the various New Testament texts.  Hart covers this information very much in brief, expressing his own personal views, for example, on Pauline authorship of the epistles, with no real regard for scholarly consensus on the one hand, or addressing the arguments for or against his own opinion.  Certainly, he does not really have the space here to fully address these issues in a scholarly way, and that being the case, it might better have been omitted.  His notations within the text regarding to whom the texts are attributed would likely have been sufficient.
There are also places, some of them significant, where while Hart is well aware of the larger Greek background of particular words and phrases, he appears to lack grounding in related concepts of Second Temple Judaism.  One major example of this is his translation of the prologue of the Gospel According to St. John, and his discussion of that translation in the postscript.  In speaking of the relationship between God and Word in this text, Hart shows himself well aware of the broader usage of the Greek terms in question, but fails to connect these to the 'Two Powers in Heaven' concept in the Judaism of the first century which recognized a second hypostasis of Israel's God, and even connected this figure to the figure of 'the Word of God' in the Hebrew scriptures.  There is a related omission in his note on Jude 5, which leads him down a rabbit trail regarding Joshua.
Though the following may seem extremely technical, Hart makes an issue in the text, and has made an issue in related interviews, of the translation of the definite article in Greek, particularly in relation to the word spirit being applied to the Holy Spirit.  Hart goes so far as to accuse other English translators of here being misleading, sometimes even seeming to imply some nefarious motive.  Jude 19 has become a focal point for this discussion, as Hart states in a blanket way that the absence here of the definite article means that it cannot be referring to 'the Spirit'.
The problem here is that at this stage of the development of the Greek language, what we call the 'definite article' in Greek was not actually functioning primarily as a definite article.  Originally Greek, like Latin, featured no definite article.  What is now considered the Greek definite article began appearing, though rarely in Attic Greek of the Homeric period, and when it did appear, it appeared solely as a demonstrative pronoun, meaning generally 'this'.  In koine Greek, the Greek of the New Testament, this is still the primary function of the article.  Generally in New Testament grammars this is referred to as 'previous reference'.  For this reason, the definite article is often used before proper names in the New Testament in continuous discourse, i.e., 'this Jesus (the one we've been following) then said….'
The various uses of the article render a noun definite as a secondary factor.  If I refer to 'this book', it is a reference to a particular book.  Greek in this period also had an indefinite pronoun tis, which is usual translate as 'some' or 'a certain', as in 'a certain man' or 'some person'.  If a noun is anarthrous, meaning that it has no article or pronoun in front of it, it may be definite or indefinite depending on context.  Given that Jude is a short epistle drenched in the literary traditions of Second Temple Judaism, it seems far more likely that he refers to the Spirit of God operating in the life of a person than to a philosophical notion of psychical and spiritual persons.  This, at least, is the understanding of the Greek scholars who produced the translations which Hart criticizes, and so at bare minimum, it is not an issue so obvious as Hart would like to have it.
Translation is always interpretation
Though in many places, Hart succeeds in his stated goal of giving a more direct and literal access to the underlying Greek text of the New Testament, as with all translators, he is also acting as interpreter, and so his presuppositions come into play.  As one example, Acts 13:48 is translated by Hart as, '…as many as were disposed to the life of the Age had faith'.  The verb here translated as 'were disposed' actually refers to those who were 'designated', 'ordered', or 'ordained' to the life of the Age.  This reviewer, like Hart, rejects the Calvinist interpretation of this verse.  However, Hart's translation is at least misleading, in referring to an inner disposition rather than the action of another party.  The text, of course, gives no indication of who or how or why these persons came to be designated for eternal life.  Hart at least partially makes this choice for his readers.  Whether he is right or wrong in this choice, his stated goal is to not make such choices, but to merely represent the text and allow the reader to wrestle with its complexities.
David Bentley Hart's translation of the New Testament, taken on the whole, succeeds more than it fails in being a useful resource for the person wishing to engage in New Testament study without access to the original language.  Though, as all texts, it has its biases and makes decisions in translation, these decisions and biases are for the most part transparent to the careful reader.  This text could be well paired with, for example, an NASB Reference Bible, the two serving to correct each other in places, and supplement what is lacking in regard to apparatus, particularly with reference to Old Testament quotations and allusions.  Hart's translation helpfully chips away at calcified usages, gives pause to assumed understandings, and gives the general benefit of slowing the reader down and provoking thought concerning Biblical texts that through familiarity have lost the impact that they might once have held.
Thank you to Yale University Press for providing a review copy of this title.