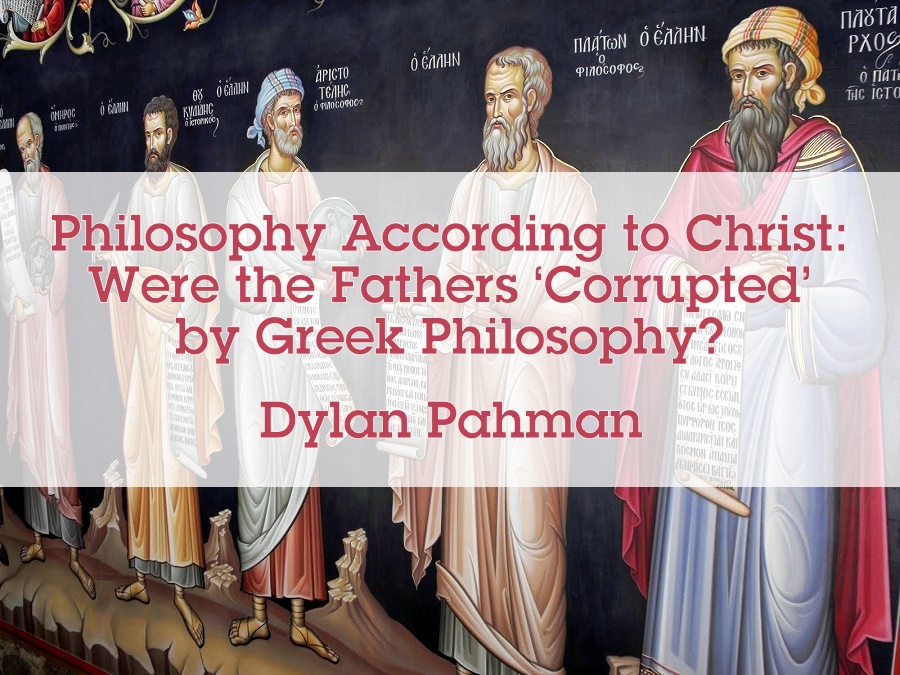 It is a recurring popular trope, especially in some Protestant circles, to dismiss the Church Fathers on the grounds that they were "seduced" or "corrupted" by Greek philosophy and that their understanding of the faith displays the cultural milieu of the day, rather than proper biblical exegesis. Even many scholars have claimed that attempting to read the Bible as the Fathers did is fundamentally incorrect, that the Gospel is fundamentally Jewish as opposed to Greek.
The philosopher Charles Hartshorne, for example, argued, "The Biblical writers were not discussing Greek philosophical issues, and it is at our own peril that we interpret them as if they were discussing these." Others, such as philosopher Alfred North Whitehead and theologian Clark Pinnock seem to think that the worlds of Greek and Jew were drastically opposed to one another in the centuries leading up to the New Testament, and, therefore, any attempt to interpret it with the assistance of Greek philosophy should be viewed as a corruption of the Scriptures. As Reformed philosopher Nicholas Wolterstorff has asserted, "The patterns of classical Greek thought are incompatible with the pattern of biblical thought."
On the contrary, while both ancient Greeks and Jews were at times hostile to the other, both also acknowledged truth in the other's schools of thought and each employed aspects of the other to suit their own needs. This popular idea of Jewish isolation from Hellenistic influence, even in Palestine, is an unfounded oversimplification of a very complex meeting of cultures. As historian and classicist Erich S. Gruen has noted, "'Judaism' and 'Hellenism' were neither competing systems nor incompatible concepts." What decades of scholarship across a wide variety of disciplines have actually found is a fascinating type of ancient, inter-religious dialogue, where Jews and Greeks acknowledged the wisdom of the other, accepting and employing what fit within their own traditions, while rejecting whatever did not. These rejections may not have been the sort of respectful disagreements that people have today, but their lack of civility does not give warrant to overlook the many areas in which these two worlds overlapped.
Accordingly, despite what some would like to claim, the extent of the Hellenization of Jewish life and thought by the first century AD should not be limited to the Diaspora (i.e., Jewish communities outside of Judea). In fact, some, such as historian Martin Hengel, have demonstrated the thorough infiltration of Hellenism into Palestine from the third century BC onward. By the first century AD, Greek language and culture had affected literally every level of Jewish society. Furthermore, we even find that in cases of the most extreme opposition to Hellenization, such as the Maccabees, 1 Enoch, and Ben Sira (Ecclesiasticus), there still exist elements of Greek language, culture, and thought, even in the midst of anti-Hellenist polemics.
Furthermore, the significant influence of Hellenism on the Jews of the Diaspora is well established since the attitude among such Jews towards Greek philosophy was much more favorable. As Harry Austryn Wolfson, a scholar of the works of the ancient Hellenistic Jewish philosopher Philo of Alexandria, put it, "The Scripture-trained Jew unconsciously approached other gods with the attitude of a student of comparative religion." None of this is meant to portray Second Temple Judaism (515 BC – 70 AD) as syncretistic but merely to demonstrate that Jews of this time period, whether consciously or unconsciously, acknowledged that the light of God's truth had shone among the Greeks as well, albeit in a somewhat diminished form.
Additionally, we must consider the significant force of Jewish and other Semitic influence on Hellenistic culture, as well as the growing Greek fascination with "barbarian wisdom" in the centuries preceding the birth of the Christian Church. In fact, New Testament scholar Dale B. Martin has noted, "Most scholars nowadays agree… that all forms of Greek culture in the same period had been influenced by 'oriental' cultures, to ask whether something is Hellenistic or Jewish would seem to be a misleading question."
Interestingly, Hengel noted that this influence is partly due to the rise of Stoicism and the ideas of "world citizenship" and Hellenism through education. Furthermore, the Stoic appreciation for "barbarian wisdom" leads him to conclude that "in one sense the Jewish adoption of Stoic notions from Ben Sira and Aristobulus down to Philo was an oriental interpretation taken back again." Plato may not have read Moses, as many early Christian apologists claimed, but ancient Near-Eastern ideas did influence the Greeks. They got their alphabet (and many of their deities) from the Phoenicians, and Clement of Alexandria extensively catalogued explicit references to the ancient Near-East by Greek philosophers in his Stromata.
With this sort of cross-pollination taking place, we should not be surprised to find traces of Greek philosophy in many works of Second Temple Jewish literature, such as Ecclesiasticus, the Wisdom of Solomon, and the Testaments of the Twelve Patriarchs, among others, as well as the works of Philo of Alexandria, who was familiar with nearly every school of Greek philosophy and employed their concepts as exegetical tools. While it is widely held that Ben Sira, Wisdom, and other Second Temple sources have directly influenced the New Testament, there are so many parallels between the works of Philo and the New Testament that we must, at least, presume a common influence.
Furthermore, the widespread use of Greek thought in the patristic period itself contributes even greater evidence in support of the use of Greek concepts as exegetical and theological tools. If this is the way that the earliest Christian interpreters understood the faith, why are some so eager to abandon it today with little reason for doing so? We simply cannot get around the possibility of Greek influence on the New Testament, giving us warrant to reexamine the usefulness of Greek philosophy for biblical studies, as well as justification for its use by the Fathers of the Church.
I would like to be very clear, however, that it is not my intention to promote Greek influence over/against Jewish, nor do I suppose that the writers of the New Testament blindly adopted Greek concepts. Rather, as the Second Temple Jews "circumcised" Greek philosophy through their tradition, the first Christians "baptized" it through their faith in Christ. My concern is with the widespread influence of Greek philosophy on Second Temple Judaism and, by extension, New Testament Christianity. Indeed, to deny this Greek influence is to deny a significant portion of Jewish thought, echoed throughout the New Testament. Having said this, I do not believe that the Christian faith is merely some creative combination of Greek and Jewish ideas, but rather that it transcends them both, and all others. To quote St. Paul, in the newness of the Christian faith, "there is neither Greek nor Jew … but Christ is all and in all" (Colossians 3:11).1
But doesn't St. Paul warn us against the dangers of Greek philosophy? After all, he wrote,
Beware lest anyone cheat you through philosophy and empty deceit, according to the tradition of men, according to the basic principles of the world, and not according to Christ. For in Him dwells all the fullness of the Godhead bodily; and you are complete in Him, who is the head of all principality and power. (Colossians 2:8-10)
Exegetically, it is important to note a clear contrast here. St. Paul does not criticize all philosophy. He criticizes philosophy "according to the tradition of men, according to the basic principles of the world." By implication, then, he is okay with philosophy "according to Christ." But what might that have been to him?
We know from Acts 17 that St. Paul was at least familiar with the Stoics. He quotes Cleanthes's "Hymn to Zeus" favorably. "Zeus" was the name the Stoics used to refer to the one God above all gods—the Logos or "Universal Reason," not really the god of the pagan pantheon. So, assuming he was consistent, at least some aspects of Stoicism count as philosophy "according to Christ."
This makes sense; St. John begins his Gospel with the memorable words, "In the beginning was the Logos" (John 1:1). The idea of the Logos seems to come from Heraclitus originally, but it was present in the earliest Stoic thought. By the first century AD, other schools of Greek philosophy, like the Middle Platonists, had incorporated it as well. In any case, any ancient reader of John's Gospel would have immediately thought of this Greek idea, in addition to, no doubt, the Semitic idea of Divine Wisdom found in Proverbs 8 or Wisdom 9 and God's speaking the world into existence through is word (another meaning of the Greek "logos") in Genesis 1.
Given that St. John claims that Jesus is the Logos "made flesh" (John 1:14), it makes sense that any school of Greek philosophy that acknowledged the divine Logos would, however imperfectly, be a philosophy "according to Christ." Off the table? Probably Epicureanism, which was materialist, denied Providence, and was often uncharitably understood to be hedonistic. And probably Sophism too, which, according to Socrates's uncharitable but popular characterization in Plato's Apology, tended simply to "deceive [people] with persuasive words" (Colossians 2:4) in the guise of teaching wisdom but with the real goal of just making a money off their students.
This is not to say, as I've already noted, that therefore every other Greek idea would be fair game. Rather, as Fr. Georges Florovsky put it, in the writings of ancient Christians, "Hellenism was, as it were, dissected by the Sword of the Spirit, was polarized and divided, and a 'Christian Hellenism' was created." St. Paul exhorts us, "do not be conformed to this world, but be transformed by the renewing of your mind, that you may prove what is that good and acceptable and perfect will of God" (Romans 12:2).
This kind of discernment requires the ascetic practice of watchfulness—a prayerful sifting through all the thoughts and passions that arise in our minds, continually questioning whether any given concept or conviction is truly "according to Christ." All throughout Christian history, beginning with the New Testament, Christians have approached non-Christian philosophy in this way: positive, but not uncritical.
We would do well to continue not only their positive appropriation of ancient Greek philosophy, but to use this method to appropriate even the philosophies of other peoples, places, and times, to the extent that they help us more clearly see the breadth of God's wisdom, pursue a truly righteous and virtuous life in accordance with his will, and renew our minds through repentance and faith in his Son Jesus Christ.
The foregoing is an adaptation of a section from a paper I presented in 2009 at the Claremont Philosophy of Religion conference. You can read the whole paper here. My thanks to those present for their feedback.