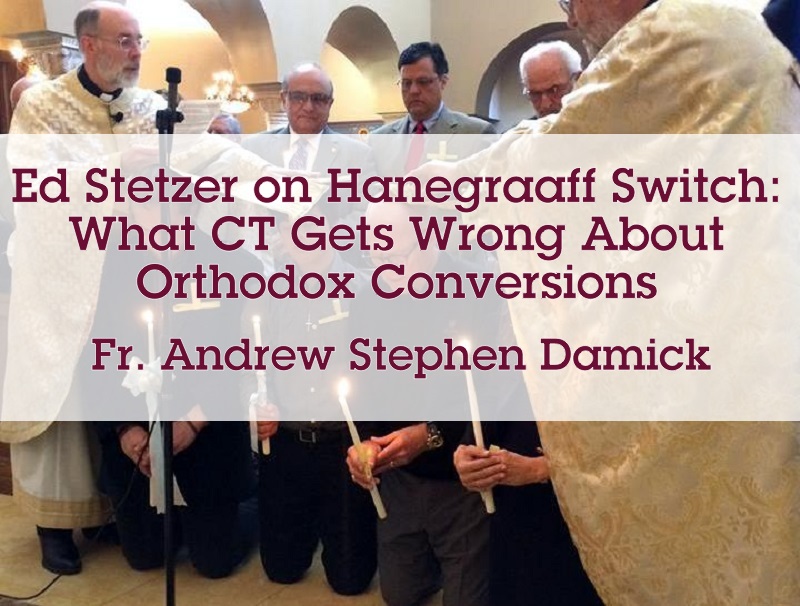 Writing in Evangelical flagship publication Christianity Today, Ed Stetzer, who is a professor at Wheaton and heads up the Billy Graham Center for Evangelism, made some guesses about why Evangelicals become Orthodox Christians in "Hank Hanegraaff's Switch to Eastern Orthodoxy, Why People Make Such Changes, and Four Ways Evangelicals Might Respond":
The obvious question is what draws evangelicals to more liturgical traditions—and why?

For people in some of those traditions, the answer is clear to them—they have found the true (or at least truer) church.

However, I think there are other factors at work, including the reality that many evangelicals struggle with the simplicity of evangelicalism, its lack of historic rooting, and more.
I'm always a little leery of pieces that try to draw out what people really are thinking when they convert to Orthodoxy (or anything else, really) rather than simply listening to the reasons given by the convert. That said, Stetzer's piece provides some food for thought, but, as we shall see, stops short again and again of actually giving some foundations for his criticisms.
He gives four reasons, along with four ways how Evangelicals might respond. So let's look at each.
Why do People Convert to Orthodoxy?
1. Orthodoxy is for Intellectuals
First, he sees some Evangelicals looking to Orthodoxy because they find Evangelicalism too simple:
These theologically-interested believers often grow weary of two things: a lack of liturgy that ties us to our past and, for some (particularly those prone toward Orthodoxy and Catholicism), the need for a source of authoritative truth that is lacking in evangelicalism.

The first tendency is to fill in the gaps with formalized liturgy as a connection to the early church. I understand the impulse, even though I don't experience it like many others do. For example, the first question in my interview for my faculty position at Wheaton College was, "Do you ever miss the liturgy of the Episcopal Church?" My answer was and still is, "Not really."

[…]

Yet many more intellectually-inclined evangelicals often struggle with the simplicity of evangelicalism. As a missiologist, my approach is, perhaps, simpler still—the ideas I (and many missiologists) advocate teach that the "how" of some parts of worship are shaped by the who, when, and where of culture.

This idea is almost offensive to some, and some who reject those ideas go down other, narrower, older paths. As such, moving to these traditions for liturgy that ties to the practices and expressions of the early church does make sense. In many ways, they find exactly what they are looking for.
This mainly dodges the problem. It is true that there are intellectual Evangelicals, so you don't have to become Orthodox to be a Christian intellectual. But Stetzer doesn't discuss what it is about Orthodoxy that makes it attractive to intellectuals. Liturgy isn't enough to explain the draw, and it certainly isn't only for intellectuals. Most Orthodox aren't intellectuals.
What Orthodoxy does have, however, is a robust intellectual tradition that isn't just liturgical, but dogmatic, theological, pastoral, trans-cultural, philosophical, missiological, etc. There really is a difference between a Church that has been doing these things for 2,000 years across cultures as diverse as Georgians, Arabs, Romanians and Greeks and a loose theological movement that finds its origins in the emotional conversionism of 19th c. revivalism. The reason why Evangelicalism has an intellectual problem is because its basic DNA at least strongly hints that anti-intellectualism might be more spiritual.
2. Orthodoxy Looks Like the Early Church
Second, Stetzer says that the draw is to the early Church:
The early church was indeed more focused on the Eucharist and was more liturgical in structure, nature, and expression. There are things we can learn from that today, but we have to also acknowledge that much of what we see was, indeed, cultural. As a missiologist, I'm not drawn into early Christian cultural forms and am concerned that some are equating them with eternal truth.

The question I want to answer: Are we looking for the right things? Do we want to model with exactitude the cultural form of the early church? Is that the ultimate value?
Here's a question I'd like him to answer: If the early Church was eucharistic and liturgical, and if Christians kept being that way for centuries in numerous cultures, languages, etc., then why should we conclude that that kind of worship is merely a "cultural form"?
Historically, almost all Christians have been liturgical. Even today, the majority of Christians are liturgical. So why is it that the comparatively parochial phenomenon of revivalist church services relativizes liturgical worship to make it merely "cultural"?
And if the Eucharist really is the Body and Blood of Christ, how can that ever be "cultural"? And if it's not really His Body and Blood, we're talking about questions of heresy, not merely culture. Stetzer wants both to affirm early Christian liturgy and also relativize it. But you can't really have it both ways. Either the way the Apostles taught their disciples to worship (and was subsequently passed down almost universally for centuries) is authoritative or it's wrong. It's not just good for a certain time and place.
If it were, it wouldn't be the only mode of corporate worship ever mentioned in Scripture, both Old and New Testaments. And we also have to imagine that the Epistle to the Hebrews would look really different if liturgy wasn't intended as the worship norm.
And what about the worship we see in Heaven? Is that just a cultural form?
3. Orthodoxy Has Authoritative Hermeneutics
Stetzer recognizes the problem with sola scriptura scriptural hermeneutics but then avoids the problem:
…the evangelical bent towards Western individualism has opened the door to an 'every Bible for itself' mentality where, combined with the digital age, rogue armchair theologians can be equipped with major influence without proper ecclesiological accountability. It's a bit of a "me version" world of Bible translation. Lacking a central definition and protection of truth can cause (and has caused) much of evangelicalism's problems.

In Catholicism and Eastern Orthodoxy, that is not typically the case. In these church structures, there are tighter reigns on vetting truth and defining orthodox beliefs. Some see the Church organizationally as a means to preserve biblical truth from the changing tides of cultural waves.
He doesn't respond to the basic problem of sola scriptura at all. The only thing we get is this suggestion that neither Catholics nor Orthodox really have authoritative hermeneutics: "We see others have jumped in to swim and have found the waters are choppy."
As an Orthodox Christian, I will certainly acknowledge that interpreting Scripture isn't always easy or obvious. If someone becomes Orthodox thinking that, he will be disappointed. But what is different from Evangelicalism is that there actually are boundaries for the Orthodox, and there is a community that has authority that can make rulings. There is an interpretive tradition to be responsible to.
For Evangelicals, anything from their (or another) tradition that they might use in interpretation is at best a resource. It does not really have a hold over them except within certain denominational cases, such as confessional Lutherans, etc., though that just raises the question of why that tradition is more authoritative than the tradition they broke from historically.
And even if they break from their denomination over hermeneutics, it is unlikely that anyone would see that as truly critical. You can always start your own. And that's in keeping with the Evangelical movement, too.
4.Orthodoxy Has Historical Continuity
Stetzer tries his hand at debunking apostolic succession basically by saying that everyone tries it:
People are drawn to these traditions for good reasons. Low church approaches have problems that we need to be willing to address. But I see many conversions to such traditions as a search for the denominational grail. People are trying to find the way back to the practices of the early church, and all claim to have the roadmap to get there.

It is a common thing for denominations to trace themselves back to the earliest models of church. Baptists did this through the trail of blood and baptismal practices. The Restoration Movement (which includes Churches of Christ) values restoring the New Testament church. Some Anglicans and Lutherans attempt to trace their roots through apostolic succession. The Eastern Orthodox Church traces their Patriarch of Constantinople to the Apostle Andrew. In reality, no one has it completely right and all such attempts have issues.
He unfortunately doesn't mention that apostolic succession was the early Church's way of proving that something came from the Apostles. He also doesn't mention that Orthodox apostolic succession doesn't depend on Constantinopolitan claims about St. Andrew. Those claims might be dubious, but no one questions, for instance, the Petrine origins of the Churches of Antioch or Alexandria nor the apostolic origin of the Church of Jerusalem, etc.
Comparing those churches' historical succession to Baptist Landmarkism, which is essentially an attempt to trace anti-Catholicism through a long succession of various heretics, is really a stretch. And comparing it to Restorationism is almost a non sequitur. It's not a quest for a "denominational grail." History really does record a continuous succession of bishops and their flocks in various ancient apostolic sees, most of which are still occupied by Orthodox bishops.
And to conclude that "no one has it completely right" basically means that you can never really know if what you teach and practice aligns with what Jesus taught His disciples or not. Agnosticism about church authority means that you really aren't accountable to anyone, because, hey, no one has it completely right.
Evangelical Responses
1. Acknowledge we see through a glass darkly.
I will certainly agree with Stetzer that "We do not see all that God is doing in the world, and we certainly don't determine who is or isn't a follower of Jesus." But we can still say some things about what it means to be a follower of Jesus based on what Jesus taught and how those who followed Him and followed His disciples understood it.
I'm also glad that he "still can acknowledge that [his] own tradition needs to be reevaluated in light of scripture and, yes, the practices of the early church." But here's the catch: Whose interpretation of Scripture? And what exactly from the early Church is going to become authoritative for him?
I myself let my views on Christianity be evaluated in that light, and the conclusion I came to is that I had to change because I didn't align with the early Church. Stetzer doesn't agree because early Church forms are merely cultural, so how does he succeed in not making himself the one doing the evaluating rather than being the one evaluated?
2. Don't normalize cultural church forms.
We covered this above a bit, but he repeats his points here:
I'm not moving toward Eastern Orthodoxy, so let me add why. For one, I think the tendency towards (big-O) Orthodoxy and its liturgy is missiologically unhealthy, not just theologically problematic. Many segments of Orthodoxy take Hellenistic (or other) cultural forms, consider them normative to today's context, and apply them as the "true" or "authentic" way.
He doesn't mention what exactly he has in mind, but he also doesn't answer why it is those "cultural forms" proved so universal and trans-cultural throughout Christian history. So the onus is on him to demonstrate why it is that something so universal is really just "cultural."
If liturgy is what he has in mind, of course culture has affected liturgy throughout time. No one who has studied liturgical history denies that. But overall, the theme is continuity rather than innovation. And the shape is still liturgical. Until the past couple of centuries, there was no culture that Christianity encountered and concluded that it was liturgy itself that had to go. And even now, that conclusion is reached by only a minority of Christians in certain places.
That said, if worship is not only culturally conditioned but actually a cultural (and therefore relative) product, then what else that is normative in the early Church might be thus relativized? The canon of Scripture? The dogmas of the Trinity and Incarnation?
We're not talking about questions of propriety and discipline such as head coverings or whether we call our local leader a bishop or presbyter, nor about always-difficult issues like what 1 Cor. 15:29 means for baptism. We're talking about the very heart of Christian life—worship.
And we're talking about taking a long-term historical commitment to liturgy and saying that it really doesn't apply any more.
He adds:
That's not helpful and it actually hinders the advance of the gospel, which in part explains why American Orthodoxy has far more converts from evangelicalism than it does from secularism.
Actually, I don't think it does. First, he should probably mention that almost no Christian group in America has more converts from secularism than from other Christian groups. Religious belief has remained basically steady for decades in the US. Almost all conversion growth is ultimately transfer growth.
Now, one may ask why it is that there are more Evangelical converts than other kinds in American Orthodoxy (which I'm not sure of, actually, and have never seen statistics on), and I'd suggest that that is simply because of the kind of people who have made it their mission to reach out with the Gospel as Orthodoxy sees it. It's not as though Evangelicals are more likely to become convinced that "cultural forms" should be made absolute and therefore convert to Orthodoxy.
Overall, I don't think most Christian groups of any kind really know how to convert people from secularism yet. Most people becoming Evangelicals, for instance, are usually just trading in older denominational affiliations for something more "contemporary" or need-based.
3. Don't import, export.
He explains:
A better approach than importing and normalizing cultural church forms is one that is built on Sola Scriptura. In the way of Jesus, and walking in the Spirit, I believe we need to go back to scripture for each and every generation of Christians and ask, "What would it look like to live out this timeless scriptural faith in this time and in this place?"

This, then, exports the truth of scripture to our modern context.
But it just skips the problems of sola scriptura entirely. Okay, "export." But which "exporter" will you use? Why should Rob Bell's hermeneutic be less authoritative than John MacArthur's? They both certainly claim to be applying Scripture to the current generation.
In any event, that's not what sola scriptura is. That's just doing what Christians have always done—read the Bible and apply it. The problem is whose reading you're going to use.
He goes on:
Perhaps the 500th anniversary of the Reformation is a good time to remember the value of Sola Fide, Sola Gratia, Solo Christo, and Sola Deo Gloria as signposts for our unique expression of the gospel that goes deeper than tradition. In fact, it brings us to principles which are expressed in different cultural languages using different cultural methods.
This is hard to read as meaning much more than "So remember to be Protestant." It's also not going "deeper than tradition." Those five Solas are a tradition.
(And it is worth remembering that the solas are biblical truths restated, not cultural truths discovered 500 years ago.)
They're neither. They are a specific hermeneutic developed within the Reformation. The question is whether you buy into the Reformation's hermeneutic tradition and why you believe it's more authoritative than what came before.
4. Stay with the message.
He explains:
We want to lovingly and graciously acknowledge that others will follow Hanegraaff and swim the Tiber or swim the Bosporus, but ultimately we are reminded that evangelicalism is a movement based on scripture sought to be lived out in a context.
And that's its most basic problem. It's not the Church. It's not even a church. It's a movement. And it fails to acknowledge where Scripture itself came from. The followers of Jesus weren't "a movement based on scripture sought to be lived out in a context." They were the Church.
And finally:
I'd say the simple words that undergird evangelicalism: Let's follow Jesus, keep sharing the simple gospel, focus on the Bible, and think like missionaries in order to translate that truth to our modern context.

That's orthodox.
But even if you define "orthodox" by the classic definition of orthodoxy, i.e., the Nicene Creed, that really isn't what the Gospel is. The Gospel is indeed following Jesus, focusing on the Bible, and thinking like missionaries, but it's also about baptizing and making disciples of all nations, teaching them to observe all that Jesus commanded. It's about bringing the world into the Church.
And that's something Evangelicalism isn't even trying to be. So long as it's a movement, it can't be the Church or even a church.
Orthodox Conclusions
My point here isn't to make hash of Stetzer's piece. I get what he needs to do here, which is to reassert Evangelical identity in the face of conversions away from Evangelicalism. He's right that there aren't many, and Orthodox who get triumphalistic about conversions really just don't know the numbers well and are probably being jerks.
That said, if he's going to reassert Evangelical identity as more desirable than Orthodoxy, he's going to have to address the very real problems that tend to drive conversions of conscience from Evangelicalism to Orthodoxy. Here are some of those questions:
Why is my interpretation of the Bible correct?

What right do I have to do doctrine and worship so differently from the disciples of the Apostles?

Why did almost no one interpret the Bible the way the Reformers did prior to the Reformation?

What did the disciples of the Apostles say about how they believed and worshiped?

How did we get the Bible we have today? Why does my Bible have fewer books than the Orthodox Bible?

Why is the high view of Scripture I hold as an Evangelical only barely reflected in my worship? Is there a church that truly saturates the worshiper in Scripture?

Why are liturgical worship and episcopal government the norm for almost all Christians for 2,000 years?

What is the Church? Does it have binding authority? Can it be located?
Those questions are just a beginning, but answering them would go much further in terms of figuring out why some Evangelicals become Orthodox and why Stetzer's answers aren't likely to make them change their minds.