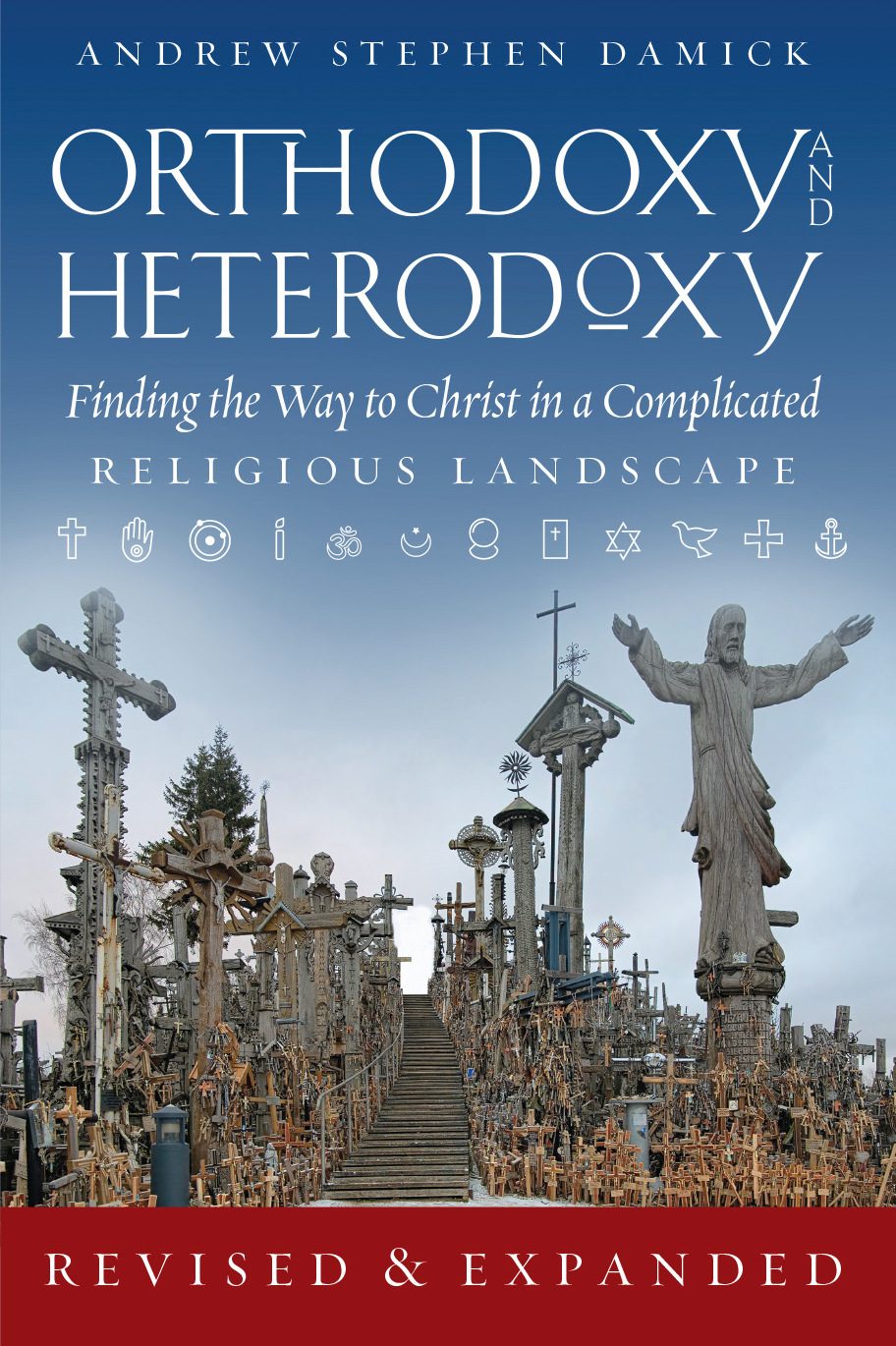 I'm getting pretty close to done with my edits for the revised, expanded version of Orthodoxy and Heterodoxy, which is now available to order.
The final word count will be about 125,000 136,000 words, which makes it about 75% 90% larger than the first edition (which was about 72,000 words). Now that I'm almost done we're in the editorial stage, I can release a draft copy of the Table of Contents for the new book. Here it is.
Everything in italics represents a completely new section. Almost every other section has been revised or expanded in some way.
ORTHODOXY & HETERODOXY
(Revised Edition)
Finding the Way to Christ in a Complicated Religious Landscape
Andrew Stephen Damick
Table of Contents
DRAFT COPY
Foreword by Archbishop Michael (Dahulich)
Preface to the Revised Edition
Preface to the First Edition
Introduction: Doctrine Matters
The Truth Business
The Goal of Religion
The Nature of Truth
Some Technical Terms
A Brief Overview of Christian History
Chapter One: Orthodoxy, Heterodoxy, Heresy, and History
How the Orthodox Church Views the Non-Orthodox
Essentials of Orthodox Christian Doctrine (The Holy Trinity, Jesus Christ, Salvation and the Church)
Major Historical Heresies (Docetism, Judaizing, Gnosticism, Marcionism, Montanism, Manichaeism, Sabellianism, Novationism, Donatism, Arianism, Semi-Arianism, Chiliasm, Apollinarianism, Pneumatomachianism, Pelagianism, Nestorianism, Monophysitism, Apokatastasis, Origenism, Monothelitism, Monoenergism, Iconoclasm, Filioquism, Barlaamism, Ethnophyletism)
Chapter Two: Roman Catholicism
Did the Great Schism Produce a New Religion?
The Great Schism
Differences in Vision (Development of Doctrine, Faith and Reason, Spirituality)
The Papal Dogmas (Papal Supremacy, Papal Infallibility)
A Different God? (The Filioque, Absolute Divine Simplicity, Created Grace)
Salvation (Salvation of Non-Catholics, Original Sin, The Immaculate Conception, Merit and Satisfaction, Purgatory and Indulgences, Sacramental Validity)
Closer, Yet Further Apart: Theology, Liturgics, and Reunion
Chapter Three: The Magisterial Reformation
The End of Roman Catholic Europe
The Five Solas (Sola Scriptura, Sola Fide, Sola Gratia, Solus Christus, Soli Deo Gloria)
Magisterial Reformation Denominations

Lutheranism
The Reformed Churches (Calvinism, Zwinglianism)
Anglicanism and its Heirs (Anglicanism, Methodism, Wesleyans)

Common Ground: What Might Have Been
Chapter Four: The Radical Reformation
The End of Ecclesiology
Pietism
Antinomianism
Scripture and Tradition
Anti-Clericalism and Anti-Sacramentalism
Believers' Baptism
The Great Apostasy
The Invisible Church
Repudiation of Core Dogma
Denominational Families and Movements

Anabaptists (Mennonites, Amish, Hutterites)
Moravians
Puritans
Quakers and Shakers
Baptists

Common Ground
Chapter Five: Evangelicalism and Revivalism
The End of Liturgy
The Great Awakenings
The New Gnostics? (Individualism, Faith as Knowledge, Dualism, Escapism, Experience and Enthusiasm)
Denominational Families and Movements

Restorationism (Churches of Christ, Disciples of Christ)
Adventism (Millerites, Seventh-day Adventists)
The Holiness Movement (Wesleyans, Nazarenes, Christian and Missionary Alliance, Salvation Army)
Dispensationalism
Liberalism and Fundamentalism
The Mega-Church Movement

The Future of Evangelicalism

The Emerging Church
The Missional Movement
New Calvinism: The Young, Restless, and Reformed
Ancient Future: Evangelical Appropriation of Tradition

Conclusions
Chapter Six: Pentecostalism
The Latter Rain
Origins in the Holiness Movement
"A Mighty Wave of Salvation"

The Apostolic Faith Movement
The Azusa Street Revival: The Spread of Pentecostalism

The Charismatic Movement
Third Wave Pentecostalism
The Word of Faith Movement

The "Grandfather" of Word-Faith
Faith Healing Goes Mainstream
Word-Faith Takes Shape
The Prosperity Gospel

Practices, Concepts, and Characteristics of Pentecostalism

The Second Pentecost
Speaking in Tongues
Faith Healing
Prophecy
Anointing
Spectacle and Celebrity
Touch Not the Lord's Anointed

Is This Real? Pentecostals and Orthodoxy
Chapter Seven: Non-Mainstream Christians
Many Gods, Many Christs
Unitarian Universalists
Swedenborgianism (New Church)
Mormonism
Christadelphians
Christian Science
Unity Church
Jehovah's Witnesses
Davidian Seventh-day Adventists, Branch Davidians, and Church of God General Conference
Armstrongism (Worldwide Church of God)
The Way International
Unification Church ("Moonies")
The Family International
A Course in Miracles
Conclusions
Chapter Eight: Non-Christian Religions
Many Paths, Many Destinations
Judaism
Islam
Druze, Alawites, and Alevi
Zoroastrianism
Mandaeism
Yazdanism: Yazidi and Yarsan
Baha'i Faith
Hinduism
Buddhism
Jainism
Sikhism
Shinto and other Animism
Cao Dai
Modern Western Religions

Santeria
Rastafarianism
Neo-Gnosticism
Neo-Paganism and Wicca
Scientology

Cargo Cults
Conclusions
Epilogue: Relations with the Non-Orthodox
Appendix I: Atheism and Agnosticism
Appendix II: How and Why I Became an Orthodox Christian
Appendix III: Orthodoxy Quick Reference
Appendix IV: Heresy Quick Reference
Index