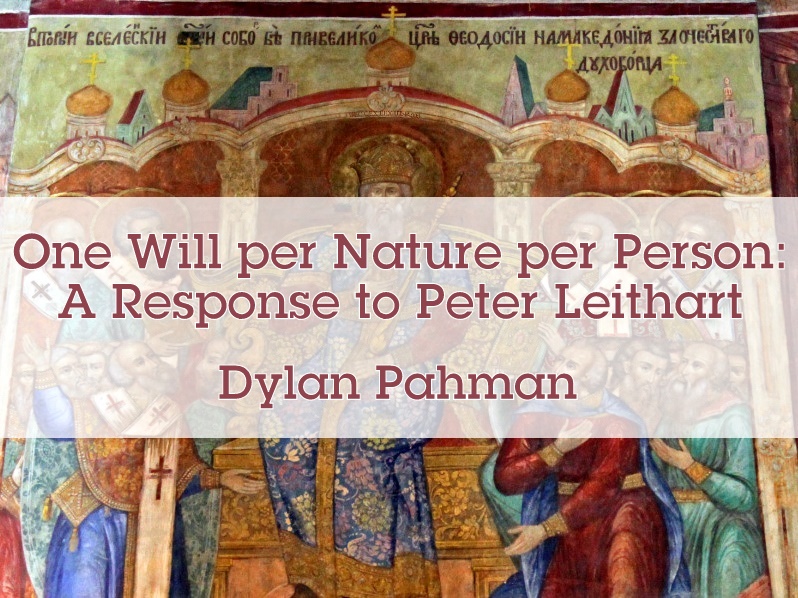 Over at his First Things blog, ironically (or fittingly?) adorned with an icon of the baptism of Christ from the Arian baptistry of Theodoric the Ostrogoth, Peter Leithart has a novel idea about the problem of the wills of Christ:
It is sometimes argued that the Christological formula of essence and person determines the way to understand person and essence in Trinitarian theology. The incarnate Son is a single person, the Person of the divine Son. But this Person exists in two natures. The church rejected monophysite Christologies; Jesus has two natures. And, the church rejected monothelite Christologies; Jesus has two wills.

On this paradigm, "will" must be an attribute of nature rather than Person. Otherwise, we'd be monothelites.

Applied to Triitarian [sic] theology, this means that God must have a single will, since He has only one nature.
Let's stop here. Every language suffers from ambiguities, but Leithart's failure to address this one becomes fatal to his argument. How is he using the term "God" here?
If by God he refers to the divine nature, then he's absolutely correct. But since he follows his statement that "God must have a single will" with "since He has only one nature," I suspect that's not what he means. He could also mean God the Father, as is the most common (but not exclusive) use in the Scriptures. But again, I don't think that's what he means. Rather, he's using the third and least common (though still legitimate) traditional use: to refer to the Holy Trinity, as implied by his introductory clause: "Applied to Tri[n]itarian theology…." Herein lies the problem.
What is missing here is some basic philosophical consistency. When the Fathers, like St. John of Damascus for example, say that the Holy Trinity is "one essence, one divinity, one power, one will, one energy, one beginning, one authority, one dominion, one sovereignty, made known in three perfect subsistences [hypostases]," they don't mean that each of the Persons somehow share one personal will. The key here is "made known in three perfect subsistences" or Persons. Just as, being human, I have by nature a human will that is, in that sense, the same as all other human wills, but nevertheless as a human person, I have my own will, so too do the divine Persons have one divine will, each. The way it works is this: one will per person per nature.
St. Gregory of Nyssa makes this clear:
If, then, the Logos, as being life, lives, it certainly has the faculty of will, for no one of living creatures is without such a faculty. Moreover that such a will has also capacity to act must be the conclusion of a devout mind. For if you admit not this potency, you prove the reverse to exist. But no; impotence is quite removed from our conception of Deity.
For St. Gregory, the Logos, as a divine Person, must have its own faculty of will.
But what is a will? It is unclear to me how Leithart is using the term, so a short clarification may be in order. "Will" is not a mere synonym for "desire." As St. Augustine put it, refuting the Manicheans,
I ask them, is it a good thing to have delight in reading the apostle, or good to have delight in a sober psalm, or good to discourse on the gospel? To each of these they will answer, "It is good." What, then, if all equally delight us, and all at the same time? Do not different wills distract the mind, when a man is deliberating which he should rather choose? Yet are they all good, and are at variance until one be fixed upon, whither the whole united will may be borne, which before was divided into many. Thus, also, when above eternity delights us, and the pleasure of temporal good holds us down below, it is the same soul which willeth not that or this with an entire will….
Rather than each desire necessarily representing a separate will, the will is the soul's faculty of choice. Presented with simultaneous desires, such as reading St. Paul, singing a psalm, or discussing the Gospel, we are able to "fix upon" and choose one over the others due to our power of will.
To say that Christ has a divine and human will means that, being each by nature, he can will all that is in a human being's power to will as well as all that can be done by God. The former cannot encompass the latter, and in some ways (struggling with the provocations of the passions, for example) the latter does not encompass the former either.
Now, it should be said that there is another sense in which the Persons of the Holy Trinity have one will: through the perfect symphonia of their wills. Thus, they never get into arguments, because they never disagree, because being God they are sinless, omnipotent, and in all ways perfect.
Leithart, however, confusing the very distinction he began with, that between essence or nature and persons, writes,
The two wills in the incarnate Son are a human will and the one divine will of the divine essence. But that makes fair nonsense of the way Jesus talks about His relation with the Father's will: "My meat is to do the will of Him who sent me" must be translated as "My meat is to do the unified will that I share with the Father and Spirit." That doesn't qualify, but contradicts Jesus' actual statement.
While I'm not so sure I'd even agree if I accepted Leithart's interpretation, I certainly disagree given what I've said above. Christ, as divine, has the same sort of will (divine) as the Father and the Spirit. Being human, he also has the same sort of will (human) as you and me, save the corruption of sin, which is not natural to us but antinatural, a privation of our will's natural condition.
Thus, when Christ says, "My meat is to do the will of Him who sent me," he can mean that in either or both senses: divine and/or human. As the Second Person of the Trinity, his will is perfectly in accord, or one with, that of the Father and the Holy Spirit. As God incarnate, his human will is perfectly deified, as all of ours are meant to be, and it derives its life (or meat) from perfectly harmonizing with the divine. It is not, for that, less human, however. It's just how all of our wills are meant to be.
Somehow, Leithart seems to think that the fact that persons who share the same nature have the same kind of will, somehow makes that will "unified" in the sense of being indistinguishable from that of any other person. But again, that is the whole point of distinguishing between natures and persons in the first place. A person is an enhypostatization of a nature, which is an imminent, repeatable universal. As the Damascene puts it, "there is no nature without subsistence [hypostasis]."
Just because human nature is uniquely enhypostatized in me as a human person, it does not mean that my will is any more or less human than Peter, James, or John. In fact, that is, once again, exactly the point. In the sense of nature, there is not only just one divine will, there is only one human will. In the sense of persons, there are many humans in which that will is uniquely "made known."
Thus, far from "fair nonsense," the Orthodox dogma of the two natural wills of Christ makes good sense to me.