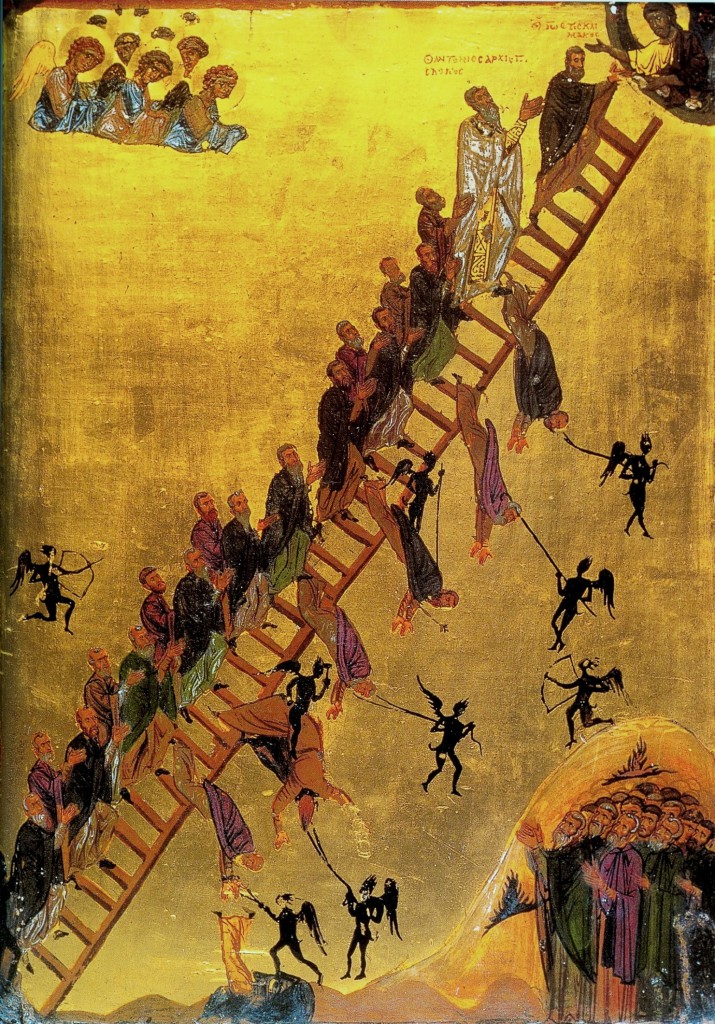 In a recent post at Glory to God for All Things, "The Un-Moral Christian," Fr. Stephen Freeman critiques what he sees as common conceptions of Christianity as moral, defined as "the rules and standards by which we guide ourselves." These, he writes,
are external and can be described and discussed. They are the rules by which we choose how to behave and by which we sometimes judge others. In this, everybody can be said to be "moral." Atheists invariably adhere to some standard of conduct—it is just what human beings do. We are sometimes inconsistent and often cannot explain very well the philosophical underpinnings of our actions—but everyone has rules for themselves and standards that they expect of others.
To him, however, Christians ought not to think of themselves as moral, understood in this way, at all. He writes,
The nature of the Christian life is not rightly described as the adherence to an external set of norms and standards, even if those norms and standards are described as being "from God." The "unmoral" life of Christians is a different mode of existence. The Christian life is not described so much by what it does as by how it does.
Instead, he insists that "the Christian life is not about improving our human behavior, it is about taking on a new kind of existence. And that existence is nothing less than divine life."
On the one hand, I completely agree with him regarding the end or goal of our life in Christ: theosis or deification. This is certainly more than a matter of outward "adherence to an external set of norms and standards." I also agree that an over-focus on external norms can trap one in a sort of Pelagian perfectionism that gives too much credit to human effort and too little to divine grace. And he is certainly right to say, "Our 'moral' efforts, when done apart from Christ, do not have the character of salvation about them."
But, on the other hand, I argue that he's ultimately overplaying his hand. To be more than moral, as Fr. Stephen is using the term, nevertheless requires first being moral. In particular, my thesis is twofold: Fr. Stephen (1) overlooks a common distinction among the Fathers between normative expectations for beginners in the faith versus the higher standard for the more mature (such as monastics and others who can devote their whole lives to the God), and (2) he undervalues the role of outward adherence to external norms as part of the process of internalization of the life in Christ.
One caveat: Fr. Stephen begins by noting that his differences with some may be merely semantic, but then, however, he continues to say that "the reason for [semantic differences] is important and goes beyond mere words." Thus, I will try my best to stick to the substance of his essay rather than getting too caught up in terminological peculiarities, while, at the same time, acknowledging that some differences may be more apparent than actual.
That said, consider Fr. Stephen's reflection on the teachings of Christ:
But think carefully about the commandments of Christ: "Be perfect. Even as your heavenly Father is perfect." Morality withers in the face of such a statement. Christ's teaching destroys our moral pretensions. He doesn't say, "Tithe!" (Priests and preachers say "tithe"). Christ says, "Give it all away." He doesn't just say, "Love your neighbor." He says, "Love your enemy." Such statements should properly send us into an existential crisis.
By contrast, many of the Fathers, grounding their teaching in the Gospel, understood at least two, if not more, modes or standards of living the Christian life, which shed a different light on these more difficult commandments.
I begin with St. Ambrose. He writes, "Every duty [of the Christian life] is either 'ordinary' or 'perfect.'" To Ambrose, ordinary duties correspond to a Christian appropriation of the Ten Commandments, given "from God" to Moses on Mt. Sinai, according to the Scriptures. "These are ordinary duties, to which something is wanting," he writes. These norms are expected of all Christians as a basic starting point. Perfect duties, on the other hand, go beyond this standard. He grounds this in the story of the rich young ruler from the Gospel according to St. Matthew:
Now behold, one came and said to Him, "Good Teacher, what good thing shall I do that I may have eternal life?"

So He said to him, "Why do you call Me good? No one is good but One, that is, God. But if you want to enter into life, keep the commandments."

He said to Him, "Which ones?"

Jesus said, "'You shall not murder,' 'You shall not commit adultery,' 'You shall not steal,' 'You shall not bear false witness,' 'Honor your father and your mother,' and, 'You shall love your neighbor as yourself.'"

The young man said to Him, "All these things I have kept from my youth. What do I still lack?"

Jesus said to him, "If you want to be perfect, go, sell what you have and give to the poor, and you will have treasure in heaven; and come, follow Me." (Matthew 19:16-21)
St. Ambrose here picks up on Jesus's condition: "If you want to be perfect." To him, this goes beyond what is ordinary to a higher standard.
While this does seem to spark an "existential crisis" for the young man, who "went away sorrowful" (19:22), Ambrose, while being attentive to the text, through this distinction suggests a more hopeful reading, I think, than common pessimistic assumptions about the man's fate, like that of the Apostles ("Who then can be saved?"—19:24). Indeed, St. Mark even notes that, after telling Jesus that he kept all the commandments, "Jesus, looking at him, loved him" (10:21). Christ challenges him to a higher standard, yes, but he does not criticize what he had already attained. Christ's response, "With men this is impossible, but with God all things are possible" (Matthew 19:16) is intended to counter such existential despair, not to commend it.
A similar distinction can be found in St. John Climacus's Ladder of Divine Ascent. He writes,
Some people living carelessly in the world put a question to me: "How can we who are married and living amid public cares aspire to [the standard of] the monastic life?"

I answered: "Do whatever good you may. Speak evil of no one. Rob no one. Tell no lie. Despise no one and carry no hate. Do not separate yourself from the church assemblies. Show compassion to the needy. Do not be a cause of scandal to anyone. Stay away from the bed of another, and be satisfied with what your own wives can provide you. If you do all this, you will not be far from the kingdom of heaven."
Don't nearly all of these statements, which clearly resemble the Ten Commandments, have an external focus? They may not be reducible to that aspect (e.g. "carry no hate"), but it is notable that Climacus does not simply say, "Be perfectly humble" or "Be deified"—more clearly internally oriented commands—but rather, "Do whatever good you may." There is a graciousness here reminiscent of the Didache, which, after describing the way of life in similar terms, states, "[I]f you can bear the whole yoke of the Lord, you will be perfect, but if you cannot, do what you can." Those who are immature (myself most of all, no doubt) need to begin somewhere.
We may add to these the distinction found in St. Basil, St. John Cassian, St. John Climacus again, and St. Nicholas Cabasilas between three dispositions of obedience in our life in Christ. In Cassian's Conferences, Abba Chæremon grounds this in his reading of the parable of the prodigal son (Luke 15:11-31). Cabasilas, a bit more succinctly, writes,
The Spirit permits us to receive the mysteries of Christ, and as it is said, to those who receive Him "He gave power to become children of God" (Jn. 1:12). It is to the children that the perfect love belongs from which "all fear has been driven away" (cf. 1 Jn. 4:12). He who loves in that way cannot fear either the loss of rewards or the incurring of penalties, for the latter fear belongs to slaves, the former to hirelings. To love purely in this manner belongs to sons alone.
Thus, slaves obey through fear of punishment, hirelings for desire for reward, and lastly children out of perfect love for love's sake, unmindful of external punishments or rewards. This purity of heart, however, is the goal, not the beginning. As Proverbs teaches, "The fear of the Lord is the beginning of knowledge" (1:7). Beginning with the more consequentialist and seemingly external ("fear of either the loss of rewards or the incurring of penalties"), as we spiritually mature, we move beyond our starting point. Then, and only then, will we too say with St. Antony: "Now I do not fear God, but I love him: for love casteth out fear."
What the Fathers seem to be saying is the following: You would like to be deified but you do not know the way? You wish to love as a true child of God but you cannot? Learn from those who have walked this way before you. They began by fasting and praying and trying to fulfill the commandments, with much fear. Over time, these became a habit, internalized as a second, virtuous nature. Or rather, as the tarnish of passions is more and more cleared away from the image of God within you, your true nature as a child of God will shine through, restored in the likeness of Jesus Christ. This is firstly a matter of his grace, offered to you through the mysteries of the Church, but it is also a matter of synergia—you must cooperate with the work of this grace; you too must act. And in acting moral, you become more than merely moral, transfigured by the grace of God within you.
Fr. Stephen objects, "Our failures, including our moral failures, are but symptoms" of the true disease: lack of communion with God. But does not treating a disease also require basic treatment of the symptoms? Should we not expect our Great Physician to do both?
Similarly, if we wish to walk the narrow road that leads to life, we must do so one step at a time. If this means starting with basic, Ten Commandments, natural law, or even—to some degree—crudely consequentialist and "external" morality, some of which even a virtuous atheist may do or affirm, then so be it. We cannot expect to reach the end of the road, if we do not first start at the beginning.