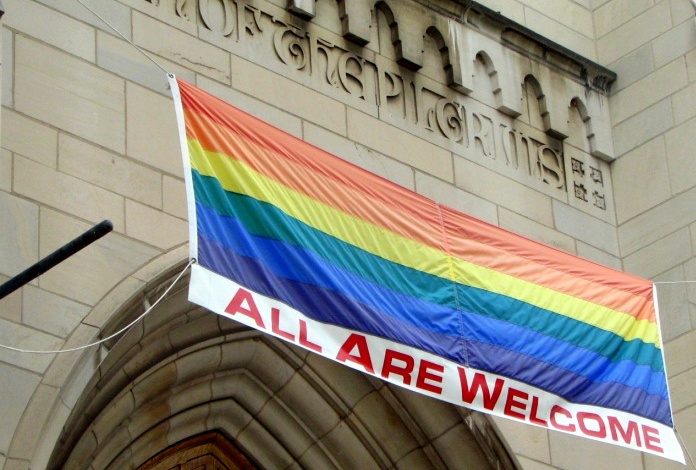 This last Thursday evening, I was supposed to be concelebrating at the festal services for a nearby Orthodox church, but over the days preceding I had so strained my back that I knew that if I followed through on my plans, even just standing during the services, I would likely not be able to stand the next morning. So I stayed home while my family went.
While settling in for the evening, I remembered that a local Protestant clergy acquaintance had posted on Facebook that his church—a large Presbyterian congregation in a nearby city—was going to be hosting a dialogue that evening between representatives of the Presbyterian Church (USA) (PCUSA) and ECO: A Covenant Order of Evangelical Presbyterians. It seems that the church, which currently belongs to the PCUSA, is considering leaving the ailing liberal mainline denomination and entering ECO, a new two-year-old splinter group.
When I saw his post, I did some quick reading on the players and thought it sounded interesting. And when I found myself with an open evening which needed me to be seated rather than standing, I decided to head over to the Presbyterian church to see what was going on as they pondered their future together. It would certainly be more edifying than watching Netflix.
There must have been a couple of hundred people gathered to listen to the two presenters. The leader of ECO was there to make his case for the move, while a prominent member of the Missions department of the PCUSA also came, to urge the congregation to remain where they were.
I do not keep up with all the details of the internecine conflicts in Presbyterianism, but what is fundamentally at issue here is a narrative that has played out elsewhere in the mainline. The Episcopal Church (ECUSA), for instance, fractured when the Anglican Continuum (various Anglican splinter groups) formed in the 1970s, catalyzed by the acceptance of women's ordination in the ECUSA. In 2009, the Anglican Church in North America (ACNA) formed, breaking off mainly over the issue of the acceptance of homosexuality in the ECUSA. The Presbyterian Church in America (PCA) was formed in the 1970s for essentially the same reasons that brought the Anglican Continuum into existence, and now groups like ECO (formed in 2012) are roughly parallel to ACNA. Lutherans now have the North American Lutheran Church (NALC, formed in 2010), which is also similar (though the 1970s worked out differently for Lutherans, since they already were divided into a few large denominations).
It's hard to keep track of all these breaks, but what is common among all these denominations formed in the past few years is that they will ordain women but retain more traditional teaching on sexual morality. That they wanted to keep women's ordination is likely what kept breakaway congregations from simply joining their 1970s conservative co-religionists.
The two presenters made their various arguments in favor of moving or staying. The ECO leader (who struck me as having the "Young, Restless and Reformed" personality) was energetic and occasionally reminded me of Julius Caesar's saying about Cassius, having a "lean and hungry look." He was definitely a man of ambitious demeanor, precisely the sort to lead a successful breakaway denomination that has attracted some 60,000 members in 165 congregations in the two years of its existence. He has the title of "Synod Executive" (not "Bishop," mind you; these are Presbyterians, after all). He spoke frequently of the authority of Scripture and raised uncomfortable questions about alarmingly high numbers of PCUSA clergy who report that they do not believe in core Christian doctrines.
The gentleman from the PCUSA was far more the diplomat. He had a lot more institutional weight behind him. While his interlocutor represented a mere 60,000 members, his denomination, hemorrhaging though they are (having lost more than 50% of members in the past few decades, and picking up speed lately), still boasts some 1.7 million across more than 10,000 congregations. And of course the PCUSA is much more the "big tent" denomination, welcoming both more conservative, Evangelical members as well as progressives who wish significant revisions in theology on everything from morality to the divinity of Jesus Christ. He frequently mentioned that he was more Evangelical himself but saw value in the views of his progressive colleagues. Rather than defending the liberalism that is spreading throughout the PCUSA, he mainly focused on the denomination's more recent achievements, including a new initiative to found churches among ethnic minorities as well as its foreign charitable and missionary work (including the odd claim that Presbyterians first brought the Gospel to Egypt; I am hoping that was just a misstatement and not something they actually believe—then again, perhaps some are so bold as to consider the Apostle Mark a Presbyterian).
After the presentations, a question and answer session followed. Congregants focused on some technical questions about the two denominations (e.g., how many staff they have in their national organizations, which isn't really fair, since the PCUSA is almost 30 times the size of ECO and much older), but also asked about moral issues. Some discussed how much would be owed in assessments to ECO as compared to the PCUSA. A number made references to Scriptural content. A confusing (to me) discussion ensued about a hymn that was not included in a version of the official Presbyterian hymnal because of its depiction of the atonement as satisfying the wrath of God.
What caught my ear most was that the PCUSA representative answered the ECO leader's statements about the authority of Scripture by saying that they, too, believe in the authority of Scripture. The question is how one interprets it. I was hoping that that gauntlet would get taken up by the ECO gentleman, but he just left it there on the ground and essentially repeated himself.
Of course, as an Orthodox Christian, I generally have more in common with the ECO views on sexual morality, but where we part ways is the apparent insistence that the Bible should be read that way, i.e., this is just what it says, and if you disagree, then you do not believe that the Scripture is authoritative. No doubt if the two men had gotten into the brass tacks of interpreting Scripture from their respective denominational positions, it would have been revealed that they actually differed not on whether Scripture is authoritative but how to interpret it.
A related question was asked by my acquaintance (who works on the pastoral staff of the church), who inquired of the man from the PCUSA whether a tradition that has embraced as much diversity as they have can actually remain a coherent tradition. That was probably the biggest and most probing question of the evening, but it basically went unanswered.
The question I would have liked to ask (and I did not, because I didn't think it was my place; I was just an observer with no stake in the proceedings) would have been this: "How do you know that your interpretation of Scripture is the right one?"
What my thought and his question have in common is the issue of ecclesiology, which is what actually makes a tradition coherent. Denominationalism (the belief that there can be many denominations within the one Church, all differing on doctrine and praxis and often contradicting each other) precludes a robust ecclesiology. If the congregation moves from the PCUSA to ECO, no one would say that they have "left" or "joined" the Church. They have just repositioned themselves within it.
What exactly does a Presbyterian denominationalist point to to say "This is the true Presbyterianism" or "This is the true Presbyterian church"? There are the various confessions and statements, of course, but no Reformed denomination is wholly faithful to them. After all, the ECO wants to be faithful to Presbyterian tradition by nixing homosexual sex yet wants to depart from that same tradition by ordaining women. If one element of tradition can be revised, why should another be sacrosanct? And on what authority were those original Reformed confessions ratified, anyway?
I thought of all this again today when reading this Christianity Today piece which lauds reading Scripture with "the Great Tradition" yet can't seem to define it. It asks "Which tradition?" yet does not really answer. And while lauding tradition, it still gives the reader a way out—not everything in tradition has to be followed, naturally. And so the sifting and revising continues.
The Orthodox Church's answer to all this is to point to history, to the fact that there is one Church which can be traced in a consistent line through history, with one tradition that began with the Apostles. Yes, tracing that line can sometimes be a bit difficult if one happens to live during, for instance, the Arian controversy, but God still preserved the Church all right out on the other end.
Without a robust ecclesiology, without the courage to say "This is the true Church," the question that was asked by my new friend (we had lunch the next day) will remain unanswered. Yes, perhaps various Reformed groups such as ECO can pick up the rearguard while the PCUSA retreats from much of what is recognizable as historic Christianity, but aren't they already compromised by their own revisions of tradition? It is hard to see how this pattern can lead to anything but fragments from fragments from fragments.
I wish the congregation well, and I hope that they do end up making the move away from the PCUSA. I don't know where ECO might be going, but it's certainly better for the moment than where the PCUSA has gone. May God bless them and illumine them.