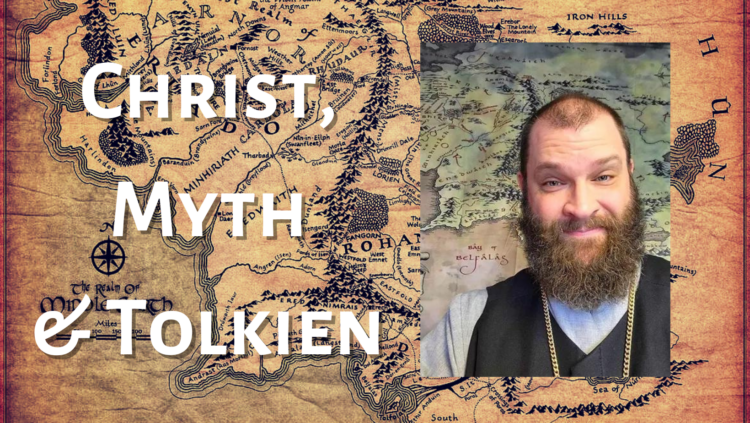 Is there a relationship between Middle-earth and Orthodox Christianity? What happens when you read Tolkien with the Bible in mind, especially the weird stuff like angels, gods, demons and giants? Can reading Tolkien make someone Christian or a better Christian?
Want to find out? I'm going to be teaching live on Zoom for 5 nights in October and November 2022 reading Tolkien's works and making use of both Biblical and mythological material — the very worlds in which Tolkien himself was steeped.
It's just $50 for the full course. REGISTER HERE.
KEY INFO
DATES: Oct. 25, Nov. 1, 8, 15 & 22
TIME: Tuesdays at 7:00 PM Eastern Time
LENGTH: ~60 minutes per class
​
SYLLABUS
SESSION 1 (Oct. 25): A Taste for the Mythic: How J. R. R. Tolkien became my Forerunner to Orthodox Christianity
SESSION 2 (Nov. 1): Tolkien's Gods: The Ainur, the Valar, and Whether the Professor is Secretly Pagan (read: "Ainulindale" and "Valaquenta" in The Silmarillion)
SESSION 3 (Nov. 8): Giants and Gigantomachy: Tolkien reads Beowulf and writes the assault on Isengard
SESSION 4 (Nov. 15): Demons and Dragons: Demonic Enchantment in "Of Túrin Turambar" and Why the Hero Kills Dragons Alone (read: "Of Túrin Turambar" in The Silmarillion)
SESSION 5 (Nov. 22): Harrowing the Barrow: Tom Bombadil and the Harrowing of Hell
READINGS
Required reading prior to class:
– The Hobbit
– The Lord of the Rings
– Selected chapters of The Silmarillion will be assigned for certain sessions
​
Recommended reading:
– Beowulf (any translation is fine, but Tolkien's is preferred)
– Tolkien's essay "Beowulf: The Monsters and the Critics"
– Tolkien's essay "On Fairy-stories"