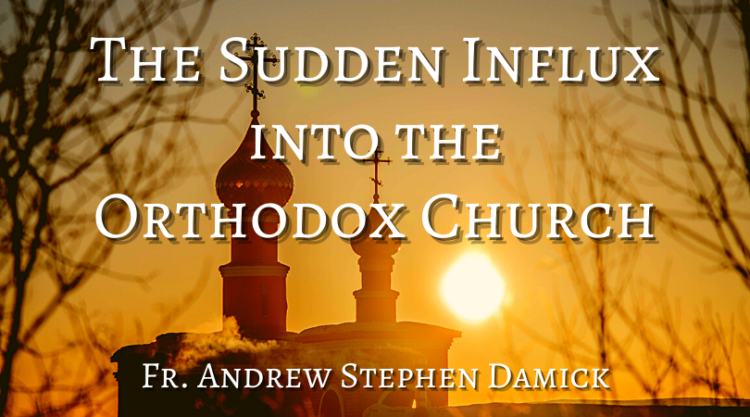 I recently asked in a couple of Orthodox clergy groups on Facebook about whether they have seen what I have seen and heard about anecdotally — an unusual number of inquirers and catechumens showing up to the parish within the past year.
Of the 31 who responded so far, 28 said yes, while 3 said no. Outside of all being in the English-speaking world, the "yes" responses don't seem to have any particular commonality among them — geographically, jurisdictionally, etc.
A number said that they noticed that the newcomers skew younger. Several said it's more than they've ever had — in some cases, double. In the case of the parish where I continue to serve as an attached priest, it's almost more than all 11 years of my own pastorate combined.
I am not aware of any major new Orthodox outreach initiative happening during this past year that could account for this — clergy, lay, official, unofficial, etc. Certainly one initiative, person or another might be the avenue by which someone became aware of the Orthodox faith, but there isn't any new thing that has happened within the past year that would suddenly account for this kind of thing happening all over.
The only obvious "cause" that comes to mind is the pandemic, though we can only speculate as to exactly how that has affected people such that some subset decide to show up to the Orthodox Church for the first time. I also don't know if other Christian groups are seeing this same effect, nor do I know if this is happening outside the Anglophone world.
Whatever the cause, it seems clear that God is bringing people to Himself right now in greater numbers, at least in the circles I am aware of.
We have a responsibility to pray for these people, to encourage them in their repentance by our own repentance, to show them what it means to be like Jesus Christ, to love them with kindness and self-sacrifice, and to show them that the Church is their true home. People coming in won't be better off if they don't get planted firmly in the garden and grow to be like Christ.
The world seems to be going insane around us (and in us!), and some people are even acting insane in the name of Jesus Christ, filled with hatred and mockery for fellow Christians based on all kinds of transient issues and grievances, so it is even more incumbent upon Christians to repent and be like Christ, to show ourselves to be the children of God.
Are our hearts and parishes ready to receive the people God is sending us? I know that I've got some work to do myself.
---
(NB: I am not making any statements here about overall growth (net or otherwise), the retention of converts or those raised in the Church, how long what is being observed anecdotally might last, etc. This post is about seeing an unusual uptick over the past year in inquirers and catechumens, not anything else.)