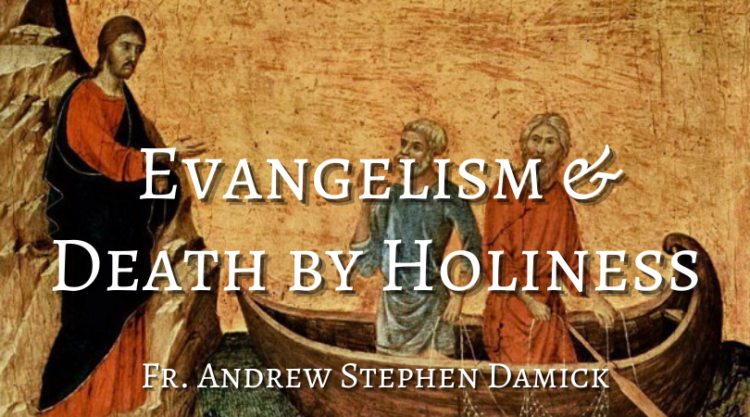 Fourteenth Sunday After Pentecost / First Sunday of Luke, September 26, 2021
II Corinthians 1:21-24, 2:1-4; Luke 5:1-11
So it was, as the multitude pressed about Him to hear the word of God, that He stood by the Lake of Gennesaret, and saw two boats standing by the lake; but the fishermen had gone from them and were washing their nets. Then He got into one of the boats, which was Simon's, and asked him to put out a little from the land. And He sat down and taught the multitudes from the boat. When He had stopped speaking, He said to Simon, "Launch out into the deep and let down your nets for a catch." But Simon answered and said to Him, "Master, we have toiled all night and caught nothing; nevertheless at Your word I will let down the net." And when they had done this, they caught a great number of fish, and their net was breaking.

So they signaled to their partners in the other boat to come and help them. And they came and filled both the boats, so that they began to sink. When Simon Peter saw it, he fell down at Jesus' knees, saying, "Depart from me, for I am a sinful man, O Lord!" For he and all who were with him were astonished at the catch of fish which they had taken; and so also were James and John, the sons of Zebedee, who were partners with Simon. And Jesus said to Simon, "Do not be afraid. From now on you will catch men." So when they had brought their boats to land, they forsook all and followed Him. (Luke 5:1-11)
In the Name of the Father and of the Son and of the Holy Spirit, one God. Amen.
We have heard this morning from the Scriptures of the calling of Ss. Peter, James and John, the "inner circle" of the disciples of Christ.
The scene opens with Jesus teaching by the lake of Gennesaret. He has not yet gathered the Twelve to Himself, but He is about to begin. The people pressed so closely to Him up against the lake that He found two boats and got into one of them, which belonged to Simon Peter, and told him to push out from the land a little, to give Him some room from the people who were listening. So He sat in the boat and finished His preaching.
After that, Jesus told Simon and the other two—James and John—to push back out on the water and go fishing. Simon objects, saying to Him, "Master, we have toiled all night and caught nothing; nevertheless at Your word I will let down the net."
So they obeyed and caught a massive quantity of fish, so many that their nets almost tore from the strain of it, so many that when they put them into the boats they almost sank.
Simon Peter was so amazed by this that he fell down at Jesus' feet and begged Him to leave, saying, "Depart from me, for I am a sinful man, O Lord!" James and John were also pretty stunned at what happened.
And then Jesus said to them, "Do not be afraid. From now on you will catch men." And they then left everything behind and followed Him.
There are several things going on here, but I want to focus on two of them today. First, let's look at the reaction of Peter (who is called Simon here several times—Peter is his nickname). When he sees what happens after he and his partners obeyed Jesus, even though he was skeptical, he falls down at the feet of Jesus and begs Him to leave. Why? "I am a sinful man, O Lord!"
This reaction doesn't make any sense unless you understand a principle in Scripture that we might call "death by holiness." You see, over and over, it is emphasized in the Scriptures that the holiness of God is so great that it is actually dangerous for sinful people to be in His presence.
The first place we see this is when Adam and Eve are expelled from the Garden of Eden, which was the place where God dwelt with mankind. After they sin, they are removed from the garden and cherubim are placed at the entrance of the garden to guard it (Gen. 3:24). They're not guarding it from Adam and Eve, though—he is actually guarding Adam and Eve so they don't try to go back in and thereby destroy themselves.
We do see the deadly consequences at times, though. A man was struck dead when he reached out and touched the Ark of the Covenant irreverently (2 Sam. 6:7). Aaron's two sons died when they entered the Tabernacle drunk and offered the incense sacrifice in a way against God's commands (Lev. 10:2). St. Paul warns against receiving holy communion flippantly, that it can lead to sickness or death (1 Cor. 11:30). And of course we can recall how the wickedness of the whole world led to the Great Flood (Gen. 6:5-7). All of these are examples of death and destruction by holiness.
Peter suddenly realized he was in the presence of God's holiness—he may not have understood that Christ is God Himself, but he knew that holiness was in front of him. So he asks Jesus to leave. And Jesus responds with "Do not be afraid." Why would He say that? Because He knew Peter was afraid of death by holiness.
The second thing I want us to focus on is what Jesus says next: "From now on you will catch men." How does that follow on from "Do not be afraid"?
The reason why death by holiness is a thing is not because humanity is just unworthy to be near God. It's because humanity is not ready to be near God.
Peter also would have known about the many acts of purification in the Old Testament and which he had grown up witnessing and participating in that were all aimed at preparing people to meet God. Repentance and purification were built into the Law of Moses so that God could continue dwelling with His people without them being destroyed.
On the Day of Atonement, for instance, when God appeared above the Ark of the Covenant, the high priest and his family would have to be purified through chastity, fasting, cleansing, and purification with sanctified blood. The high priest would also fill the inner part of the Tabernacle or Temple with incense so that he would not look directly upon God. (That is what incense does, by the way—it is both a veil for holiness and also a sacrificial means of purification of the worship space.)
These acts of ritual purification were for a purpose—to meet God and worship Him.
So what is Jesus saying to Peter? He is telling him that he is going to be purified, so he doesn't have to fear death by holiness. For what purpose? So that he might "catch men." That is, so that he might reclaim human beings for Christ and bring them into God's Kingdom. Further, as we learn later in the Gospels, Peter would also be participating in this purification for the whole world, so that all places might become God's dwelling.
So what does this have to do with us here and now?
First, we have to understand what the purpose of the Orthodox Church is. It is not to preserve cultural customs or even to give a nice place for people to pray. Rather, it is a place for humanity to meet God and not to be damaged by His holiness but rather transformed by it to become the sons of God, equal to the angels (Luke 20:36).
Have you ever considered why it is we fast and pray and exercise chastity before we come here? And why is incense used here over and over? And why do we need to be at peace with others before we come here? These are all preparations that purify us and this place from sin so that we can meet God and not be hurt by the encounter. If we come here, especially to commune of Christ's Body and Blood, without proper preparation, we may not get sick or die—though that is definitely a thing—but we can become hardened in sin and therefore become more like the demons and more likely to be shut out from the Kingdom.
Furthermore, our task is the same as that of Ss. Peter, James and John and all of Christ's disciples—to catch men. Having been given this outpost of Paradise, this place where God's holiness may be encountered with preparation, where the cherubim with the flaming sword welcome us in instead of turning us away, we are commanded to expand this Paradise into the world.
How do we do that? We do it by giving people the gospel, which is the announcement of Christ's victory over demons, sin and death. We do it by living the gospel for others, showing them how our own salvation is worked out in fear and trembling through our turning away from demons, sin and death.
When we come to this holy place, we are indeed standing in Paradise itself, which is the presence of God with His people. And seeing what we see, we may be inspired to shout out, "Depart from me, for I am a sinful man, O Lord!" But we also hear the voice of Jesus saying, "Do not be afraid. From now on, you will catch men."
To the One Who has given us purification and sent us into the world be all glory, honor and worship, to the Father and to the Son and to the Holy Spirit, now and ever, and unto ages of ages. Amen.