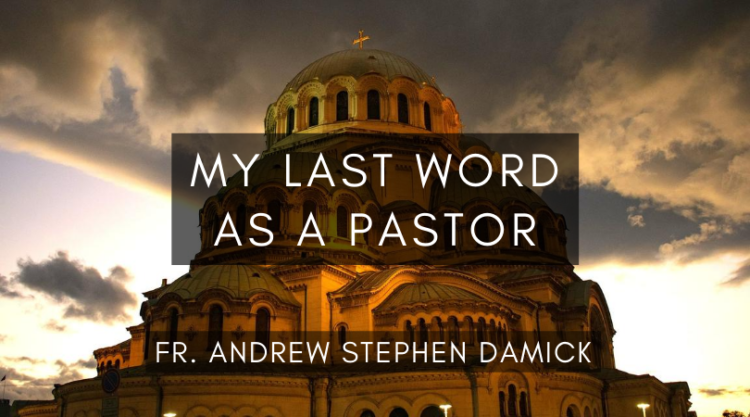 The following is the last sermon I preached as pastor to my parish, St. Paul Church in Emmaus, Pennsylvania:
Feast of St. Paraskeva / Seventh Sunday of Matthew, July 26, 2020
Galatians 3:23-4:5; Matthew 9:27-35
In the Name of the Father and of the Son and of the Holy Spirit, one God. Amen.
This will be my last sermon as your pastor.
Many outgoing pastors would take this opportunity to tell their parishioners what they really think of them. I actually know of one who, in one of his final sermons, just read off a series of Bible verses talking about God's judgment on people who don't listen to prophets and apostles. And when he got to Matt. 10:14, in which Jesus told His disciples when leaving an unbelieving city to shake the dust off their feet, he literally stomped on the floor several times while saying it.
I am not going to shake the dust off my feet at you! Nor am I going to stand here and rebuke you for the frustrations I've experienced during my pastoral ministry over the past eleven years.
Another idea would be to quote one of my favorite authors, who had one of his departing hero say at his birthday party: "I don't know half of you half as well as I should like; and I like less than half of you half as well as you deserve."
Unlike Bilbo Baggins, however, I am not going away forever, nor am I about to disappear by putting on a magic ring, though eleven years is still too short a time to live among such excellent and admirable parishioners.
Summing It All Up
I was asked the other day by a friend from seminary how I felt about my time as pastor of this parish. And I found that I was at a loss to summarize it. How do you summarize eleven years of life? How do you evaluate so many relationships, so many births, so many weddings, so many deaths, so much worship and ministry together? I don't know. I am almost never at a loss for words—as you well know—but I just don't know.
Nevertheless, for the past eleven years, it has been my task to understand the story of this parish and to take part in the telling of it, including the shaping of it. And I believe that I am handing on to my successor a better parish than the one I received—and that is probably the best possible thing an outgoing pastor can hope for. Even though there are many things I am leaving undone or unfinished, we are not just larger than we were eleven years ago, but also deeper and better developed.
Ultimately, the story of this parish is a good story only inasmuch as it conforms to the Story, that is, the gospel of Jesus Christ as preached by the prophets and apostles, as witnessed in the Scripture, as prayed in the divine services, and as burned into the hearts of believers. And so it is that Story which I want to be spoken very clearly in my final sermon to you as your pastor.
The Gospel of Jesus Christ
The gospel of Jesus Christ consists of three points in a single message, answering three questions: Who is Jesus Christ? What has He done? And what does He expect from us?
Who is Jesus Christ? Jesus Christ is the Son of God, the second Person of the Holy Trinity, the Creator of the world. He is fully God and fully man. He is the Word of the Lord, also known as the Angel of the Lord, Who spoke to Moses from the Burning Bush, Who led the people of Israel out of Egypt through the Sinai desert to the Promised Land, Who spoke to the prophets. And in these latter days, He became incarnate of the Holy Spirit and the Virgin Mary and dwelt among us, and we saw His glory, full of grace and truth, the glory of the only-begotten Son of the Father.
What has He done? Jesus came to defeat His enemies, the rebellious angels who became demons. These demons afflict mankind with suffering and temptation. They enslaved humanity through accepting the false worship of paganism. And mankind, joining this demonic rebellion, fell from the grace of God and from the immortality he was created to have. And in response, God gave to man mortality—death—because it is only in a mortal body that repentance is possible.
Christ defeated His enemies through exorcism, through love, through calling humanity to repentance, and finally through entering into death Himself and rising on the third day. He has defeated the last enemy, which is death, making a way for all mankind through death to eternal life. He is reestablishing His kingdom, driving His demonic enemies into the abyss, and exercising His authority through His angels and all the saints, who participate in His rule.
What does He expect from us? To participate in His Kingdom, we have to repent of our sins and be baptized. Repentance is to live as the angels and saints do, turning away from all idolatry, all immorality, all attachment to created things, all addictions and all selfishness. We cannot worship any false gods, including the false gods of self, of possessions, of prestige, of position, of power.
We worship Him only. And we turn toward Christ, toward being prophets, priests and kings of His royal family in His Kingdom. We turn toward love, toward self-sacrifice, toward selflessness. And when we fail, we turn back to Him again. To have faith in Christ is to be faithful in His Kingdom. And if we do this, we will become equal to the angels and sons of God.
On the last day, we will all be raised from the dead, raised incorruptible forever. And if we are found to be faithful to Him, we will be raised to eternal life. And if we are found unfaithful, we will be raised to damnation, cast out from the Kingdom forever.
Everything that we do together as Christians is to serve this gospel, to enable us better to repent. This life is given to us for repentance. We cannot afford to waste it on vain things.
Final Words to My Flock
For all the ways that as your pastor I have failed to repent by showing you the example of repentance, I ask for your forgiveness. For all the ways that as your pastor I have failed to teach you repentance by my words and deeds, I ask for your forgiveness.
For all the ways that we have repented together in love, in worship, in self-sacrifice, in hope, in sorrow and in joy—I am grateful to God for you.
This will be my last sermon to you as your father in Christ. You may well hear me preach again, but it will be not as the father of this parish, but as one father and one brother speaking among others and together with others.
I will leave you with this message, though, and I pray that you will receive it and that it will burn in your hearts just as the hearts of Ss. Luke and Cleopas burned within them as they walked with Jesus on the road to Emmaus:
Make this gospel of Jesus Christ the very center of who you are. Make this gospel the center of your home, the center of your families, the center of this parish. Make this gospel what this parish is known for. Make this gospel what informs every thought that you have, every decision that you make. Teach this gospel to your children, share it with your neighbors, cultivate it in your families, bear it with you where you work and everywhere you go.
Do not be satisfied with the empty and broken promises of this world, which are made by demons and supported by demons and bring us into cooperation with demons. Do not believe the lie that being good is good enough. Do not believe the lie that the gospel of Jesus Christ is just one option among many, that all religions are the same, that it does not matter whom you worship. Do not believe the lie that there is no hope. Do not believe the lie that politicians and rulers and celebrities and corporations hold our fate in their hands.
Do not believe the lie that self-fulfillment is what human life is about. Do not believe the lie that human nature can be remade by our collective and individual will.
Do not believe the lie that entertainment and comfort and pleasure will heal the pain that you have. Do not believe the lie that it is acceptable to sacrifice our marriages, to sacrifice the unborn in the womb, to sacrifice the way that God created humanity in order to fulfill our desires.
Do not believe the lie that God does not care about us, that God is not at this very moment doing everything to weave together all the threads of your life and of all human life throughout all of history to make a great tapestry of salvation.
We believe that Christ is risen and the demons are fallen, that Christ is risen and death is slain, that Christ is risen and not one dead will remain in the tombs.
Our only hope is in Christ. Our only God is the Holy Trinity—Father, Son and Holy Spirit. Our only purpose as human beings is to bow down to Him, to sacrifice to Him, to give ourselves completely over to Him, and to be raised up with Him in transformation, in resurrection and in the glory of His Kingdom, which is even now coming and which shall have no end, unto the ages of ages.
Jesus Christ Himself bears testament to these things and says: "Surely I come quickly." Amen. Even so, come, Lord Jesus.
---
Update: I've noticed a few folks on social media have taken this sermon as an indication that I'm not going to be a priest any more. This is not true. I am not being laicized. Not all priests are pastors. I will still be doing priestly ministry, but not be in charge of a parish.
For more on what I'll be doing, see this announcement from June.