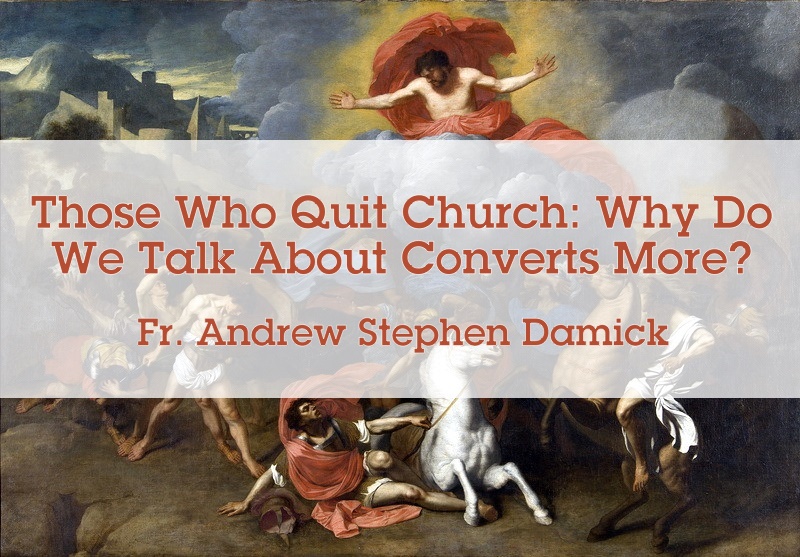 Recently, someone wrote to ask why the Orthodox blogosphere and media seem to talk far more about converts to Orthodoxy than people who have been Orthodox and have left off coming to church. This is a hard subject, and it's one I don't recall seeing talked about much online. This (with some edits and additions) was my response:
I will relate why I think that the lapsed don't get that much press, and it is indeed a largely untold story — at least publicly: It is grinding, mainly fruitless, almost impossible work. Nearly every priest I know (including me) has done a huge amount of work to try to bring back people who have left their parishes. It almost never works. The vast majority of clergy are simply stonewalled by the people who have left, and honestly, most lay people aren't interested in doing this work.
I myself have sent literally dozens of messages, phone calls and even made home visits over the eight years I've been a pastor at my current parish, and I can't recall a single time when someone responded and came back. Maybe I'm a horrible person and don't deserve a response, but I have also learned that many of them did the same with my predecessor, and of course this problem is rampant at parishes everywhere. Most of the time they simply don't even respond — not to a letter, phone call or even knocking on their door.
From what I can tell, they're not attending other churches (even non-Orthodox ones), nor are they exhibiting any other observable behavior that suggests that Jesus is important to them. For whatever reason, most of them just don't want to be in church. I've known priests who are so harangued on this issue (usually by members who expect them to bring back their relatives and friends) that they simply quit or ask for a transfer.
So should that story of fruitlessness and futility be elevated above and discussed instead of people actually responding to the Gospel and coming into the Church? This question in a form gets dealt with by the Lord Himself — He tells the Apostles to shake the dust off their feet and move on when people won't hear them (Matt. 10:14).
And Acts isn't really about those people but rather about how the Gospel takes root and grows — think of what a big deal is made over the Apostle Paul, for instance. There's a reason we like to talk about people converting — we are, as the Scripture says the angels do, rejoicing over someone coming to Christ (Luke 15:7, etc.).
I know that what I say above doesn't describe everyone who has left off going to church. But in my experience and in the experience of most of the clergy I know, it's almost all of them. Yes, I know there are people who aren't going to church any more who were burned by someone, whose employment won't let them go, who just feel discouraged, etc. I'm sure that there are many good reasons, though they're not insurmountable.
And I know that there are people who have stopped going to church who still try to live faithful, prayerful lives even while shunning parish involvement — this is dysfunctional from an Orthodox viewpoint, of course, since they are avoiding the sacraments and avoiding the Body of Christ. And maybe there are a few out there who have ferociously good reasons not to go (e.g., a truly abusive parish situation with no alternative within reach). But those aren't most of them, and they aren't the people I'm talking about here. I'm speaking specifically here of those who don't go any more and then won't talk about why, not even to leave a message of explanation.
Pursuing people who won't respond is extremely disheartening and, in my opinion, a massive drain on the spiritual, emotional and time resources of those involved in church work. Yet while in the Orthodox blogosphere and media converts get more press, in parishes, I suspect that the vast majority of priests hear far more often from their parishioners about bringing back "our people" who have left. Meanwhile, there are people ready to receive the Gospel and to respond, yet they are often neglected because of the amount of energy spent on those who have a past association with the parish but aren't responding any more.
Again, those who leave should be listened to, ministered to, etc. But that's assuming that they respond when an attempt is made to reach out. They almost never do. Yes, go after the one sheep who is lost, but what do you do when the sheep keeps running away from you and won't be "caught"? You can seek and seek, but some folks don't want to be found. I wish I knew why.
Really, I think way too much effort is spent on people who don't want to respond. They shouldn't be forgotten, of course, but they also shouldn't be front and center, not when there are people who are actually ready to engage with Christ and to live the Christian life. They should be included, but they can't be the priority. That's robbing other people who are much more receptive.
Yes, we should all try to help people to be saved, even the stubborn and stonewalling, but ultimately, each person will have to give an account for himself before the Judgment Seat. Blaming the priest, the bishop, the parish council, other parishioners, etc., probably won't get people very far.
Even the lapsed have to be given responsibility for their own spiritual lives. If they're not willing to take it, no one can take it for them.