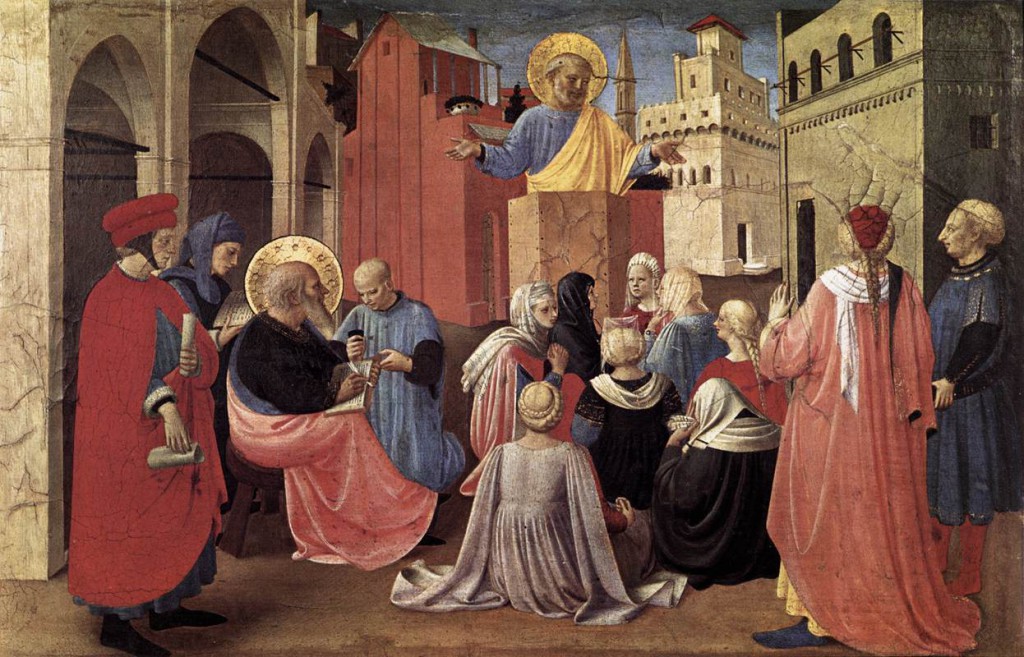 In her review of Kyriakos Markides's Gifts of the Desert, Frederica Mathewes-Green says she had a hard time finding Jesus in the book:
Markides' previous book, "The Mountain of Silence" (2001), was read eagerly by those interested in Orthodox spirituality, chiefly because he had faithfully transcribed taped conversations with a monk trained on Mt. Athos, Father Maximos. Though Markides himself seemed not wholly on board with small-o orthodox Christianity, he was obviously fascinated by it, and Fr. Maximos' verbatim teachings were worth more than the price of admission.

That's why fans of "Mountain of Silence" have been looking forward to "Gifts of the Desert." But a friend who read an early copy told me, "Somehow, it's pretty dry." It took me half the book to figure out what's causing this dryness: it's that Jesus is missing.

The person who says, "I like Jesus, but I have no use for the church" is a cliché, but Markides is the opposite. He stands in awe of the Church (which he always calls by the Greek term, Ecclesia), but has no interest in Jesus….

But one of Markides' chief concerns is to make the Orthodox way of spiritual transformation available to those who "are not necessarily Orthodox or even Christian." Follow his train of thought as he presents his five "assumptions" to Fr. Maximos: "The world of the five senses is not the only world there is…Other [hierarchically arranged] worlds exist that interpenetrate our own…[T]he various worlds are in ongoing communication with one another…[W]e as a species and as individuals are never alone…[T]he world is utterly meaningful." An orthodox Christian might scratch his head, but conclude that, if he means what you think he means, you're probably both on the same track.

However, Markides expands on his third point like this: "Some members of our own reality make contact with these higher realms. We have called them shamans, psychics, prophets, saints, and so on. Their reports of what they find always are couched within the language of the culture that these gifted people happen to live in. Therefore, knowledge of these higher worlds is always colored, filtered, and distorted in varying degrees through the cultural constructions of time and place. Even living saints are subjected to this law."
I feel much the same way when I encounter a particular kind of rhetoric about Orthodoxy in the English-speaking world, especially on the Internet. Mind you, most of it would never explicitly envision Orthodoxy without Christianity or a Church without Christ. But there is often an implicit sense that this really is so.
I thought about that recently as I was reading reactions on Facebook to my piece "Do Orthodox Christians Know the Gospel Message?" I won't dwell on specific ones (though if you're interested in a Facebook thread where I discuss all this with some others, go here), because my purpose is not to stir up particular pots, but I will address something I see every so often:
There seems to be an "Orthodoxy" without Christ, an "Orthodoxy" that preaches the liturgical services, the Fathers, the Ecumenical Councils, the canons, etc., but doesn't preach the Gospel or the Scriptures except by lip service.
I cannot regard such a Christless "Orthodoxy" as actually Orthodox. It just wears the label of Orthodoxy and perhaps includes people who are formally members of the Church.
I can always tell this Christless "Orthodoxy" is lurking when someone emphasizes preaching Christ, especially when they also add that preaching Christ does not mean preaching fasting, feast days, canons, etc., and the reaction is this: Ah-ha! A distinction is being made! That must mean that Christ is being opposed to fasting, Holy Tradition, etc.!
But it doesn't mean that. It means that we have to look at what the Apostles actually preached. They did not preach what might be termed "church life." They preached Christ crucified and risen from the dead, that we should therefore repent and be baptized into Christ. That is their public proclamation of the Gospel, their kerygma. That is what is supposed to be preached.
When the Lord gave the Great Commission, He gave four commands: 1) Go into all the world and 2) preach the Gospel to every creature, 3) baptizing them in the Name of the Father and of the Son and of the Holy Spirit, and 4) teaching them to do all that He had commanded.
These are not all the same thing. Preaching the Gospel is not the same as baptizing, nor is it the same as teaching all the Lord's commandments. I saw one commenter want to call everything in the Church "the Gospel," including relics. But that only works as a sort of metaphor, not as a precise action. Can you hand someone a relic and say, "There, I have preached the Gospel"? Or can you teach them about fasting and say, "There, I have preached the Gospel"?
And whenever I see the Gospel metaphorized like that without explicitly including speaking actual words conveying the actual good news, I know that the Gospel has been turned into a metaphor that means everything but actual good news. It may be good, but the "news" has been lost somewhere.
There is a famous saying attributed to Francis of Assisi (but probably not spoken by him): "Preach the Gospel at all times; if necessary, use words."
I have grown very much to dislike that saying, because it's being used by many to mean, "Don't go and preach the Gospel. Go live a good life and mind your own business. Maybe someone will ask you about it." Yes, of course, our lives ought to reflect our belief in the Gospel, but we cannot leave that belief wordless. Preaching is fundamentally about language. You don't see the Apostles going into all the world and setting a good example and hoping that maybe someone will ask about Jesus.
If your model of evangelism precludes what the Apostles did, then your model of evangelism has a problem.
The Apostles preached the kerygma, which is Christ, the good news of His conquest of the kingdoms of this world and His rescue of His people from death and corruption. In preaching the Gospel, these things cannot be implied. They have to be spoken directly. (I would love it if we could say "explied.") If we preach "Orthodoxy" as some sort of brand label rather than preaching Christ as the One Who makes Orthodoxy have its meaning, then we are doing it wrong.
True Orthodoxy is not a brand or a label. True Orthodoxy is to know Christ. When we preach Christ, we are not trying to get people to join our club. We are trying to connect them to Christ.
Some may regard this approach as Protestant somehow, that we're "leaving out" the Church in our preaching and setting up an individualized salvation. But it's not. Or, if it is, then the Apostles are also guilty of that. But they're not.
No, this approach is to put what should be first actually to be first. There is an order to these things. We preach Christ, and if someone is converted, then all these other things will make sense and will develop their spiritual lives to move beyond the initial conversion to the deepening transformation.
If we teach someone how to make the sign of the cross but never tell them what happened on the Cross, then we have a problem. If we preach what happened on the Cross but don't happen to mention making the sign of the cross, there isn't a problem. Learning the sign of the cross can come later as part of what it means to live out all that Jesus commanded.
Making Christ the subject of our preaching does not by any means neglect all the indispensable elements of Holy Tradition—rather, it is to say the same things that all the Apostles and Fathers have always been saying: know Christ. This is what salvation is, according to the words of Jesus Himself (John 17:3). When Jesus says that eternal life is to know God but doesn't mention all the particulars of Church life, He isn't placing them in opposition to that knowledge of God. He is instead focusing on what all those things are actually about. He is pointing directly to the center of the circle, pointing to what everything else points to.
Is there such a thing as Christless "Orthodoxy"? There is, though of course it isn't actually Orthodoxy. It just wears the label.
How can one recognize Christless "Orthodoxy"? It does not preach Christ but instead preaches all the things that have their purpose in directing one to Christ. This is actually a form of idolatry—worshiping the creation rather than the Creator. But pointing to the Creator does not negate the creation. Instead, it gives it its true meaning. We point to the Creator, and then the creation makes sense. We preach Christ, and then all of Holy Tradition makes sense.
How can one recognize Christless "Orthodoxy"? It has no joy. It tears down rather than builds up. It makes "holy tradition" (that is, a false image of Holy Tradition) into a demanding idol rather than a path to redemption.
I think sometimes that there is a kind of fear that preaching Christ will somehow "leave out" all the normative elements of Church life. But it doesn't. It didn't in the New Testament, and it won't now. It simply puts what should be first in first place.
So, no, we do not preach Orthodoxy. We preach Christ. Orthodoxy is about Christ, but it is not Christ. Such an approach leaves nothing of Holy Tradition behind. Indeed, it is the only way really to follow it.
What about the Church? Do we not preach the Church? No, we don't preach the Church. Did the Apostles? The Church has an intimate union with Christ, so preaching Christ connects someone to the Church, but preaching the Church does not connect someone to Christ. When you meet someone and want to interact with him, you look at his head. The same goes for Christ. The Church is indeed the "whole Christ, Head and Body" (in the famous phrase of St. Augustine), but Christ is not indistinguishable from His Body, and His Body is not the subject of the apostolic preaching.
If preaching Christ crucified was folly to the Greeks and a stumblingblock to Jews, then I think it is both folly and stumblingblock to those who prefer a Christless "Orthodoxy," and it is also something more—a threat.
Why? Because the Enemy would love for us to be so filled up with the details of church life that we lose track of the One Whom that life is supposed to point to. He would love for us to be so convinced that the Gospel is such an obvious part of church life that we don't actually have to preach the good news.
To whom is preaching Christ a threat? It is a threat to His enemy and a threat to death.
Again, we have to keep asking: What is the actual content of the apostolic preaching? That's identifiable, and it's what the subject of my previous post was. Identifying that content and then preaching that content does not leave anything else behind. But it does place the Gospel out front.
And yes, this thing we call the Orthodox Church does have a front. It also has a head. And that Head is Christ.
---
Follow-up for 2016:
If our evangelism could be summarized as "Join the Orthodox Church because Orthodoxy is the best," then what we're doing is not evangelism but sectarian recruitment.
If our evangelism could be summarized as "Jesus Christ is the resurrection and the life," then the unique authenticity of the Orthodox Church as the one, holy, catholic and apostolic Church will become apparent as that message unfolds.
A lot of people didn't get this post when I wrote it in 2015, perhaps because I wasn't communicating clearly. Some comments I saw seem to think that preaching "Orthodoxy" is identical with preaching Christ. But if Jesus, Who He is, and His presence do not shine forth in such preaching, then it's neither Orthodoxy nor Christ that is being preached, but a false image. It is not actually Orthodoxy that is being preached but something else.
---
Further follow-up for 2017:
I keep returning to this piece, because I believe this is a really important subject. And it also seems to be really easy to be misunderstood on this point. If I had summarize what my central message here is very briefly, it would be like this:
Preach Christ first and always. Follow up with all the details of Church life when it is appropriate to teach them. Why? Because that's what Jesus and the Apostles and the Fathers did.