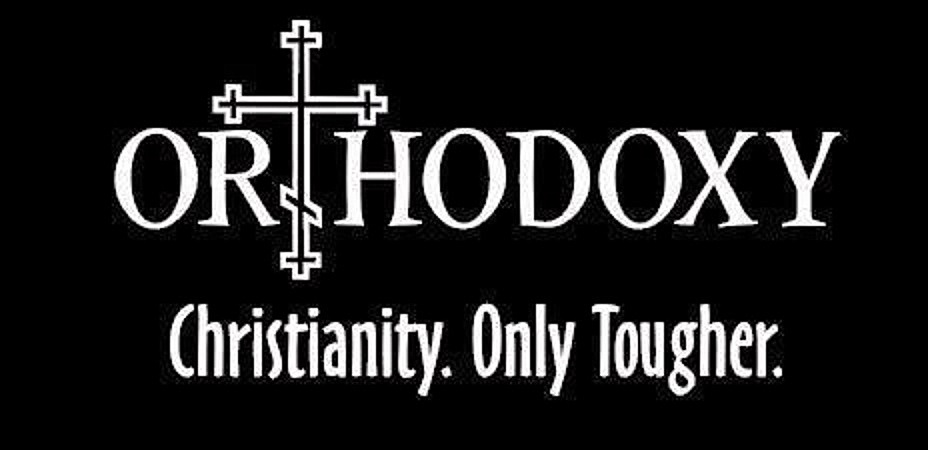 Particularly during this season of Great Lent with all its fasting and services and so forth, Orthodox Christians who live in a multi-religious society may be tempted to think or say something like what you see in this image here: "Orthodoxy: Christianity. Only Tougher."
On its face, there is of course a lot of truth to that characterization. Being a faithful Orthodox Christian is in many quite palpable ways rather tougher than being faithful in other Christian communions. Fasting usually first comes to mind, then probably prostrations. We've also got things like hierarchy (yes, it's all male), obedience to a father-confessor, way more church services, unchanging moral teaching and various other things that rub most people in the modern world the wrong way.
Let's set aside for the moment the fact that most Orthodox Christians actually don't find Orthodoxy all that tough, maybe because they're not doing very much of it. (Few are the priests who do not lament that their parish is largely populated by a Sunday-only (if that often) crowd who mostly function rather like the world around them.) Is it really the case that Orthodoxy is "tougher" than other types of Christianity?
Is it really all that "tough"?
I suppose it depends on what one means. I have known plenty of Protestants and Catholics who find their faith rather tough, whether it's because they put out an enormous amount of effort to remain faithful and involved, or because it wears down the soul to be faithful and involved, or because the tenets of their faith also rub them the wrong way even while they try to be faithful. All those things can likewise be said of the faithful Orthodox.
But what about particular practices? Is fasting like an Orthodox Christian tougher than the fasting present in other Christian confessions, or the non-fasting that is actually typical of most Christian confessions? In a sense, yes, it is tougher. There's certainly more of it, and it takes more work to remain on top of it in this culture. But on the other hand, most cultures outside the wealth of the First World basically fast far more than most Orthodox ever do—even relatively faithful ones—because feasting is just not an option for them. Yet the world that generated the "Christianity, Only Tougher" slogan basically exists in non-stop feasting. We only find it tougher to fast because we're so used to the endless party. Fasting is the exception to the constant feast of the First World.
But what about Orthodox fasting compared directly to the more limited or nonexistent fasting of other Christians? Though I am no great faster, I find it easier to follow the fasts than not to, not because not eating meat is easier than eating meat, but because having rhythm and seasons to life that are bound up in a liturgical life is actually far more interesting than just not bringing food into faith at all.
Or how about obedience to a father-confessor ("spiritual father" is the preferred term for some)? Is that "tougher"? Again, that depends. I've seen some people treat the role of the father-confessor as an excuse for them not to take responsibility for themselves. I don't think it's tougher to get your spiritual life dictated to you than it is to have to figure it out for yourself. That's not how that relationship is supposed to work, of course, but it's certainly not better because it's "tougher." Yes, if you really practice obedience and don't just look to get dictated to, that can be tougher. But I personally think it's tougher not to have someone there to guide you along the way.
One could pick lots of other things to talk about here, of course, but I think these examples suffice.
Is tougher better?
There seems to be this sense that Orthodoxy is better because it's "hardcore." We may be proud of being Orthodox much like a Marine is proud of being one of "the few, the proud." Man, it would seem, really was made for the Sabbath, not the Sabbath for man.
Okay, but is that really the message of the Gospel?
Come to Me, all you who labor and are heavy laden, and I will give you rest. Take My yoke upon you and learn from Me, for I am gentle and lowly in heart, and you will find rest for your souls. (Matthew 11:28-29)
In the teaching of Jesus, while you do find Him calling on us to take up the cross with Him, you don't find Him going around saying that His way is "tougher" than being a Jew who doesn't believe in Him or being a pagan. He and His Apostles actually talk about being released from the old ways, not about one-upping them. His message is about joy and rest, not about being hardcore. Salvation is a release from the curse of the law, not outdoing the law by making everything that much harder. Yes, the Gospel is a higher standard than the Mosaic Law and the tenets of the various kinds of paganism, but meeting that standard is about being in Christ and receiving His righteousness, not about trying harder.
That said, my pastoral experience is that those who make Orthodoxy about being more hardcore, about trying harder, will eventually collapse either into apostasy or into a rather demonic takfirism, wherein even one's fellow Orthodox are never good enough, never pious enough, never correct enough.
There's a reason why the Marines are "the few," and it's because most people, even those otherwise inclined to a a military life, are not interested in being Marines. Of course, mass appeal is not the point of the Marines, nor is it the aim of being a Christian, but there is something to this appeal to being more hardcore that is not only contrary to the Gospel but actually elitist.
Should it be hard to become Orthodox?
I've sometimes encountered the idea that it ought to be hard to become Orthodox. This feeds off the idea that tougher is better. Some would even say that obstacles should actually be erected so as to sift out the tares from the wheat (never mind that that sifting belongs to God). It should be so hard to become Orthodox that only the really committed will ever get in.
Okay, hyper-zealous convert, fine. But don't you dare baptize that baby. That's too easy.
This attitude is again contrary to the Gospel, and it is not the way the Lord approached people. He met everyone where they were and tried everything He could to bring them into the Way. His Apostles and the Fathers did the same.
This is not about making exceptions to rules. Some rules cannot have exceptions. We get that. You cannot, for instance, give permission to sin or say that baptism or believing in the Trinity are not really necessary. This is rather about the posture that is evident in turning Orthodoxy into an elite club for the visibly pious.
If we baptize babies, whole nations, etc., then we have to think ecclesially, not in terms of making individual people live up to our standards of toughness. The universal call of the Gospel is indeed universal. And that means that we have to figure out how to get everyone in.
I've actually encountered people saying that Orthodoxy is not for everyone. But if Orthodoxy is really the Church, and the Church is the Body of Christ, then that means that the Body of Christ is not for everyone. God forbid! That also turns Christian faith into a matter of personal preferences and individual suitability rather than the call to the nations to be gathered into "one flock" under the "one Shepherd."
Orthodoxy, being the Church, is for everyone.
What is Orthodoxy, anyway?
Orthodoxy is sometimes treated as though it's just a super form of Christianity. It's basically like the other kinds, but bigger and better. Go get your Christianity, and now add icons, fasting, saints, theosis, etc., and BAM! But this isn't Orthodoxy's historical self-understanding.
Historically, Orthodoxy simply understands itself as actually being Christianity. It's not "tougher." It's not a "version" of Christianity. It simply is the Christian faith as originally preached and as preserved by the Holy Spirit through the centuries. You don't have to add anything to Christianity to become Orthodox, because Orthodoxy is Christianity.
That raises the question of whether other things can also be called Christianity, but that's not the point of this post. (As an aside, I would say that they can, but the term means something else in that case, something more general and basically just a shorthand for those who believe in the Trinity and the Incarnation. And I very much believe that those two doctrines are powerful, even outside the boundaries of the Orthodox Church.) Christianity is really a problematic term, anyway. The Bible doesn't know anything about "Christianity." It only knows the Church.
And the Church has its Gospel, and that's the Gospel that we preach. Orthodoxy is not Gospel+. It's just the Gospel. Orthodoxy is what it's meant to be Christian for 2,000 years. It doesn't need to be "tougher."
Is it tough to be an Orthodox Christian? Yes. Why? Because I am a sinner.