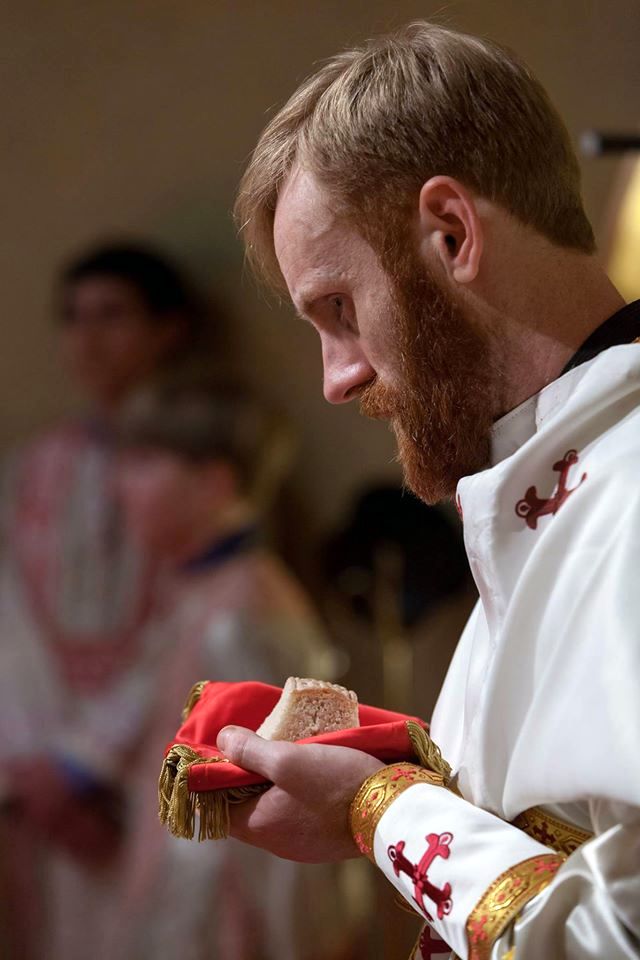 I awoke this morning hoping that it wasn't true, that somehow, the nightmare of losing my friend of ten years so instantly had just been a dream. But it wasn't. Fr. Matthew Baker is dead. And I realized that I have to write something about him, to capture for just a moment something of what he meant to me.
Promising. Brilliant. Down-to-earth. Genius. Important. Animated. Passionate. These are all words that I have heard used (and myself used) to describe Fr. Matthew. Although it always seemed a little silly, I was one of those who said out of his earshot that he was someone that people would be hearing about if they hadn't already. Even though his list of degrees didn't quite include one of those "Ds," he was already one of the best scholars that Orthodoxy in America had seen in a long time.
Not only did Fr. Matthew do all his homework when it came to understanding what he was talking about on any given subject (from physics to klezmer to, yes, Patristic theology), but he somehow knew how to synthesize nearly any subjects together. We used to joke that we could say something like, "Duran Duran, GMOs, and Apollinarianism—go!" and he could come up with authentically deep links between them.
He was someone for whom the world was not a series of subjects, but a single logos.
Comparisons were made easily between him and Fr. Georges Florovsky, his own favorite subject of study and a man on whom he really had become perhaps the foremost expert. He was also the guardian of many of Florovsky's personal effects (including his Republican Party membership card!). Like Florovsky, Fr. Matthew engaged the world in terms that it would understand, whether it was in philosophy, theology, history, politics, science or even popular culture. He never was content to remain in the ghetto of the safe list of books everyone is "supposed" to read in the Orthodox Church—though of course he had read them all, including the ones everyone says that they should read but don't. Like Florovsky, he was actually engaging with philosophy and theology and issues that are the major concerns of the modern world but in many ways have still only just begun to be noticed by Orthodox cultures as they awake from their centuries-long slumber.
Hearing of his death is shocking, and it made me angry at the loss not just to his family and to his friends, but to Orthodoxy. We needed someone like him, someone who helped us all to see that Orthodoxy is alive and faithful in its tradition, not just as a crystallized set of "answers" to questions that were asked long ago, but still creative, still able to say new things even while being wholly faithful to the old things. Even in the midst of the darkness that seems to become more present in our culture every day, I always knew when I talked with Fr. Matthew that we did not have to abandon the world.
I and so many others were always cheering for him as he with his family struggled to get that "D" behind his name so that he could finally be settled somewhere, finally begin a real teaching career, finally be able just to work on and publish what he had dedicated so much to understanding and sharing with all of us. Friends of mine were even conspiring to create a position for him, something uniquely suited to him as a scholar-priest, something uniquely Matthew Baker, something that would not just show him forth as a brilliant scholar and liturgist, but as a real pastor. It was this last side of him that many didn't quite get to see, though he did just recently begin serving as a parish priest. He loved preaching. He loved worship. He loved talking to people. He loved people.
And even though he didn't have that doctoral degree yet, he was already publishing, already traveling to speak, already bringing his special gifts to bear in a world that needed them.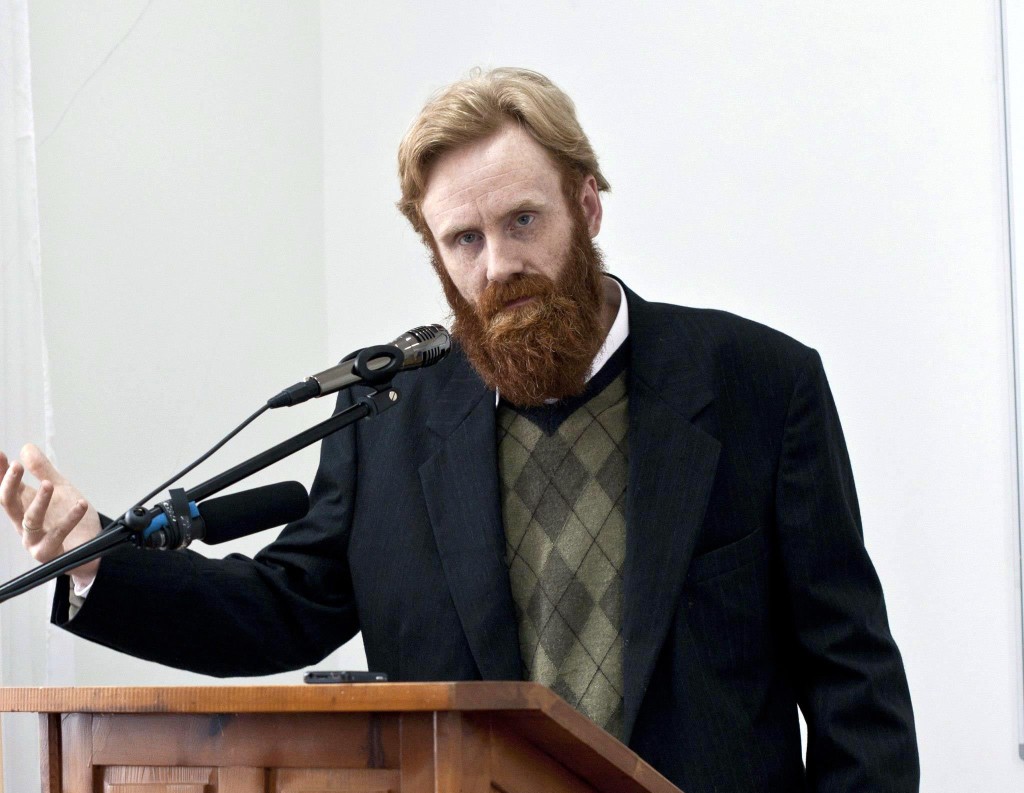 As a Ph.D. candidate, he had finally come so close to finishing up, and all the years of struggle in uncertainty and even poverty were finally about to make some sense. He got ordained just a little over a year ago, and he had finally been given a parish in Connecticut earlier this year, a place to take care of and by whom to be taken care of while he finished his studies.
Finally. Finally. Almost. And now this. Which I can't understand. Which I will probably never understand. I want to scream.
We shared a backyard in seminary together for two years, which is where I met him. He came to St. Tikhon's without an undergraduate degree, having spent some time at another Orthodox seminary that just wasn't a good fit for him and his family. Despite not having an undergraduate degree, he was still accepted into the M.Div. program at St. Tikhon's (something that is permitted once in a while). I once asked him how he had become so well-read despite not having been to college. He told me that he worked the graveyard shift at a gas station for seven years and just read.
Of course, it's not like he did all his reading in those seven years. He always seemed to have read a few more books almost every week.
In that shared backyard for those two years, we would sit and talk long into the night. I graduated, and he went on to attend or live at both the other major Orthodox seminaries—with four in his list, we joked that he had attended them all. And even though those long talks became less frequent as we no longer lived next to each other, they came every so often, sporadically, always on some subject of enormously absorbing interest.
There are some geniuses whose genius makes you stand in awe as you gaze upon something you could never do yourself, and you see them as beyond you. And there are some geniuses whose genius opens you up and helps you feel that you can be better, be more, that you can be invited into that same world of light and joy. Fr. Matthew's genius was that latter sort. He was always inviting you in, always ready to engage.
Even though he was probably the smartest person I ever met, I don't think I ever detected an air of superiority about him. Even while he disagreed with someone (and for good reasons, usually, too), he still loved them and disagreed with the charity that comes of being dedicated to knowledge and not making knowledge some kind of competition of possession. He could be right without needing to be right.
He was always a deep well of generosity. He never gave just a piece of himself in conversation—and conversation was his greatest gift to me and, I am sure, to many others, as well. He was always fully in. When he looked at you with his penetrating eyes, you knew he was really there with you. He was not somewhere else. Most of us so often seem to be somewhere else.
My conversations with Fr. Matthew were not always about heady theological and philosophical things (though I could never remotely keep up with his knowledge of those things). As I said above, his logos was one, so all those things were always deeply relevant to life. He often counseled me in difficult moments and opened my eyes to light that I just wasn't seeing. He helped me when I was tempted to despair.
I think "he opened my eyes" is something a lot of people are going to be saying about him. How did he do that? How did he do it so often? I don't know, exactly, but even despite his flaws (which, having lived next to him for a couple of years, I did indeed see), he somehow had a special gift for the Gospel.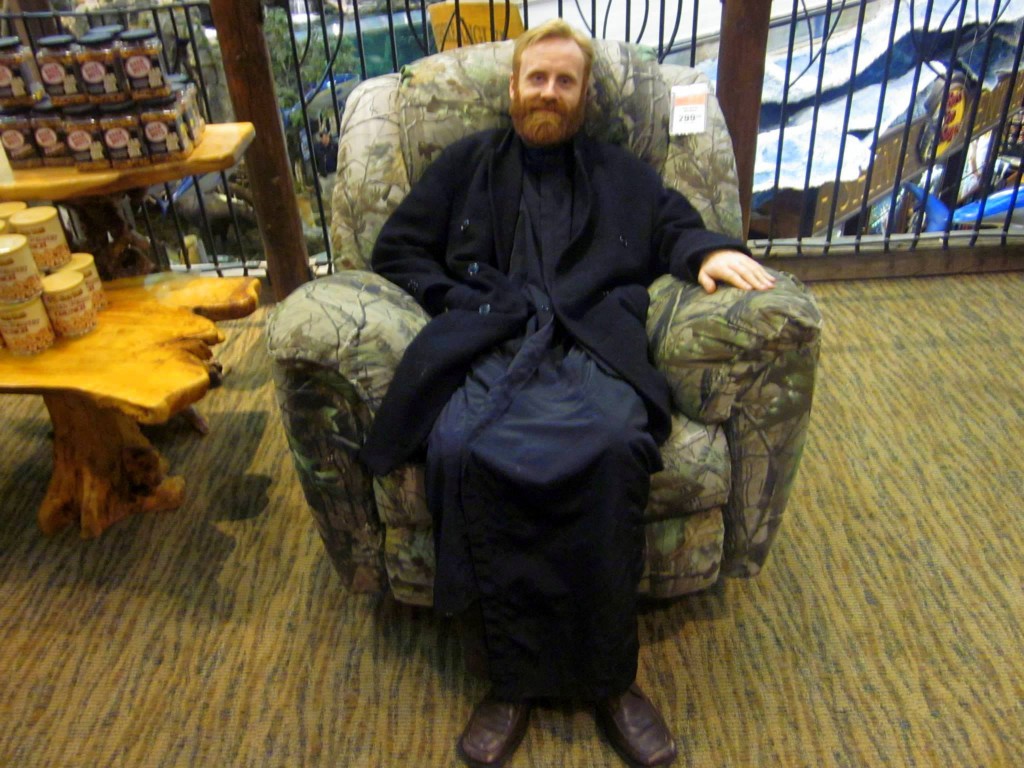 Our two shared years of seminary were during a difficult time at the school. Scandal swirled around some of the leadership. A culture of suspicion and hardness prevailed in many quarters. He and I and both our wives had a shared sense of suffering and struggle together. We loved each other then and have tried to keep loving each other, despite the distance. When my wife would go to visit them every so often, she usually came home saying that she wanted to betroth our daughter to "one of those Baker boys." She had one picked out, of course.
While we were at St. Tikhon's together, one of the things I recall that got debated between seminarians was the role of the spiritual father. Some people wanted to turn the role into some kind of guru, someone who must be obeyed in order to have an authentically Orthodox spiritual life. And of course Fr. Matthew understood that it was good to have a spiritual father.
But I remember clearly that one time, as he and I were discussing how we couldn't reconcile ourselves to the extreme view of spiritual fatherhood, he said this to me: "I think what we need is more spiritual brothers."
And that is how I shall remember him most of all. He was a spiritual brother, a true friend, someone in whom the Triumph of Orthodoxy (the feast day on which he died) had already happened.
I will miss you, my friend. I can't believe you're gone. It just doesn't seem fair. I only hope that we who are left behind can bring your spirit with us, that we can also engage and love and go deeper the way that you did. Pray for us as we pray for you.
---
The greatness of spirit which was and remains in the presbyter Matthew Baker is matched by his dear wife, the presbytera Katherine, who now will be raising their six children—five boys and a girl!—without their father, who has joined a stillborn son who himself just reposed a couple of weeks ago. Please consider supporting Katie and their children by going to this site, which has been set up by a trusted friend.
And as you remember the soul of the presbyter Matthew and the stillborn child Alexis, remember among the living the presbytera Katherine and their six children.