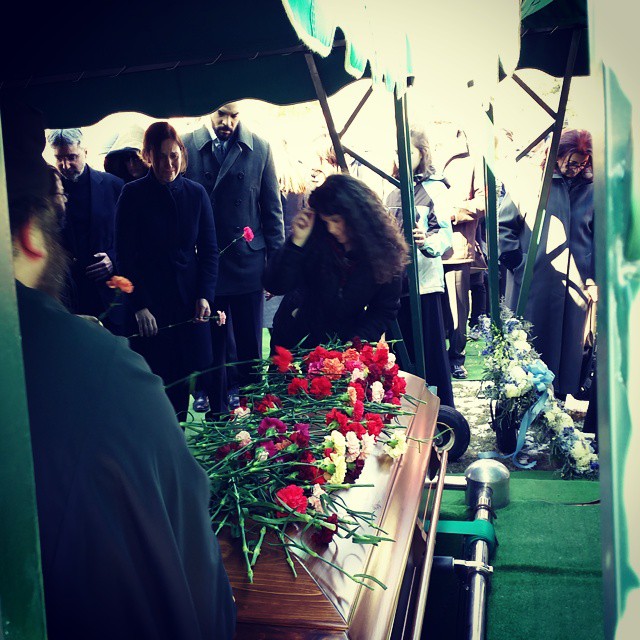 Several times now I have been asked by folks who were not at Fr. Matthew Baker's funeral this past Saturday to write something about it. I have to admit that I do not really want to. I am a bit exhausted.
But I will at least mention that it was beautiful—not merely in an aesthetic sense, though of course it was, with the roughly fifty priests and two bishops who were there, the hundreds of people, the wonderful chanting. But it was also beautiful because of the brotherhood and love that were evident there. Many friends of Fr. Matthew were present and shared their friendship with each other.
I also met several people who came up to me to introduce themselves who said to me, "Fr. Matthew told me that I should meet you" coupled with "I'm sorry it had to be like this."
I mention this not to say that he held me in any especially high regard. He was doing this all the time, actually, constantly introducing people. I can't remember how many people he told me that I ought to meet, people that he knew. He was always connecting people, always working to form friendships not just with himself but between the people he loved.
His ability to form bonds very quickly, even solely via correspondence, is quickly becoming almost legendary. One connection he himself had made was with the eminent Orthodox theologian, bishop and churchman, Metropolitan John Zizioulas. Metropolitan John's words were read by Fr. Matthew's close friend and collaborator Seraphim Danckaert at the meal following the interment:
Fr. Matthew Baker forced me to answer new questions which I hadn't thought of before. He somehow entered into the deepest of my intentions. Most others don't… We had the one, and we lost him.
What is Fr. Matthew's significance for Orthodoxy? Why was he "the one"? Yes, it is because of his penetrating theological questions and insights. But for me, it is more because he was "the one" who brought so many of us together, as Seraphim went on to say, and he brought us together precisely on the basis of this theology of the heart which "somehow entered into the deepest of [the] intentions" of many of us. He often told me things about myself that I immediately realized were true but I hadn't seen before.
Listen to Seraphim's words yourself: