I was sent this remembrance today of Fr. Matthew Baker from Fr. Joseph Lucas, another priest-scholar and friend of Fr. Matthew. These words resonate with me, as well. Manhood was something that Fr. Matthew talked about a good bit in his private conversations with friends, and it was something that he helped other men to build.
Fr. Joseph is a priest of the Orthodox Church in America (OCA) who serves at Christ the Saviour Cathedral in Miami, Florida.
Please remember to give to support Fr. Matthew's widow and six children.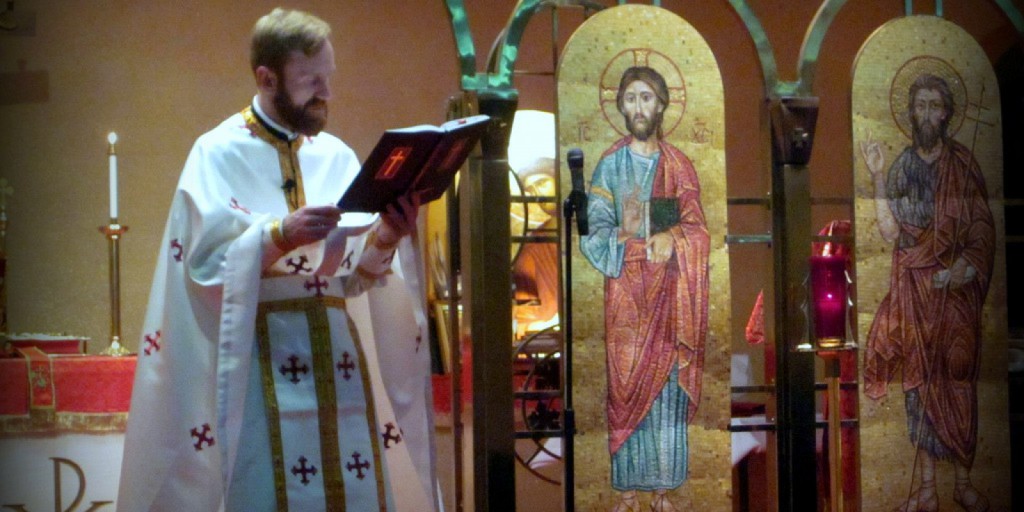 In the days since Father Matthew Baker's death, I have struggled to put pen to paper to express how important his friendship was to me. A mist has settled on my heart, preventing me from the task. But love compels me to write, so I must.
Others have sketched an image of Matthew as priest and pastor, student and scholar, friend and father. Unable to match their eloquence, I endeavor in my own way to reflect upon the years I have known him. In the recesses of my mind, a single word haunts me. Matthew was a man. Not just any man, but a man's man. In an unbalanced world of either machismo or effeminacy, Matthew stood out as a symbol of true manhood. He embodied those most noble traits of courage, chivalry and loyalty; of an unparalleled honesty and sincerity. When he spoke, he looked you directly in the eye, never belying an ounce of duplicity. When he shook your hand, he grasped it firmly; and yet he was unafraid to embrace you as a brother. His confidence was tempered by sensitivity, reminiscent of the great poets and saints of all times.
I first met Matthew the summer before I began seminary. We shared a mutual friend in our spiritual father, a monk of Saint Tikhon. Our friend urged us to meet, believing Matthew and I to be kindred souls. That day we conversed for several hours. We shared a common past: self-made men who turned their misfortune into an opportunity for betterment. We both spent years in idle work, converting darkness into light. For both of us, this journey led to seminary, and eventually towards both academia and the priesthood. Through our commonality, a bond was forged. The first of my friends at seminary, our relationship would continue to blossom.
Life at seminary was difficult for all who had families. To enable my studies, my wife provided for our family. This would not have been possible if not for Mathew's beloved wife, Katherine—the most generous of women. She volunteered to watch our youngest son every day. This connection also brought our two families closer, and gave Matthew and me ample time to converse, to share ideas, and to support each other's academic progress. Often, a short discussion would become an all-night vigil, punctuated by swigs of Belgium beers, and shrouded in clouds of cherry tobacco smoke. It was at these gatherings that Matthew sharpened my theological dexterity, and broadened my vision of life.
Although younger than me, Matthew often seemed like a father to me and others. He was an old soul, remarkably mature for his age. The man he became was solid, like a gnarled oak tree that withstands the winds of change. He reminded me of my own father, and like the rod-iron men of my youth—men that took life seriously, and death even more seriously. Yet Matthew was never uncouth. He possessed a genteel nature, a refinement seeped in old literature and older truths.
Nothing spurred on Matthew greater than an act of injustice. Many a time I saw him assume the biblical injunction to protect the poor, the innocent and the oppressed. He was like the heroes of old, an Arthurian champion undaunted by the foes that pursued him. This was a narrative he instilled in his boys as well. Their youth was filled with stories of great men of long ago, sworn to a selfless code of honor. I pray that they continue their father's legacy, never retreating from the enemy.
The formation of Matthew's manhood was not arbitrary, but rooted in a vision of complementarity. Thus our conversations often dwelt on this theme, and he believed it an idea that must be defended. Men are men, and women are women, and each has their place in the order of God's creation. This was not about misogyny, but rather vocation. As a man, Matthew understood the responsibilities laid upon his shoulders. He sometimes struggled to find balance, to channel his passionate nature and not shirk his duties. But he was not a static character: over time he learned to place limitations on himself. Before the end, he reached a stasis, achieving equilibrium between work and rest, family and friends, academia and spirituality.
I cannot fathom the ways of God, nor accuse Him of injustice in taking Matthew from our midst. We live in a world marred by chaos and corruption, most of which we ourselves cause. But the One who has overcome the chaos, who has defeated corruption, He became man for our sakes. And as man, He has burst open the doors of paradise, making a way for Matthew—and for every man—to enter therein. Through the prayers of those men whose hearts he touched, may Matthew find rest in Jesus Christ.