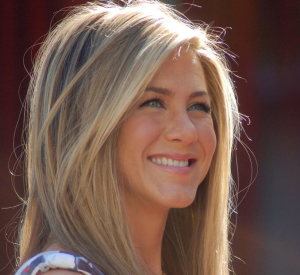 I read this morning that actress Jennifer Aniston (whose family name is Anastasakis and whose godfather is Telly Savalas) had declared that going makeup-free in her new film Cake was "dreamy and empowering and liberating."
I don't normally bother with celebrity news, but of course when using social media, it's hard to escape it. This caught my eye, though, because it struck me as so bizarrely telling regarding our whole public culture.
That anyone could call not wearing makeup things like "liberating" indicates that our investment into transmogrifying artificiality has become deeply dehumanizing. It would be easy to mock Ms. Aniston and call this a "First World Problem," that this is the kind of thing that only people with ridiculous amounts of privilege and wealth could say, but there is something deeper going on here which isn't about Jennifer Aniston but about culture in general.
We seem to have moved beyond the First World into a kind of Zeroth World where inconsequential acts like not wearing makeup are ascribed with the nobility and import also given to being freed from tyrannical oppression. If when the Allies rode into Paris and drove out the Nazis, it was "liberation," how does that compare to going without makeup?
She also uses dreamy and empowering, and one could ask similar questions here, too. This is "dreamy"? What other things are "dreamy"? She is "empowered"? Is this Rosa-Parks-civil-disobedience-"empowered" or something else?
Yes, it would be easy to leave the problem here with language inflation—we (including me, sadly) now use words like awesome and great to refer to things that neither inspire awe nor evince greatness. And maybe that's all that's happening here. But she clearly feels something significant, a kind of happiness that makes her feel free from the usual painstaking artifice that is, well, her face, not to mention everything else of her person that we see and hear.
Where is personhood in all this? If an actress feels "liberated" by not wearing makeup, then what does that say about the culture that requires makeup not just for actors but for nearly all women in public? This is a weird pseudo-reality we're living in here. We can't even see each other's faces any more. It's gone beyond privilege and wealth to wall-to-wall artificiality, to virtual reality for almost all of life's experiences.
Welcome to the Zeroth World.
Here in the Zeroth World, shedding a tiny bit of face-paint is an authentic act of resistance and recusancy. I bet taking a walk might do that, too. Or cooking dinner.