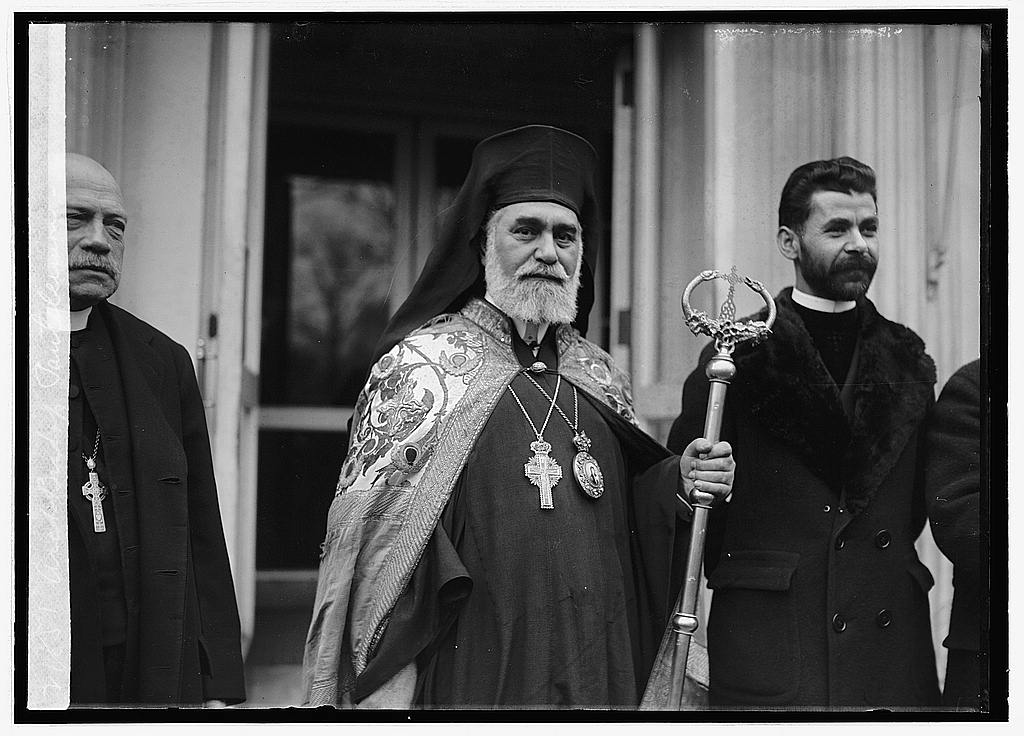 There are many times when I am speaking to someone about Christ, even within a church context, that I feel like I am speaking about an alien visitor from outer space. It is quite similar to the feeling I sometimes have when referencing some piece of history that interests me for which my interlocutor has no context or experience to make it meaningful.
I picked the above photograph for this post to illustrate this point. To the Orthodox Christians among my readership, this is clearly an Orthodox bishop. The more astute may notice that his hat's particular shape marks him as belonging to one of the Byzantine (rather than Slavic) churches. And perhaps one or two of you who are historically minded in a rather specific way will recognize this as Archbishop Panteleimon of Neapolis, a bishop of the Jerusalem Patriarchate who visited America in the 1920s. But I think just about anyone else looking at this picture might think, "Oh, here is some professionally religious man, an important Christian of some sort." But ultimately, he is meaningless and uninteresting to them.
This sentiment just begins to hint at the defamiliarization I sometimes feel, especially when I use the name Jesus or His title Christ. I think it is probably all made worse for me that I am a clergyman. It is expected that I play a certain role, that I mention this Jesus, but the clericalism of modern American piety keeps Him firmly on "my" side but just as firmly not on "their" side. It's okay for me to be religious, and I'll take care of the religion for other folks, too.
We live in such an atheistically informed culture—in which most people ironically identify as Christian but really are not interested in Christ—that unless there is a clear, mutual experience of being steeped in the Christian faith, even introducing the idea to another person, even within the Church, I have the sense of talking about a space alien. It's telling, I think, that one form of mockery about the Christian faith refers to Jesus precisely in these terms, that He is a space alien Who has visited Earth and done weird things with His "science."
What's tougher about all this is that there is a kind of campy, obsolete quality to presenting Christian faith in modern American culture. The whole nation is such a "burnt over" district that very few really will catch fire any more. Christ is silly to people, a ridiculous, awkward sort of Disney character that they left behind in childhood, or perhaps when He was "revealed" powerless in the midst of their suffering, or when He proved irrelevant to their ambitions.
All this is why I think that street preaching, while very much a major part of what the Apostles did, is not (with certain notable exceptions) very effective in our time and place. I think most of us know this, so we solve this problem by doing precisely what we should not do: we retreat into our churches and just do services and expect that that will be enough.
While I was in seminary, I was told by a visiting priest whose job it was to head up his jurisdiction's "Department of Evangelization" that "just being the Church" is the key. When I asked him what that meant in practical terms and he responded, my suspicions were confirmed. He was an "if you chant it, they will come" sort of evangelist. So much for that "go ye into all the world" business.
But it is so much the worse if we approach this question by trying to familiarize Jesus, to turn Him into a product of name recognition, some item to be bought or acquired, a bit of righteousness which goes nicely with the decor. Defamiliarization is a challenge, but familiarization is outright evil. Such a Jesus is a pathetic wimp who wound up on the wrong side of the first century Palestinian authorities and got killed for it, but that is not the Christ. The real Jesus essentially climbed up on the cross and continued to rule the Universe from there.
So what is the cure for the defamiliarization of the Christ? I am not interested in "strategies" so much as real experience. (This is a serious question, and I invite responses.)
In my own experience, I've found telling people not to come to church if they don't believe in it to be remarkably effective. We're so familiar with fake religious folks that it's often refreshing to be told not to come to church. It's not worth it to fake it. It's actually more dangerous to come and act religious than it is to stay home and watch football instead. Please, stay home and watch football. At least you'll be authentic. This is in line with Orthodox doctrine, too, because our whole theology is predicated upon man's free will. Religion as obligation is the slow suicide of the Church. It's a curious thing, however, what men and women will do when you set them free.
I also have found that telling the basic story of the Gospel has great power when used in public preaching and in private conversation. Most of us are familiar with the starting point, namely, that we are a broken and suffering humanity. If we know any suffering at all, then we can begin to hear the Gospel. (I have great concern for those who have never known any pain, want, or agony, because they see nothing that they need to be saved from.) Where we go from there—man's true freedom, God's compassion for us, the rustic reality of the Incarnation—is often the key for connecting people to the God Who is real. In other words, it's about learning and living dogma. Dogma, you see, is not a bunch of esoteric religious concepts but rather an attempt to describe the real nature of God, humanity and the universe and practically to prescribe how they should be interacting.
Perhaps the defamiliarization itself is something of an advantage. So what, then, if we're saved by a space alien? What makes it all even weirder is that it's a space alien Who became an Earthling. Knowing the alienation of divinity from humanity is the starting point of knowing the Divinity through His incarnate humanity.
It's time to meet Jesus again, to see Him not as a "tame lion" (to borrow the Narnian phrase) but to experience Him as the Lion of Judah, Who cannot be predicted or predicated. He can, however, be preached.