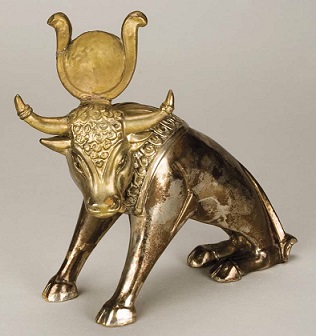 Though he is far from a household name, Jeroboam, son of Nebat is one of the most important figures in Biblical history.  As the first king and founder of the independent northern kingdom of Israel, he became the paradigmatic wicked king.  He is, in many way, the first schismatic and heretic in the history of God's people.  In addition to creating the northern political structures, he began an alternative religious system that would not only endure in the northern kingdom throughout its existence, but even make inroads into the southern kingdom of Judah.  Under the later Omride dynasty, the kingdom which he founded would become a regional power and at least for a time far surpass the southern kingdom of Judah in influence and power.  The condemnation of future northern kings will continuously begin with the fact that they have committed the sins of Jeroboam, son of Nebat (1 Kgs/3 Kgdms 15:34; 16:2-3, 7, 19, 26, 31; 21:22, 52; 2 Kgs/4Kgdms 3:3; 9:9; 10:29, 31; 13:2, 6, 11, 13; 14:16, 23-24, 27-29; 15:1, 8-9, 18, 24, 28; 17:21-22; 23:15).
Jeroboam's story begins during the reign of another wicked king, Solomon.  Though it is not common to see Solomon in this way, it is his clear portrayal in scripture.  In addition to multiplying wives and committing the other offenses prohibited to kings in the Torah (Deut 17:14-20), he built temples to the pagan gods worshipped by those wives in Jerusalem alongside the temple of Yahweh, the God of Israel (1 Kgs/3 Kgdms 11:7-8).  Even Yahweh's temple was constructed by Solomon not according to detailed plans received from Yahweh himself, as the tabernacle had been.  Solomon planned his temple himself and built it according to the pattern of pagan Phoenician temples.
In response to Solomon's wickedness, the God of Israel raised up foreign enemies against him to harass him and his kingdom.  When he did not repent, he raised up Jeroboam, son of Nebat.  Jeroboam's name means "his people are many."  In a play on words regarding his destiny, it can also mean, "he struggles for the people."  Jeroboam came from the tribe of Ephraim, descended from one of the sons of Joseph.  Ephraim was the most numerous tribe of Israel, occupying the hill country around what would become Shechem and Samaria.  Their prominence is shown by the prominence of Joseph within the patriarchal history of Genesis.  It is also shown by the fact that once the kingdoms divided, the northern kingdom which included all the tribes but two, became known not only as Israel but as Ephraim (cf. Ps 78::9, 67; Is 7:9, 17; 11:13; Jer 31:6, 9, 18-20; Ezek 37:16-19).
Jeroboam had been a young member of Solomon's court.  In his many building projects in Jerusalem, Solomon had employed forced labor, drafting workers from other tribes.  A significant number of these workers came from Ephraim (1 Kgs/3 Kgdms 11:27-28).  Jeroboam was put in charge of the laborers from his own tribe.  The prophet Ahijah was sent to Jeroboam to make an announcement to him, that in judgment, the kingdom of Israel was being taken away from Solomon and his descendants.  Only one tribe, Judah, would remain with the line of David in order to keep the covenant which the God of Israel had made with David (1 Kgs/3 Kgdms 11:36).  In fact, the same covenant originally given to David (2 Sam/2 Kgdms 7:16) was also offered to Jeroboam if he would walk in the ways of Yahweh's commandments as David had (1 Kgs/3 Kgdms 11:38).  Solomon's response, when he learned of this judgment and prophecy against him, was to seek to murder Jeroboam.  He fled to Egypt until Solomon had died.
After Solomon's death, when Jeroboam heard word of it, he travelled to Shechem to Rehoboam, Solomon's son's coronation.  There he led a large group of the people to confront Rehoboam about their enslavement by his father Solomon (1 Kgs/3 Kgdms 12:3-5).  Rehoboam responded with threats of greater and harsher enslavement if they dared defy him (v. 14-15).  Jeroboam then led the people of Israel in a popular revolt against Rehoboam in which Rehoboam lost control of all but his own tribe, Judah.  The prophet Shemaiah was sent to ensure that an all out civil war did not ensue (v. 22-24).  Nevertheless, throughout his reign and that of Rehoboam, Jeroboam was involved in continuous border conflicts in which he took several more cities from Judah (1 Kgs/3 Kgdms 14:30).
Once he had become king of Israel, Jeroboam set about to create a new social order.  He still saw Rehoboam as a rival with greater legitimacy in his claim to kingship (1 Kgs/3 Kgdms 12:27).  The central organizing structure of ancient societies and cultures was not the state or concepts of homeland but rather religion and ritual.  This caused the threat of Rehoboam for Jeroboam to center on the mandated pilgrimages to the sanctuary in Jerusalem.  In order to prevent this, he established a new religious system for his newly one northern kingdom centered around sanctuaries at Bethel and Dan (v. 28-29).
The city of Bethel had been a cultic center from the Canaanite period, as signified by its name as the "House of El."  The city of Dan had formerly been known as Laish.  In the far north, it had been a center of the worship of the Amorites and other peoples of Bashan.  While the tribe of Dan had been given an allotment of land at the time of the conquest under Joshua, they instead descended on the city of Laish and committed a massacre there to take it for themselves (Jdg 18:26-30).  They had already set up their own cult and priesthood practicing idolatrous worship long before the ascent of Jeroboam.  It is not coincidental that in the Revelation of St. John, Dan is no longer reckoned among the tribes of Israel (Rev 7:5-8).
While the forging of golden calves clearly hearkens back to the sin of Aaron in the wilderness (Ex 32:1-4), it is unlikely to be a casting back to that event, but rather to be a similar movement in attempting to syncretize the worship of Yahweh with elements of Ancient Near Eastern culture.  The bull was a symbol of strength and power, as exemplified by the 'bull of heaven' associated with the constellation Taurus being the possession of Anu, the high god of Mesopotamia or El, the high god of Canaanite and Phoenician religion.  Josephus identifies the calves made by Jeroboam as heifers rather than bulls (Antiquities 5.8.8).  This may be related to the Egyptian cow goddess Hathor who was associated with the sending of plagues.  Both Aaron and Jeroboam had just spent time in Egypt, and both identify the calves as the god of Israel who brought them out of Egypt.  In later Israelite history, it would become clear that the name of Yahweh was associated with these shrines, suggesting that Israel's God was here being cultically served in pagan Ancient Near Eastern modes.
In addition to these two primary cultic centers, Jeroboam established multiple high places throughout his territory (1 Kgs/3 Kgdms 12:31).  These were cultic centers to Canaanite and Phoenician gods, primarily Baal and Asherah, which were established on top of hills and mountains as being closer to the heavens and associated with the mountain of the gods.  Jeroboam then appointed priests from all the tribes, not the Levites, to serve at these cultic centers.  He went so far as to expel the Levites from his territory, leading to their return to Jerusalem and the temple (2 Chron 11:14).  He himself, as king, served also as high priest offering sacrifices himself, beginning with his own feast, parallel to Passover, which he created (v. 32).  This new polytheistic state religious system continued until the destruction of Ephraim by the Assyrians and is directly blamed by the author of Kings/Kingdoms for its destruction.
Jeroboam himself paid the price for his wickedness.  Late in his life his son became deathly ill and he sent his wife under cover of night to see Ahijah, the prophet who had first told him about the kingship (1 Kgs/3 Kgdms 14:1-3).  Rather than answering his request, Ahijah pronounced judgment against him for all of his sins and iniquities.  The reason his son Abijah had become sick and would die is because he was not as wicked as his siblings, and so God was giving him the honor of a burial (v. 10-13).  The rest of Jeroboam's line would be slaughtered with the sword.  Not only would his dynasty be massacred, but Israel itself would ultimately be destroyed for the sin into which he led them (v. 16).  This judgment would be fulfilled after Jeroboam's son Nadab had reigned as king for less than two years (1 Kgs/3 Kgdms 15:25-30).
Jeroboam the son of Nebat represents a new trajectory in ancient religion within the Hebrew scriptures.  This trajectory is glimpsed in the golden calf episode at Sinai.  It is begun by Solomon himself in his building of a pagan-style temple to Yahweh and further pagan temples alongside it.  While the nations descended from Abraham worshipped Yahweh, the God of their fathers, the nations had fallen into the worship of lesser, demonic spiritual powers.  Jeroboam's newly designed religious system represents an attempt, not seen in scripture since the tower of Babel, to subject Yahweh, God Most High, to humanity's religious desires through ritual practice.  Jeroboam placed himself as king and high priest as a mediatorial figure between the people of Israel and Yahweh and the other gods.  Like other Ancient Near Eastern priest kings he was establishing himself as divine, as a peer of the gods and a member of their company.  This is precisely the dynamic that the strict separation of priest and king, and later bishop and emperor, was intended to prevent.  Jeroboam therefore serves as an antichrist figure.  The inversion of his flight to Egypt upon prophesied kingship and that of Christ, both fleeing an apostate temple-building king over Judah, is intentional.  The antichrist in St. John's Revelation is also depicted as establishing an apostate religion (Rev 13:13-18).
The system of ritual worship and foundational narrative given by Yahweh the God of Israel in the Torah serves for the transformation of humanity.  It enacts the purification of human sin and the raising of human persons to the presence of God.  It is therefore opposed to all other religious systems on earth, be they devised by demonic powers seeking worship or by human persons for their own ends.  This is even, or perhaps especially, true when these religious systems claim to worship the true God, the Holy Trinity.  Whether these systems serve the interest of a religious leader, a state, a culture, or a homeland, they serve to conform human persons through worship to the will of that leader, or state, or culture rather than to the likeness of Christ, even when they use his name.  In the person of Jeroboam son of Nebat is condemned every theological system, every form of worship, every set of beliefs which masquerades as Christianity, but proceeds from the will of man rather than that of God.  What proceeds religiously from corrupt human persons is in no way superior to that which proceeds from demons.  Heresy is no better than paganism.  In fact, while the evil spiritual powers worshipped by the pagans may exist, the false Christs imagined by human persons most certainly do not.