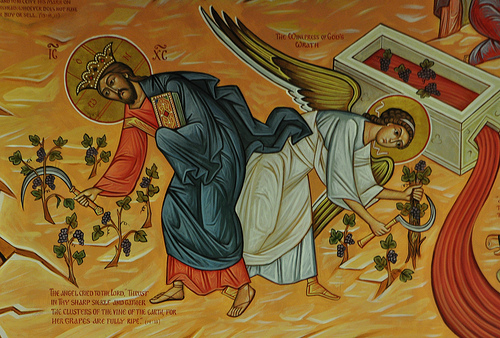 Though it may at first seem counterintuitive, the most important Biblical text for understanding the Christian Gospel as St. Paul proclaims it is the book of Deuteronomy.  The book of Deuteronomy sums up the Torah, the Pentateuch, in presenting the Prophet Moses' great final sermon to the people of Israel before his death and their entrance into the land promised to their forefathers.  It is, in condensed and pointed form, the covenant document granted by God to his people Israel.  In the ancient world, the type of covenant document, 'berith' in Hebrew, which is represented in the Old Testament is a particular type of ancient suzerainty treaty.  When a king conquered a new city or territory and took possession of it, or one king was compelled to surrender to another by other means, the defeated king became a vassal of the other, who became his suzerain.  The suzerain would then issue such a covenant document to his vassal which would begin by describing the greatness of the suzerain and all that he had accomplished, particularly on behalf of the new vassal.  It would then outline the responsibilities which the vassal had to the suzerain going forward and what the consequences would be should the vassal choose not to obey these obligations.  The book of Deuteronomy as a whole follows precisely this format in communicating concerning God as king to his new vassal, the nation of Israel.
In the previous post, the relationship between election and inheritance was discussed.  Israel was chosen by God to receive an inheritance and in the book of Joshua, following on Deuteronomy, Israel takes possession of it.  Israel was chosen for this purely by God's grace.  He chose to work through Abraham and his descendants.  He chose to treat Isaac as the firstborn for purposes of inheritance and Jacob even though he was the younger brother.  He chose Israel out of all of the nations of the world for his own possession, to work in the world through them.  Israel did not earn this status.  God did not give them the law in Egypt and then, when they had kept it perfectly, bring them out of Egypt and give them the land.  As Deuteronomy 9:4-6 says, "Do not say in your heart, after Yahweh your God has thrown them from your presence, 'It is because of my righteousness that the Lord has brought me in to possess this land,' rather it is because of the evil of these nations that Yahweh is driving them out from your presence.  Not because of your righteousness or the straightness of your heart are you going in to inherit their land, but because of the evil of these nation Yahweh your God is driving them out from your presence, and that he may confirm the word that Yahweh swore to your fathers, to Abraham, to Isaac, and to Jacob.  Therefore, know that Yahweh your God is not giving you this good land to inherit because of your righteousness, because you are a stiff-necked people."  This is the same language of righteousness and lack of a reason for boasting used by St. Paul in Galatians, Romans, and Ephesians.
This concept also lies at the core of the dispute between Christ and the Pharisees.  The Pharisees believed the God would act and the Messiah would come when Judea once again became completely obedient to the law.  They would earn the restoration of their inheritance.  This made tax collectors and sinners bitter enemies of the people who needed to be done away with, as they prevented the Messiah's arrival and the restoration.  Christ, in contrast, tells them that he came to seek and save the lost.  He had come not to reward the righteous according to the law and condemn the wicked, but to reconcile the wicked through repentance and the forgiveness of sins.  This is the core of the parable of the Prodigal Son, who has squandered his inheritance, but finds forgiveness when he repents and returns.  This is also what lies behind the older brother and his bitterness.  This is why Christ condemns the Pharisees for not truly understanding the Torah which was so precious to them.  Their beliefs were never a part of its teaching.
But this inheritance for which Israel is chosen is not the end of salvation, it is the beginning of salvation.  God had chosen Israel so that the world would be saved through it.  Israel itself would find salvation by fulfilling this calling for which they were specially chosen.  The central portion of Deuteronomy, summarizing and explaining the law, was the description of how Israel would fulfill its calling.  It described how they would live their lives as individuals, and as a community, in order to serve as a light to the nations which would draw all of the nations of the world to come and worship Yahweh, the God of Israel.  St. Paul sees his own life in this context.  He was known by God, and chosen from his mother's womb (Gal 1:15), and called to proclaim the gospel of Jesus Christ to all the nations of the world.  This is how he sees salvation also functioning in the lives of those who receive his epistles.  St. Paul begins his epistles by proclaiming to the salvation which has come to Christians by the grace of God which they did not earn, for Christ died while we were still sinners.  This is received by faith, by belief that the promises we have received from God are true.  But this is the beginning, not the end of salvation.  The Holy Spirit, received at baptism, is the down payment on our inheritance (Eph 1:14) and he comes with a call upon our lives.  St. Paul continues, in each of his epistles, to describe how then we are to live, as individuals and in community, to accomplish the calling for which we have been chosen by God.
Fulfilling this call is what makes our status as called and chosen by God actual, real, and effective.  Just as being a physical descendant of Abraham was not enough in the Old Testament, so also having chosen and called status is not enough in the New Testament.  St. Peter says, "His divine power has granted to us all things related to life and piety through the knowledge of him who called us to his own glory and virtue, by which he has granted to us his precious and very great promises….therefore make all effort to add to your faith with virtue, and virtue with knowledge, and knowledge with self-control, and self-control with endurance, and endurance with piety, and piety with the love of the brethren, and love of the brethren with love itself….be even more diligent to confirm your calling and election" (2 Pet 1:3-10).  St. Paul states that for the elect to find salvation, something else must occur in their lives and his purpose in writing his epistles was to aid in this coming to pass (2 Tim 2:10).
The product of a life lived as a Christian and lived in the community of the Church is compared biblically to fruit.  Christ says, "You did not choose me but I chose you and appointed you in order that you might go and you might bear fruit and that your fruit might remain, in order that whatever you might ask the Father in my name he would give to you" (John 15:16).  This same imagery is found throughout the New Testament as the description of a true Christian life and the purpose of the Church as a whole (Matt 3:8, 10; 7:17-19; 13:23; Mark 4:20, Luke 3:8-0; Luke 6:43; 8:15; 13:9; John 12:24; 15:2, 4-5, 8, 16; Rom 7:4-5; Col 1:6, 10).  This imagery is not new in the New Testament.  It was used in the Old Testament, beginning in Deuteronomy 29:18 in which a man, woman, clan, or tribe which turns away from Yahweh to follow the gods of the other nations is described as a root bearing poisonous and bitter fruit.  It is then used prophetically throughout the remainder of the Old Testament to describe the remnant of Israel which will emerge in the last days which will, unlike Israel of old, bring forth fruit for God (2 Kgs 19:30; Ps 92:14; Prov 12:12; Is 11:1; 37:31; 45:8; Jer 17:8; Ezek 17:8, 23; 47:12; Hos 9:16; Joel 2:22; Mal 3:11).
The close of Deuteronomy's sermon describes the judgment that will come upon Israel.  In Deuteronomy 28-30, death and life, blessings and curses, as set before Israel which will come upon them based on whether or not they fulfill their calling.  If they follow the ways of the Lord and serve to bring salvation into the world and make it real in their own personal and communal lives, they will receives every good thing from God and their inheritance will increase and abide forever.  If they turn away from Yahweh, their God, who has done all of these things for them, then they will receive curses and will be driven from their inheritance.  All of those things which God has already given them by his grace will be taken away for their faithlessness.  In the same way, the conclusion of the gospel as presented in the New Testament in general and by St. Paul in particular is that Christ will return to judge the living and the dead according to their works.  This, too, is compared in scripture to a harvest of the fruits of the field.  Every branch which does not bear fruit will be cut off and thrown into the fire (Matt 7:19, John 15:2, 6).  When the Son of Man comes in glory with his angels, he sends them forth to harvest the wheat and burn the chaff in the fire (Matt 3:12, 16:27).
Christ as the firstborn is the heir and recipient of all of the promises of God and receives them as an inheritance upon his death, so that he can distribute them to the Church which constitutes his body (Heb 9:15-28).  As adopted sons of God and fellow heirs we receive a share of this inheritance in Christ (Rom 8:17).  We receive the Holy Spirit as a down payment on our inheritance which is to come in our baptism.  In granting us his Spirit, God chooses us and places a calling upon our lives to bear fruit.  The fruit of the Spirit are love, joy, peace, patience, kindness, goodness, faithfulness, gentleness, and self-control (Gal 5:22-23).  We strive in our life in Christ and in his Church to bring forth these fruit, for we know that the time of harvest is coming when we will give an account for what we have done in our lives with the deposit of the inheritance which we have received (Matt 25:14-30, Luke 19:12-27).