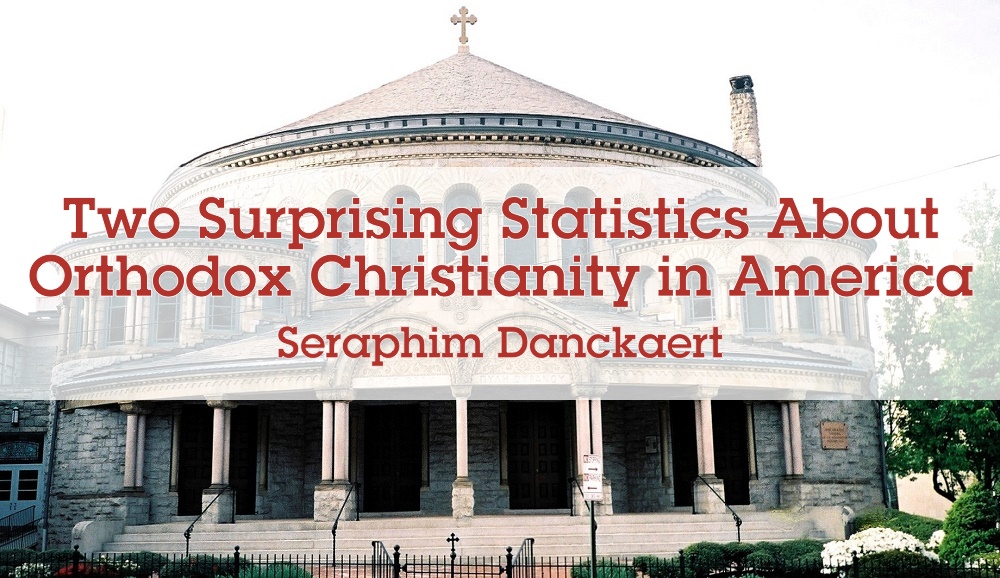 Plenty has been written about the Pew Research Center's second Religious Landscape Study, published in 2014.
Relatively little commentary has focused on what the findings tell us about Orthodox Christians in America. In part, the lack of attention is due to the very small sample size of Orthodox believers in the study — so small that the margin for error is somewhere in the realm of +/- 9%. Even accounting for this reality, the findings contain noteworthy information with pressing implications for ministry today.
Here are two of the most surprising and important results:
1. We're Younger Than You Think
Here's the summary: 60% of us were born in America, 66% are Generation X or younger, only 48% of us are married, and only 30% of us are parents with kids under 18 in the house.
Seeing the numbers in black and white might help to re-frame the way in which we think about ministry today. Too often, it's easiest to look at the congregation and miss the larger picture.
Among survey respondents, only 25% were baby boomers, only 8% from the silent generation, and a full 31% had never married (remember: 66% are Generation X or Millennials), while 9% are divorced, 6% are widowed, and 5% are cohabiting with partners.
In general, a very different picture than the stereotypical profile of aging grandparents and young families.
2. 73% Do Not Look to Religious Teachings for Moral Guidance
One of the most telling results came in response to the following question: "When it comes to questions of right and wrong, which of the following do you look to most for guidance?"
The options given were: (1) Religious teachings and beliefs, (2) Philosophy and reason, (3) Practical experience and common sense, or (4) Scientific information.
One might expect a solid majority to choose No. 1, especially because 52% of these very same respondents said that their religion is "very important" to them (the highest possible choice). However, only 27% said religious teachings and beliefs were the most important factor in deciding what is right and what is wrong. The vast majority looked elsewhere for guidance: 48% to practical experience and common sense; 14% to philosophy and reason; and 8% to scientific information.
Very similar results appear in Pew's 2007 study, which included about twice as many Orthodox Christians in its sample. In that survey, 25% said they look to religious teachings and beliefs, while 52% said they rely on common sense.
The pastoral ramifications of these results are manifold. Quite simply, when discussing moral issues with many Orthodox Christians, it means almost nothing to say "The Bible teaches X" or "The Church proclaims Y" or "The Holy Fathers encourage Z," because none of these are seen as sources of authority or relevant guidance. The challenge which clergy, religious educators, and theologians face is not to state moral truths more clearly, but to awaken in more people the very realization that Truth exists in the Person of Jesus Christ, present among us powerfully in His Body, the Church.
The theological and moral division present in the Church is not a disagreement about specific issues: abortion, sexual morality, wealth and poverty, and so on. Rather, we see differences on these issue arise because of a much more fundamental division over the very nature of moral reasoning: not only what is truth or goodness or a life well lived, but, even more importantly, how does one determine an answer to these questions?
The good news — if one can call it that — is that many Orthodox Christians do not appear to have a considered rationale for the moral stances they hold. About 50% said they look to "practical experience and common sense," which is often an exceedingly American way of saying that one follows the majority opinion, with little or no time devoted to reflection.
How best to engage such brethren, as well as members of the Church who hold a considered stance at odds with Christian faith and morals, is an urgent pastoral question, both within Orthodoxy and without.
Similar realities exist in other confessional contexts: among Mainline Protestants 29% look to religious teaching for moral guidance while 51% prefer common sense; among Roman Catholics it's 30% for the faith and 48% for common sense; and Evangelical Protestants fare somewhat better with 60% looking primarily to religious teaching, but 30% still basing their moral decision making on practical experience and common sense.
Further analysis of the American idolization of "common sense," and the ways in which this moral reasoning reveals much about the shared theological vision of many American Christians regardless of formal confessional affiliation, would be particularly instructive.