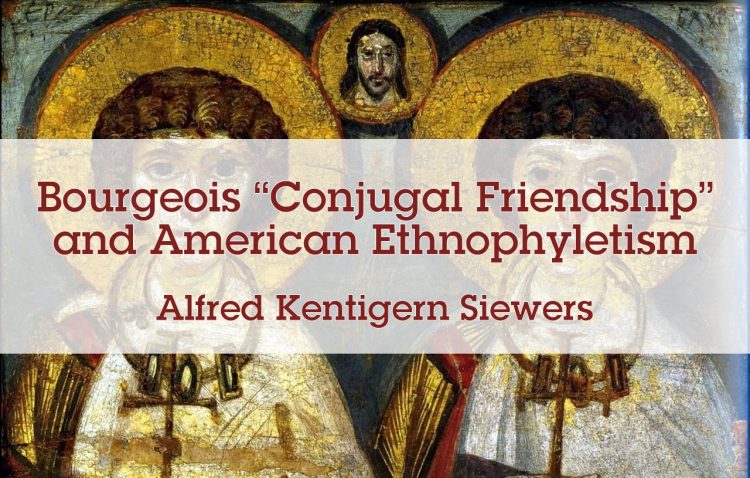 Public Orthodoxy's recent post by Giacomo Sanfilippo on "Conjugal Friendship" claimed to take a postmodern approach to sacramental conjugality in Orthodox Christianity, but ended up falling into ethnophyletic and gnostic heresies from an Orthodox standpoint.
The article raises outdated questions of modernist sexual identity in the name of postmodernity. It then answers them wrongly from the standpoint of Holy Tradition:
"To the question, 'Can two persons of the same gender 'have sex' with each other?' we hear from Holy Tradition a resounding no,'" it states. "Yet if we ask, "Can two persons of the same gender form a bond in which 'the two become one?'" the scales begin to fall from our eyes."
The scaly eyes seem part of a straw man view of the Body of Christ, however. For the Orthodox Church does not call it impossible for two persons of the same gender to engage in sex with each other. Recognizing that possibility in her teachings on love and anthropology, she does not equate secular Western definitions of gender and sex in her response to any forms of sexual activity in fallen human nature. Nor does Orthodoxy privilege Western individualism by identifying a certain definition of gender with personhood. Metropolitan Hierotheos Vlachos notes that Holy Tradition sees Personhood (Hypostasis) in the mystery of the All Holy Trinity, not in individual will of a fallen human nature open to transfiguration by God's grace. In the Personhood of Christ we are made, according to Genesis 1, not as persons making ourselves.
The piece casts itself as a postmodern query but leaves unasked the postmodern question that would deconstruct through queer theory its own bourgeois sexual identity politics. The better question to have started with from that standpoint would have been as follows:
Question: What does sexual orientation (of any kind as understood in 21st-century identity politics) have to do with marriage in the Orthodox Church?

Answer: Nothing.
Any view of essentialist identity is not part of Orthodox Christian teaching on the purpose of man as theosis. Theosis is achieved through unity with the uncreated energies of God, not in any essentialist view of human beings or Creation. That's not through heterosexual, homosexual, intersexual, transgender, or other categories.
To the contrary, secular essentialist views of human beings have led to the categorizations of identity in modern totalitarianisms, in the "death wish" inherent in modernist materialisms, and their destruction of human beings and the environment on an unprecedented scale.
So any effort to find a sacramental Orthodox basis for conjugal same-sex relations, or any essentialized view of marriage based on an objectified view of identity, whether heterosexual or homosexual or any other category, runs counter to Orthodoxy as a living tradition.
Instead, the "Conjugal Friendship" piece reflects what the late Jaroslav Pelikan called traditionalism—an effort to find the self within a construct of Church based in ritual without theosis, in institutional organization without noetic transfiguration. It would try to force the noetic life of the Church's living tradition into an individualistic model of the self in accord with American ethnophyletism, an emphasis on individual or tribal identities rather than ecclesial communion.
The mystery and beauty of Orthodox Christian marriage is a living and transfigurative symbolism–not an empty rite to be filled by individualistic desires in the style of neoliberal consumerism, an ethnophyletic heresy of the West.
Orthodox Tradition of marriage involves a profound encounter with the other iconographically in biological sex, a Christian fulfillment of the Daoist yin-yang. Its living symbolism links the story of Creation in Genesis to the marriage of the Lamb and the Bride in Revelation. The marriage of the Lamb and the Bride involves the community of the Church as the Body of Christ, her holy living Tradition, and not just an atomized will individuated from His Body.
In this sense, Holy Orthodox Tradition involves neither heterosexuality nor homosexuality, and approves neither heterosexuality nor homosexuality as an identity to be expressed in marriage. Rather, it is the two who are gathered in His name with whom He is in the midst, the complementarity of male and female from Genesis through Revelation in Scripture as realized by the Incarnation and the Church.
Kathryn Ringrose in her study of "the social construction of gender in Byzantium" found in Byzantine Orthodox society simultaneously a "single-sex" structure of complementarity (the "one flesh" of marriage) based on performativity of the two biological sexes, thus with a "two-sex" model as well, and in addition a "three-sex" model in which the third sex included both ascetics and eunuchs and the intersexed and asexual. St. Maximus the Confessor in his Ambigua put this in the context of spiritual anthropology as the "extreme" of Genesis 1:25 (made in one image, Christ) and St. Paul's writings, and the "mean" of Genesis 1:26 (male and female).
The simultaneity in Orthodox anthropology of a one-, two-, and three-sex model is based both in the performative ascetic chastity of marriage and monasticism, and in a performative manliness and womanliness that in Christ are one but not erased even in the afterlife (signified by the Ascension of Christ and the Dormition of the Theotokos). This is an iconographic and not a gnostic anthropology, a performative iconography based in Orthodox terms on embodied physical forms and not in gnostic disembodied individual will and desire, except inasmuch as they participate ascetically, hesychastically, and liturgically in the divine energies through theosis.
The "conjugal friendship" article draws on notions of adelphopoiesis developed by the Blessed Martyr Pavel Florensky in his book The Pillar and the Ground of Truth. Yet the article's interpretation of adelphopoiesis involves an appropriative Western neocolonial view of it based in the late twentieth-century scholarship of John Boswell. Boswell's scholarship on that tradition has been shown to be seriously flawed by both secular scholars and the Church (see the article on "Adelphopoiesis" on the Orthodox Wiki, which offers a brief survey).
Fr. Florensky's 20th-century view of this early form of spiritual brotherhood stressed the spiritual brotherhood aspect and not any non-canonical sense of sexual incest in opposition to Church Tradition of the chaste nature of spiritual kinship lines. For him this was chaste brotherhood, and his life story shows his performativity of sex within Orthodox Tradition, contrary to implications in the article. Fr. Florensky's whole explication of identity in his book is relational and not essentialist, in keeping with Orthodox Tradition. He rejects the Fichtean Western philosophical basis of identity, I=I, for a sense of mystical identity, in which A=Not-A. This articulates a traditional understanding of Orthodox marriage as well.
Thus in some ways Orthodox anthropology is closer to today's queer theory than to identity politics, though culturally and experientially it involves a very different experience from the ultimately atheistic grounds of both. Secular Western sexual theories today find their basis in anthropologies of atheistic socialist-communism, with their longstanding historical goal of subverting non-materialistic anthropologies of sex, evident in efforts of cultural genocide against Orthodox communities by both Nazism and Leninism, and in subtler but perhaps even more dangerous forms of neocolonial and neoliberal consumerism since.
Orthodoxy can draw a limited typology for marriage from Foucault's idea that pre-modern sexual behavior did not involve essentialized sexual identity. In this Orthodox anthropology draws on a sense of natural law in Orthodox theology that the bioethicist Dr. Herman Engelhardt describes as a transformative sparkle rather than a static matrix of identity, an energeia entis rather than an analogia entis. The mix of apophatic and cataphatic approaches to God in Orthodox Tradition includes a dynamic sense of identity being transformed neptically in theosis, yet always also in an embodied way because of the Incarnation.
In the Orthodox Tradition of marriage's own playful yet ascetic performativity, such "queer Christianity" (to paraphrase C.S. Lewis), identity is relational and not essential. Marriage is a holy living symbol of the relational synergy of theosis, involving both askesis and koinonia participating in the uncreated energies of God through the marriage of Christ and His Church. It is "queer" in the sense of sensual but ascetic monogamy, union of different biological sexes, reproductiveness in commitment to transgenerationality, living embodied iconography of Scriptural typology involving Christ and His Church, and in its shaping of a "little church" and "little kingdom" of the household in resistant to materialistic society. This is the Orthodox realization of queerness, which includes the Tradition's expression of sustainability and social justice in the mystery of marriage and commitment to the transgenerationality of the Church and her incarnational otherworldliness in the world.
The "Bill Nye Saves the World" show recently sought to celebrate the "queerness" of human sexuality in its fallen state by a cartoon showing scoops of different-colored ice cream learning to blend together in a bowl. Bill Nye, trained in engineering and not biology, in celebrating secular sexual materialisms did not address biological aspects of male and female sex and reproduction. Even so, the silly melding of the ice creams could in a very limited sense be transformed in the Orthodox context of embodied chastity into a type of non-essential sexuality and transfiguration of identity in the Body of Christ. Yet how much more beautiful is the Church's mystery of marriage as iconographic performance, an incarnational participation in the God Who is Love and the Church's Bridegroom, than Western secular-bourgeois "conjugal friendship" of all kinds reduced to slurping up melting ice cream.