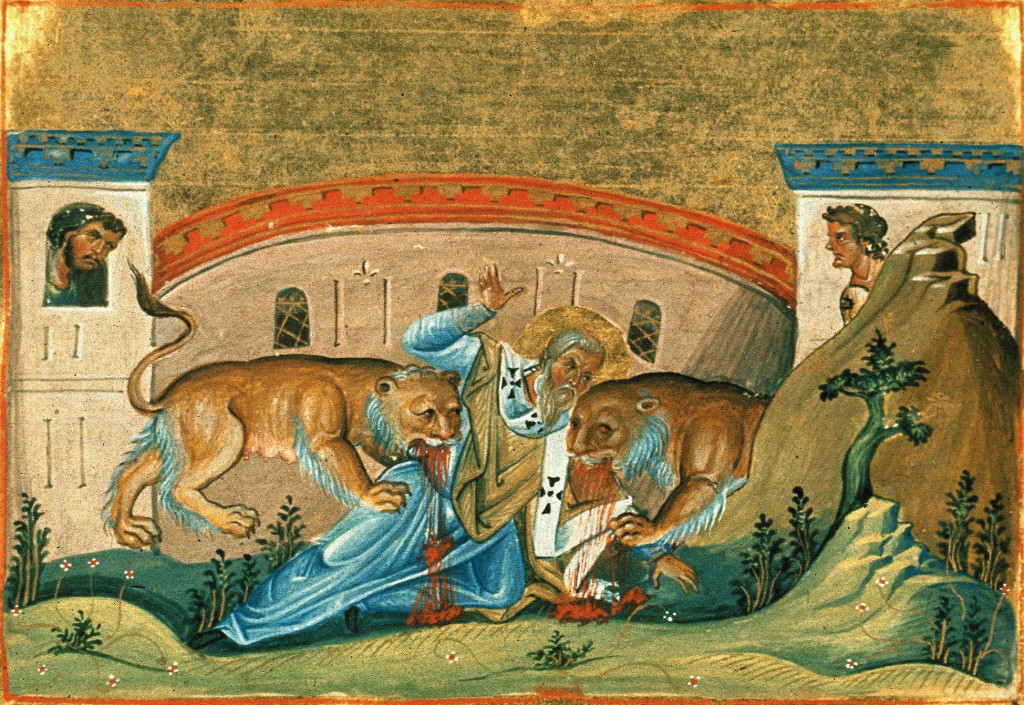 I happened upon this article today. Here's an excerpt:
Like St. Paul before him, St. Ignatius, in his capacity as Bishop of Antioch, is writing with authority against those who break off from the Church founded by Christ.

Anyone, says Ignatius, who walks in heresy—that is, against the teachings of Ignatius and the other appointed Bishops—is, alarmingly, "out of sympathy with the Passion."

An incredibly stark picture indeed and an incredible demonstration of authority which made one thing very clear to me: Bishops in the Early Church had an authority derived from Christ.

What's more, breaking from communion with that authoritative structure—striking out on one's own and dissenting from the Church's teachings—was expressly condemned in the strongest sense by Ignatius.

Christians would work break off from the Early Church were seen to be "out of sympathy" with Christ and the authoritative structure He put in place.

It was clear.

Read all of "This One Quote Convinced Me to Convert to Catholicism."
As someone who just finished writing a book on St. Ignatius (due out, God willing, early in 2017, from Ancient Faith Publishing, and titled Bearing God), let me paste in my brief passage which talks precisely about the Roman papacy and St. Ignatius:
---
…the modern Roman Catholic vision of Church unity being defined by subjection to a worldwide bishop in Rome is not found in Ignatius's writings. We saw how he described his friend Polycarp, the bishop of Smyrna as "one who has God the Father and the Lord Jesus Christ as his bishop" (To Polycarp, Salutation). He does not say that Polycarp has the bishop of Rome for his bishop nor even a regional Asian primate (i.e., a senior bishop in his area). Being a bishop, Polycarp's bishop is God.
With all that Ignatius has to say about the episcopacy and especially about unity, he had the perfect opportunity to insist on a worldwide pontificate for Rome's bishop. Rome was certainly on his mind, since he was traveling there to be martyred as Peter and Paul had been before him. Yet in his six letters addressed to churches, it is only his letter to Rome in which he does not even mention their bishop (who was probably either St. Evaristus or St. Alexander I). In the other five letters to churches, the bishop is mentioned, and in three of them, the bishop is mentioned by name. When writing to the Roman Christians, he does mention Peter, but equally with Paul as both are apostles who could give them "orders," while Ignatius himself would never presume to do that (Romans 4:3). In Ignatius's writings, there is never any special role given to the Roman bishop or the Roman church, nor even to the Apostle Peter.
And when he writes to Rome, he does not ask the Roman bishop to send a bishop to Antioch to replace him. Rather, he makes that request of Polycarp and his church in Smyrna:
It is fitting, Polycarp most blessed by God, to summon a council most fit for God which will appoint someone whom you [plural] regard as especially dear to you and zealous, someone who can be called God's courier, and will judge him worthy to go to Syria and glorify your zealous love to the glory of God. (To Polycarp 7:2)
He does mention this new vacancy in the Antiochian episcopacy to the Romans, but he says that it now "has God for its shepherd instead of me. Only Jesus Christ will be its bishop—and your love" (Romans 9:1).
This absence of support in Ignatius for the modern papacy does not itself constitute a full argument against papal supremacy (since, as I believe, Ignatius had no need to argue against any such thing). But it is at least a worthwhile data point in considering whether that dogma of the Roman Catholic Church finds support in the early Church.
---
Bearing God isn't a work of apologetics (it's a reading of Ignatius's letters with an eye toward how they apply to us), but I did think this issue was worth a few paragraphs. I'm a little mystified as to how this fellow read what he did and came away deciding to be a Roman Catholic. It seems that, for him, talk about bishops, schism, heresy and the Eucharist was only associated with Rome.
The Orthodox do have a few things to say about that stuff, too.