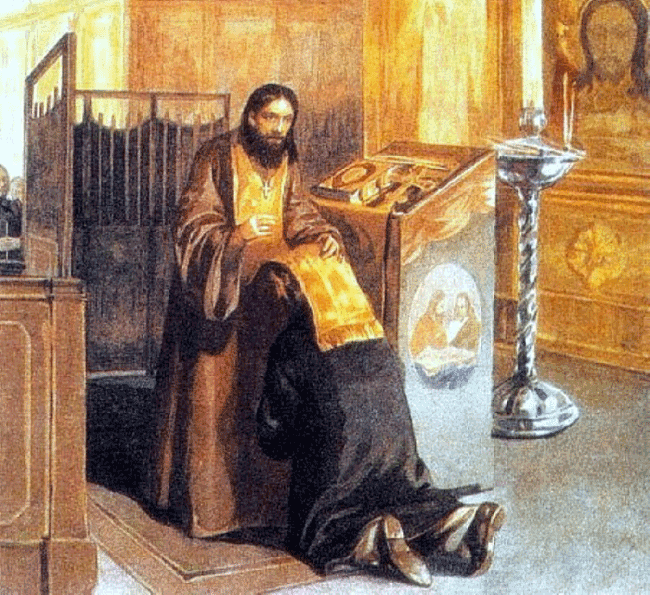 A friend shared this article today, in which one of the writers at The Gospel Coalition (a generally Reformed bunch of Evangelicals) laments the lack of confession in (his?) church:
It is puzzling to see one of the defining marks of a Christian's identity quietly disappear from a church's worship.

I'm speaking, of course, about confession – a time when the church comes together as a repentant people, and asks God to forgive and cleanse, to renew and restore, to inflame our cold hearts and fill us with overflowing love.

Confession is one of the defining marks of a Christian because it is linked to repentance and faith. When we confess our sins to God, we are agreeing with God that our sin is something that needs to be forgiven. We are recognizing that our sin hurts us, hurts others, and most importantly, hurts the heart of God.
It's great to see Calvinists and other Evangelicals begin to see the value in traditional, historic Christian practices. Orthodox Christians and Roman Catholics, of course, have confession as a normal part of our spiritual lives (not taken advantage of anywhere near enough, though, I should say). So for the faithful member of those churches, this is a no-brainer.
He does distance himself from a certain image of Catholicism's view of confession here:
Making confession a requirement in every worship service could give the impression that God is constantly angry with us and we can only approach Him after doing penance. This would lead us back to the medieval image of a God whose favor we must somehow earn, rather than the God of grace whose favor is freely received through the merits of Christ and His righteousness.
I can't speak for the actual Catholic theology on confession (was that really its medieval theology? maybe one of you knows), but Orthodoxy certainly does not see God as being "constantly angry" or that confession is a "penance" which allows us to approach Him. No, for us, confession is part of the process of bringing our sins out into the open so that they can be identified and healed. Confession no more "earns" God's favor than going to the doctor "earns" healing. (Of course, the whole "favor" and "merits" model is problematic, anyhow. But that is a problem for another day.)
But what especially struck me in this is the reason the writer gives for why he thinks confession has gone away in his sector of Christianity:
Today, however, the more pressing problem is not the idea of a God who is perpetually angry, but a shriveled god who is shallow and nice. If we don't see God taking sin seriously, we won't take it seriously either. And once we stop taking sin seriously, repentance loses its power. No surprise, then, that confession falls away, and the one thing for which all Christians should be known – repentant faith – is something we no longer express together in public.
But how is confession critical in full Calvinist soteriology (in which one is either saved or damned no matter what one does) or in the semi-Calvinist soteriology common in many Evangelical circles (in which, once one is saved, there's no falling away, "once saved, always saved")?
Unlike the author, I don't think confession fell away in his sector of Christianity because of the "nice god." (Indeed, the lack of confession long predates that little deity.) Rather, this is a soteriological issue. Confession as a lifelong discipline doesn't do anything if there is nothing eternally at stake.
This seems to me to be one of those soteriological disconnects that seem so common in that world. We should do something (or not do something) because the Bible says so, but does the Bible have any particular reason for saying so? Or is it just something we have to obey, a "mark" of Christianity, that doesn't actually have any eternal bearing?
One of the reasons why Orthodoxy makes so much more sense to me is that it demonstrates the reasons for all these Biblical injunctions. In this case, I need to confess my sins because if I enter into eternity as an unrepentant person, then I cannot be saved. I will have been refusing salvation.