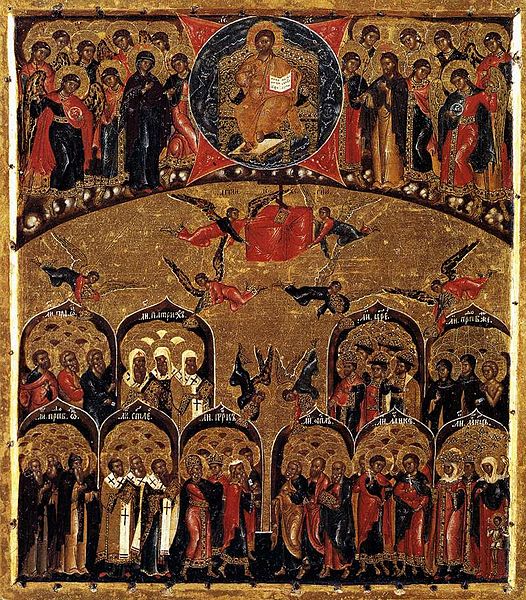 Let us struggle with all our powers to gain Paradise. The gate is very narrow, and don't listen to those who say that everyone will be saved. This is a trap of Satan so that we won't struggle.

—St. Paisios the Athonite
We began a series on universalism here at O&H with Fr. Stephen De Young's piece from the Biblical record. He showed that the overarching narrative of Scripture precludes all forms of universalism (however one arrives at them). More pieces are to come, further addressing the Scripture and the teachings of the Fathers.
Today, I'd like to address the pastoral problem of preaching universalism. This piece is not about whether universalism is true based on the Scriptures, the Fathers or the liturgical life, but rather about its effect on preaching.
It's one thing to hold these views privately, even to discuss them or blog about them, etc. But if universalism is really the truth, then it should be proclaimed from the rooftops, because it has a radical effect on everything in the spiritual life. It has to be preached. And if it's not universally preachable, then how can it be true? We're not talking about the details of fasting or church administration here, but about the final destiny of all mankind. This is not something that can remain on the level of private opinion. It has to be preached. So what is the effect of preaching it?
Universalism is, in brief, the teaching that all must be saved. Some have used the word hope to describe their particular version of universalism, but that's a disingenuous use of hope. To hope for something is not to say that it must happen. Hope admits the possibility that it may not happen but that we desire it anyway. Hoping that all may be saved is part of what it means to be Christian. Teaching that all will be saved is universalism.
This is a critical distinction, because how one preaches Christ radically changes based on how that turns.
In the historic teaching of the Church, preaching can be summarized with the words of the Lord and of His saints: "Repent, for the Kingdom of God is at hand." Preaching is essentially an exhortation to repentance. It is the command to do something—to repent—because something is happening—the Kingdom is coming.
But how would you frame this preaching if universalism is true?
Assuming that all will be saved no matter what, why exactly should people be exhorted to repent? It may be that your variety of universalism admits of some kind of suffering that takes place before the final salvation of all (i.e., some form of purgatory), so perhaps repentance will simply eliminate or shorten that suffering.
But the problem still remains: What happens if we don't repent in this life? Well, we still get to the Kingdom anyway.
Repentance is hard in this life, and any possible suffering in the next life seems far away and is hard to be afraid of. That is true even for historic Christianity, to say nothing of universalism. But in the universalist teaching, any future suffering has no permanent character, anyway. So why suffer now, when I can enjoy life now, in order to prevent suffering in the future, which I won't have any power over then and will eventually be over, anyway?
Now, none of this is to say that Christians struggle for salvation only because we are afraid of future suffering. We struggle for salvation because of what salvation means—union with God, adoption as His sons and daughters, healing of our spiritual wounds. But there is certainly a warning in "Repent, for the Kingdom of God is at hand." If universalism is true, that's not much of a warning.
One can say that fear is a bad motivator for repentance, as some universalists do, but saying that doesn't escape the reality that the Gospel is an exhortation to do something because something bad will happen if you don't. And just because fear might be a "bad" motivator doesn't mean that there is nothing to be afraid of. That's just judging someone's feelings rather than dealing with the object of those feelings. Wanting to avoid damnation is rational, even if one is not trembling while one does so.
Even if you take fear of damnation out as the motivator for repentance, there is still an "or else" present. That is, even if my motivation is love for God, if I do not repent, then my love goes unfulfilled because I did not repent. There is still a permanent consequence for a lack of repentance.
But universalism ultimately takes away all consequences.
That is why the recently canonized St. Paisios calls this a "trap of Satan," because its effect is precisely to tell those listening to universalist preaching that they really do not have to struggle. It's optional. And in absolute universalism, wherein there is no kind of suffering in the afterlife that could be allayed by struggle in this life, struggle is not only optional, but it's actually pointless. Why struggle at all if you know everything is going to be just fine, no matter what you do?
And preaching universalism is most insidious if it is not true—even if there is any possibility that it might not be true. If it is not true, then telling people that they will be saved no matter what (even that they might be saved no matter what) is to encourage them to sin and therefore to cast them out of the Kingdom. That reality has to be faced by those who say they "hope" that it is true. If there is even a small possibility that it is not true, then preaching it is the most harmful thing you can do.
If you are going to be preaching, then you want the full weight of the Church's tradition, especially in the Scriptures and the liturgical life, behind what you are saying. Yet everywhere in the Scripture and in our liturgical life—especially, for instance, during Great Lent and particularly on the Sunday of the Last Judgment—we see warnings telling us to repent because the end is drawing near. We see warnings about "fire eternal," even in the funeral service (a place where one might expect to see universalist "hope" writ large).
In universalism, there is no ultimate risk in how you live your life. The judgment will ultimately be the same for everyone—"not guilty." There are no goats, only sheep. When Christ says, "Depart from me, for I never knew you," He is talking to no one at all. There is absolutely nothing to be concerned about.
Prayer is pointless. Asceticism is pointless. Baptism is pointless. The list goes on—in the end, all spiritual life is reduced to a "spirituality" whose sole purpose is to give some kind of consolation in this life but has no critical effect on the next. Why bother with curing one's wounds in this life if there's a total restoration for everyone just around the corner in the next? Preaching universalism is like a doctor telling his patient not to bother taking his medicines or exercising, because he can never die.
Just how would you give a universalist sermon that includes repentance? "Repent if you want to, but you'll be fine no matter what"? "Repent, because that's great for now, but even if you don't, no one will hold it against you"? I struggle to see the critical necessity for repentance in the teaching of universalism. It is not critical in any eternal sense.
Now, some might say that everyone will repent no matter what. So, of course repentance is needed, but everyone will do it. But this again obviates any need for this message to be preached. Why bother exhorting anyone to repent if they're going to do it no matter what? It would be like exhorting my heart to keep pumping blood. It's going to do it whether I will it to or not.
In this, universalist preaching is like hard Calvinist preaching—an exercise in futility. For that sort of Calvinist, only those whom God forces to repent will do so, but for the universalist, the same is true, only God will indeed be forcing everyone to repent. Preaching becomes merely a prediction rather than an exhortation.
Some might say that preaching universalism actually would be the best kind of preaching, that the message of guaranteed salvation for all would produce a great inspiration for those who hear it. But does it? It's not like there aren't whole denominations that teach universalism and we have no idea what the effect of their preaching is. Their story is of radical decline. Why? Because if there is no risk involved, then there is no motivation to repent.
Repentance is necessary before one can be motivated by the love of God. Repentance is the first step toward salvation. If you really do not have to repent, if salvation is a guaranteed benefit, then there is no reason to change one's way of life. It is a kind of spiritual welfare, where everyone gets it no matter what. Welfare in this life might be a necessary social safety net, but when was the last time you heard of an army of welfare recipients rising up in loving patriotism for their benefactors? That's just not how human beings work.
None of this is to say that traditional Christian teaching on eternal suffering means that we can predict who will or will not be saved, even regarding all mankind. But the possibility for eternal condemnation actually does exist. Jesus is talking to someone when He sends them off to damnation, and it's not demons, either. That's the judgment of mankind we're talking about.
Repentance is a gift of God to man. It is the gift of being able to change and that change making a difference in one's eternal disposition. Universalism takes that away, because it says it's ultimately pointless.
In the end, even if universalism might be true (which I believe it is not), it is still wrong to preach it. Why?
If universalism is true, yet the preaching is against it, then no harm is ultimately done, even if preaching against it may be needlessly painful for some in this life. Everyone will still be saved.
But if universalism is not true, yet one preaches in favor of it, then one has just opened the gateway to outer darkness even wider.
Let's not do that. Let's continue to preach: Repent, for the Kingdom of God is at hand.