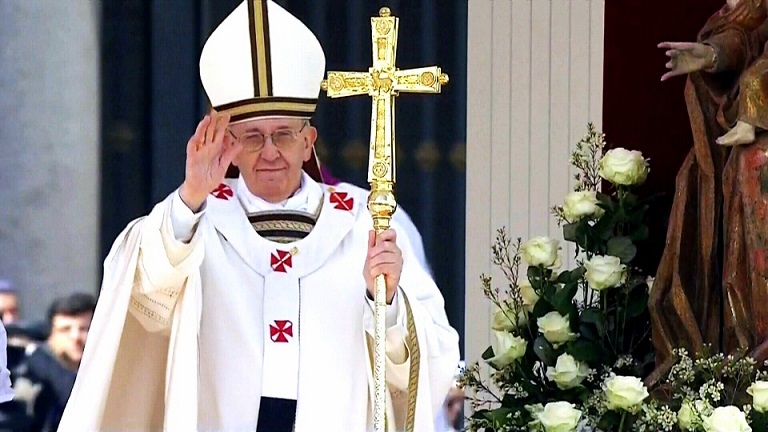 (RealClearReligion: Reading the Franciscan Tea Leaves) In his inaugural address from the loggia, he never once used the words "pope" or "pontiff" or their cognates. (There is nothing wrong with either term: pope comes from the Greek for "father" and "pontiff" in Latin means bridge-builder.) Instead he consistently referred to Rome now having a bishop again. This is extremely significant because of the many titles he holds, "bishop of Rome" is not only the oldest but also the most important without which nothing else is possible. Being made a bishop requires a sacrament, which is very serious; being made pope requires no sacrament and nothing more than a simple election which adds nothing to a man's sacramental character; the pope is not a "super-bishop."

The program for his installation Mass having been released, we can already see several significant factors that confirm for us Francis's early understanding of his ministry. He is downplaying the event by simply using the pre-existing prayers and readings for the feast of the day, St. Joseph, celebrated every year in the Roman calendar on March 19th. In addition, he is having the gospel proclaimed only in Greek rather than Latin as well, indicating that there is already enough Latin in the rest of the liturgy. This will be noticed by the Greek Orthodox delegation, headed by Ecumenical Patriarch Bartholomew who is making history by being the first to attend a papal inauguration-along with numerous other Orthodox leaders. Francis' inauguration, moreover, is also involving the Eastern Catholic patriarchs in an unprecedented way at the outset, and thereby sending a clear signal that Francis, too, is a patriarch like them, a sign that can only greatly cheer Eastern Catholic and Orthodox hearts alike.
This morning, I read with interest this piece by Eastern Catholic theology professor Dr. Adam DeVille (author of Orthodoxy and the Roman Papacy). It makes much of the humbler mien of the new bishop of Rome and tries to put it in the context of the papacy's relations with the Orthodox and Eastern Catholic churches.
Much has been made over the past few days about the attendance at the papal inauguration of Ecumenical Patriarch Bartholomew I of Constantinople, and I have been asked on several occasions what that could mean, what has suddenly changed that the Ecumenical Patriarch should attend such an event for the first time since the Great Schism. Honestly, I do not think that anything significant has really changed that would allow this moment, at least not any one thing that could be pointed to. If political diplomacy is an abstruse and mystifying art, then ecclesiastical diplomacy may well be moreso. There certainly has not been any kind of major theological breakthrough or declaration of communion between the Orthodox and the Roman Catholics.
It should be noted that this is not the first time that Bartholomew or other Ecumenical Patriarchs have been to Rome to see a pope. This just happens to be the first time attending the mass marking this occasion. The mutual lifting of the 1054 anathemas by Ecumenical Patriarch Athenagoras I and Pope Paul VI in 1965 did not restore communion, by the way. If it had, they would have communed together. They didn't. Nor have any of their successors.
I honestly don't think there are any big implications in this gesture from the Ecumenical Patriarch, historic as it is. I could, of course, be wrong, but I haven't seen any open statements that would point in that direction.
I also get asked every so often how the two communions could come into communion, and I really do not see how it could happen. I wish it could, but I just don't think it can. There are some folks who see us as being quite close, but the closer I look and the longer I think about it, the bigger the gap seems to be to me.
I think there are valuable things that we could accomplish together as allies, but I do not see anything more than that being possible. We are both so very much invested in our own understandings of history and dogma that I cannot see any way that such things could be changed. How do you go back on the question of whether the papacy has both infallibility and supremacy? Once you have clearly said "yes" or "no" to either question, I cannot see how you can say something else, no matter how you might try to reinterpret it. There's not really much wiggle room in the language of the documents in question. Some corners cannot be unpainted out of.
And that brings us back to the real point of this post (sorry for the wandering!). Dr. DeVille's somewhat less exalted view of the papacy, that he is essentially just another bishop with particular administrative duties (the papacy is "simply an office for ecclesiastical administration and not some kind of demiurge") is of course welcome to Orthodox Christians. I do hope you will read his full post, which touches on a good many fascinating points I haven't mentioned here.
Yet I suspect that the majority of his fellow Catholics would not see the papacy in that way. And they would have good theological reasons not to. In Roman Catholic theology, the bishop of Rome is the only bishop to whom adhere the dogmas of papal infallibility and papal supremacy. And we cannot stress enough here that these are dogmas, points of faith necessary to be believed for the salvation of one's soul. Contra DeVille, the papacy is not just an administrative post in the way that the Orthodox patriarchate is. There is unique theology about it.
So until such time as the Roman Catholic Church somehow reverses its position on such dogmatic questions, Pope Francis may not be a "super-bishop," but he's not just any bishop, either.
Update: Very much worth reading is Pope Francis's homily at his inauguration (which was kindly sent to me by a reader), in which he does not specifically address the unique character of the papacy except to say that as Peter's successor, he has received "a certain power." He goes on to describe what that means: Today, together with the feast of Saint Joseph, we are celebrating the beginning of the ministry of the new Bishop of Rome, the Successor of Peter, which also involves a certain power. Certainly, Jesus Christ conferred power upon Peter, but what sort of power was it? Jesus' three questions to Peter about love are followed by three commands: feed my lambs, feed my sheep. Let us never forget that authentic power is service, and that the Pope too, when exercising power, must enter ever more fully into that service which has its radiant culmination on the Cross.