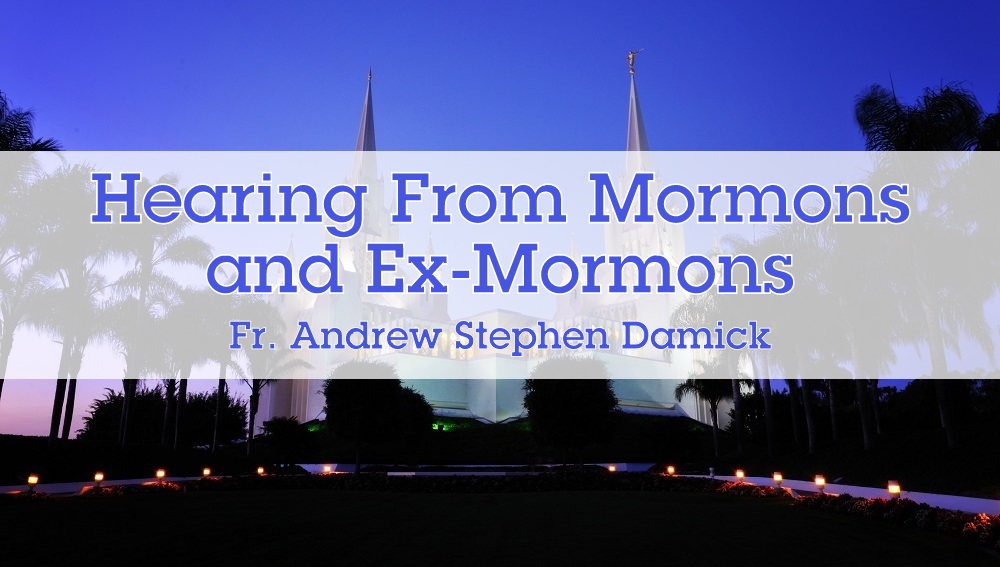 For my post today, I just briefly wanted to comment a bit on the response I received from yesterday's piece where I described why I was researching Mormonism.
In the roughly 24 hours since I made the post, I not only got a lot of comments on social media but have been contacted by at least a half-dozen people privately, mostly ex-Mormons who are now Orthodox but including one Mormon who is considering leaving the LDS church. This has been particularly surprising because the overall reach of the post in terms of number of web hits has been relatively low compared to my more "hot button" pieces. So this tells me that there is definitely an interest in the topic of exploring Mormonism from an Orthodox Christian point of view.
I've gotten a lot of good book recommendations and have been pointed to some interesting websites, as well. One thing that especially interests me is how active and vigorous the intellectual world of Mormonism is. The LDS have plenty of scholars who are ready to defend their distinctive faith.
A few of the responses I've gotten have included nearly dire warnings that even exploring what Mormonism believes could be very dangerous. I understand the caution. But it's also true that Orthodox Christians have been learning about non-Orthodox religions since the first century, mostly as a way to understand the people around them and to communicate Jesus Christ to them better. I don't think there's anything to fear from learning.
I myself have been reading about non-Orthodox and non-Christian religions for many years. Indeed, it was this exploration which initially led me into the Orthodox Church, became the basis for the Orthodoxy and Heterodoxy podcast and book, and has confirmed me again and again in my Orthodox faith ever since.
Every belief system, even in its errors, reveals something about the human soul and its desires. Let's be like St. Basil's bee, who goes from flower to flower and takes whatever she finds useful and makes from it sweet honey. And let's also remember that members of other religions are not our enemy. The devil is our enemy.