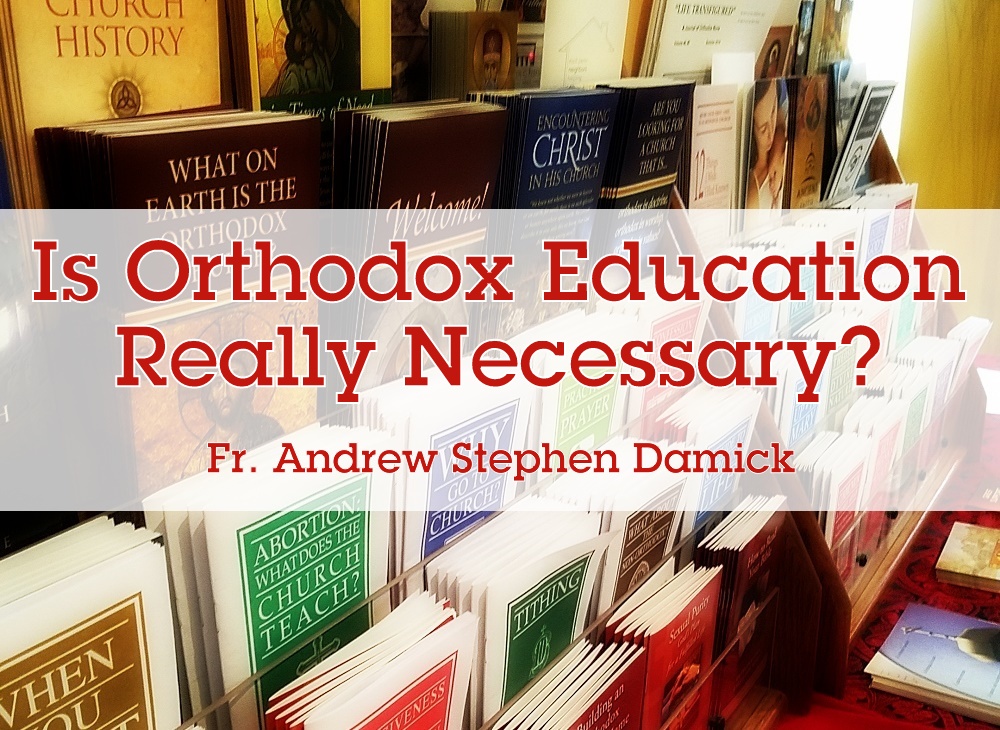 One of the things I've encountered among some Orthodox Christians in America is the idea that, since most Christians in history were basically illiterate—that's one reason we have iconography, right?—then there really is not an urgency to teach people what we might think of as the "data" of the Orthodox faith.
It's enough to have a good piety, to be a good person, to serve in the Church and to serve others. After all, yiayia and babushka and sittoo (or taita) didn't really know that much, but they sure loved the Church! Right?
This attitude is, I am sure, why many Orthodox churches have little in the way of educational programs. And those that do mainly stress education for children. It would be too bad if a church did not have a Sunday School.
But would it be too bad if it had no adult education, as well? Is that a critical piece of the puzzle? I think that, for a lot of people and even for many parishes, it really wouldn't be that big of a deal.
After all, even in very large parishes, you're lucky to see 5% of the congregation show up for an adult class. And even in most Sunday School programs these days, attendance is spotty and inconsistent. A lot of formerly tireless teachers are becoming tired and demoralized.
My sense is that education is just not seen as very important to a lot of folks. And I think that this lack of importance is bolstered at least partly by this attitude that the ideal Orthodox Christian is a pious, illiterate peasant from [insert holy idealized homeland here].
After all, isn't it true that most Christians in history couldn't read and could never own their own Bible (much less, patristic writings, etc.)?
But if we look closely at this attitude, we will see that it is a form of Pietism, which is the idea in Christianity that doctrine doesn't really matter that much. All that matters is a good heart, sincere faith, moral behavior, etc.
Another Pietism: Anti-Intellectualism
There's an additional influence that marginalizes Orthodox education in our parishes, and it's anti-intellectualism. This attitude says that anything that looks like academic study is "Western" and therefore "not really Orthodox." (Sunday School is a Protestant invention, they say!) If people attend the services, that will teach them everything they really need to know.
This is all assuming, of course, that the services are both 1) in a language understandable to the hearer and that 2) the hearer knows how to listen and understand.
The first is a subject of much debate that I won't go into here. Suffice it to say, though, that if you expect that the services will teach people everything, you're putting a big obstacle in front of them if they don't speak the language.
Regarding the second, though, I'd respond that I majored in English Literature in college. And I learned there that it takes a lot of work to be able to grasp a literary genre in its full sense with all its tropes, patterns, prosody, etc. Orthodox church services are quite literary. They are heuristic, but almost never in what we might normally think as a straight didactic form. It's not always obvious what they mean, even if you speak the language and even if you already understand their general structural outline.
A related attitude is that clergy don't need to go to seminary; they should just spend time at a monastery. This assumes that monasteries are equipped to teach parish clergy. It ought to go without saying, though, that the challenges of a monastery are not all the same as the challenges of a parish. And, let's face it, even if some monks do have a gift for understanding marriage and parenting, the truth is that most of them don't because they just have no experience with it. So where will clergy learn that major element of pastoral care?
But Can We Educate?
There is of course a lot that is true underneath the foregoing. We do have to have good, pious hearts and faithful service in the Church. We do learn a lot from what is in the Church's liturgical services. And we indeed can get a lot out of monastic experiences. (Though I do not think any monastery in the US in itself is really set up for training parish clergy. There are some like that in other countries, though.)
The problem with these pietistic attitudes is that they ignore where we are, and they ignore the commandment of Jesus Christ, especially this one:
And thou shalt love the Lord thy God with all thy heart, and with all thy soul, and with all thy mind, and with all thy strength: this is the first commandment. (Mark 12:30)
This same commandment in other forms also appears in Deuteronomy 6:5, Matthew 22:37 and Luke 10:27. The Synoptic Gospel writers are all quoting Jesus referencing that passage from Deuteronomy.
Here in America (and I am not speaking of anywhere else), we are a high-information society. We have an 86% literacy rate (which is actually on par with the worldwide literacy rate). We know the ins and outs of the electoral college and of the rules of football. We know the names of all the characters on Pokemon, Star Wars, My Little Pony and Star Trek. We drill our kids on the capitals of every state, all the presidents, and their multiplication times tables.
And yet when it comes to the truths that matter more than anything else, many of us Orthodox (and other) Christians throw all our high-information talents and skills aside and are reduced to mouthing pious platitudes about how good church attendance and contributing to potlucks were good enough for our grandmothers.
Now, I happen to believe that all this applies in many places outside America, too. Did you know that from the period of 1970 to 2015, the world illiteracy rate was halved? In 1970, the world illiteracy rate was a little below 40%. Now it's below 20%. It used to be that most Christians could not read and relied on a handful of readers to read for them. But now literally almost everyone in the world can read, and the overall education rate is rising, too.
So what does all this mean?
It means that many of us are happy to be literate, high-information people in most of our lives, yet when it comes to applying that same set of talents and skills to the "one thing needful," we just dump them. We have edited the Lord's commandment so that we have to love Him with our heart and soul, but only some of our strength and very little of our mind.
So Why Should We Educate?
I try to live by a basic principle. It's one I fail at all the time, but it's still one I believe in and which I try to live up to. It goes roughly like this:
Whatever God has given you, you have to give back to Him.
If God has given you wealth, you have to give it back. If He's given you a good singing voice, you have to use it to praise Him. If He's given you the ability to build things, you have to build to His glory. And so on.
And if He's given you the ability to master information, then you have to use that ability to master the information about the Christian faith.
No, information isn't everything there is to Orthodox Christianity, but there sure is a lot of it in the tradition. And if we're able, we've got to set about making it our own.
Church history is filled with people who knew this and did this. Many of the Holy Fathers were very educated people—and no, they didn't just cozy up to monks and absorb their wisdom via osmosis. They went to school. They attended lectures. They read. They wrote. They used what God gave them for God's purposes.
Yes, if you are an illiterate peasant and you are giving God all that you have, that is of course very, very good.
But if you are not an illiterate peasant but you are still serving God like one, then you have a problem. Why? It's because it means you're holding something back. Will you rob God (Mal. 3:8)? No? Then why are you robbing Him of your intellect? That literate, high-information brain of yours isn't just for politics, sports and your job. It's for the Bible, history, doctrine and theology.
Yes, it's true that Sunday School was a Protestant invention, but it's not true that Christian education is. Christian education goes all the way back to the Bible.
A friend of mine who works in higher education once observed to me that most of the high-information Orthodox Christians in America were intellectually trained by Evangelical Protestants (we have them because they converted later to Orthodoxy). ("The converts—they think they know everything!") We cannot continue to rely on them as feeders for our parishes so that we have a handful of token high-information Orthodox around. We have to begin to take education seriously ourselves, and we have to stop repeating platitudes that have little to do with our life in a literate, high-information culture.
Whatever God has given you belongs to Him. That includes your brain. So it's time to start using it. And it's time to start supporting education in your parish by showing up, by teaching, and by insisting that an Orthodox parish without ongoing adult education is really missing something. It's not an optional add-on. It's a critical way for us to love the Lord our God with all our heart, soul, mind and strength.