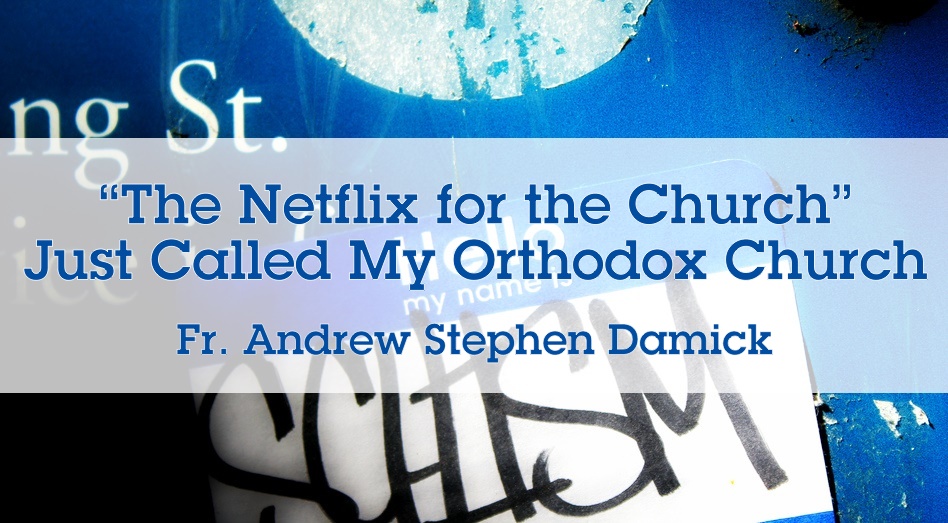 Since we do not have a parish secretary, I just fielded a marketing call from an online service that is billing itself as the "Netflix for the church." ("Are you familiar with Netflix, sir?")
I asked who generates the media that they sell. A list of names was rattled off (Matt Chandler, Dave Ramsey, Andy Stanley, etc.), kind of a who's who in popular Evangelical media whose content I could point my church members toward.
I spent a couple minutes trying to explain why there is a strong likelihood that none of their content would be remotely useful to us, explaining that Orthodox teachings are very different from probably almost everything they have on offer. The nice young lady on the other end of the phone assured me that I could customize what church members would have access to, asking which of the Christian leaders she mentioned I liked to listen to myself and could approve for church members.
To explain why that really would not work, I suggested the analogy of trying to sell specifically Catholic media content to a Baptist church: "Which of these Catholic teachers would work best for your Baptist congregation?" She mentioned something about having some Baptist clients. I responded with some brief comments about Christian history and where that leaves us.
I don't think I successfully communicated before the phone call got cut off by some technical problem.
This conversation just underlines for me how radically differently ecclesiology works in the religious world that generates businesses like that one. Their business is of course to sell their licensed content, but they didn't seem equipped to handle the idea that they literally had almost nothing on offer that would relate to what we're doing. We're a church, so of course we must be an appropriate market for their content. The idea that we would really be something so wholly other such that their service would be useless to us just doesn't occur to them.
Denominationalism—the idea that all (mostly Protestant) churches are more or less equivalent and therefore authentically Christian, despite some variety and even contradiction in teachings and practices—is what made that sales pitch possible. Heresy and schism, the things that separate Christians and make their spiritual lives incompatible (including what teachings they read and watch), really just do not seem to exist in denominationalism.
Heresy is a word that gets used sometimes, of course, but without an ecclesiology to back it up, it really just means "I think your Biblical hermeneutics is wrong." And I don't think schism really means anything at all in denominationalism. How do you protect people from false teachings that are foreign to the Church when the Church doesn't have discernible boundaries in any meaningful and applicable sense?
The Orthodox remain largely unknown in American culture. A look at this service's website and a list of testimonials from various churches includes no non-Protestant churches. They literally do not understand that we're not just some variation on the same things that they're used to.
We have a lot of work to do.
Part of that work is to continue to develop authentically Orthodox media. We have to do that at least partly to compete with stuff like this—many Orthodox people uncritically consume content that is contrary to the faith. They largely just don't know any better.
But we also have to reach people better with the message of what the Orthodox Church is, what it teaches, how it's different from everything else out there, and how Jesus Christ shines through most clearly and truly in the Church that He Himself founded.