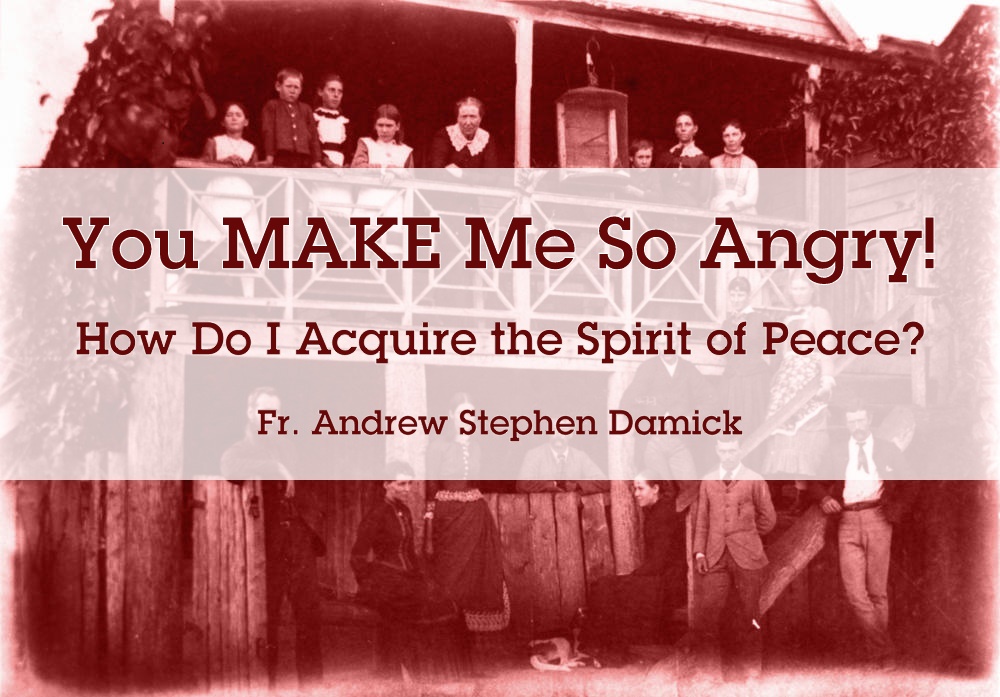 Why is it that some people so easily make us mad? It seems that even some person we don't know on the Internet can drive us crazy, stir up anger, inspire our scorn and derision, etc. Or some people can send us spiraling into anxiety, despair or depression. When this person or that does (or doesn't do) that one thing, well, I just get… steamed, afraid, indignant, etc.
This is a basic problem in our relationships, whether in person or at a distance perhaps with online connections. As Christians, we know that we need to figure out how to deal with this stuff, how to be more dispassionate, how not to spiral out of control in the moment. But it's so hard in the moment to get hold of ourselves, to remember not to be that way.
I don't want to get mad. I don't want to get depressed. I don't want to run away screaming. But I do it, anyway. I feel guilty about it. Maybe I bring it to confession. But then it all happens again.
Or maybe I get sucked into Yet Another Flame War over theology, politics, philosophy of living, parenting, food choices—whatever. I promised myself I wouldn't do that again. But here I am again—I'm an addict.
Or maybe I got into yet another yelling match with one of my kids or my spouse or some other relative or friend. It's exhausting and I feel terrible afterward. I'll never do that again. Maybe I even bring it confession. But then it happens again. I'm addicted.
As Christians, it's not through any lack of desire on our part to change. We want to change. We want to be dispassionate, like Christ on the cross, Who prayed for the forgiveness of His killers. He didn't fly off the handle or melt into a puddle of self-doubt.
FIRST, SOME BACKGROUND
Over the past couple of years, at the suggestion of some fellow clergy, I've started reading about something called Family Systems Theory (FST), which I have become convinced is mostly compatible with (though not identical to) Orthodox understandings of the human person (our anthropology). In brief, FST regards human persons as part of emotional systems rather than as isolated units. This seems to me in some ways to parallel Orthodox theology on the human person as being in communion rather than as a "naked Cartesian soul."
FST was developed in the 1950s as an alternative to the traditional Freudian-style psychotherapy, which treated patients as isolated, symptomatic individuals whose psyche needed to be explored deeply to root out their internal dysfunction. Many of Freud's theories have been discredited, but his basic approach to therapy remains very popular and even dominant. Consider the image we all have in our heads of therapy—a patient lying down on a couch talking about his mother to a psychotherapist. It is this kind of psychology which rubs so many the wrong way, because it tends to treat people as machines to be studied and adjusted rather than as human persons. And so much seems to be connected to sex, too.
(It's Freud who popularized the idea that being a "healthy" person must include sexual expression. Consider the pop-diagnosis of "not getting any" as the key to someone's anxieties, or consider the pervasive idea that one's current sexual feelings are "just who I am," i.e., that they are core, unchangeable identity features. But that's a topic for another day.)
FST, by contrast, treats persons as one element in a larger emotional process that includes multiple people. The dysfunction is usually between members of the system, though the "symptomatic" person might not be where the anxiety actually is centered.
A simple example is of a child who suddenly begins acting out in some way. The parents have no idea what's happening, so they bring the kid to therapy. The Freudian-style therapist may prescribe drugs or try to explore the inner world of the child, and that may seem to help for a while or may manage the problem somewhat. But it usually doesn't quite go away.
The healer who knows something about Family Systems will try to ascertain what is going on in the whole family. He will probably discover, for instance, that the stress of the parents' marriage has finally boiled over, and mom and dad have been having yelling matches every night. And strangely, the catalyst for the stress (whatever it was—losing a job, losing a parent, a new pregnancy, etc.) happened right around the same time that the child became symptomatic. The child has absorbed the parents' anxiety and is releasing it by acting out. The treatment, therefore, is for the parents' relationship to be resolved.
In some cases, whole families and other groups can be "in treatment" even if the healer has access to only one person. That person can be "coached" to change themselves, which in turn brings change to the whole system.
There is a lot more that I could say here, and I can't really summarize all the elements of FST for you (especially since I am really just a learner), but I will say that my learning (and experimentation!) with this way of thinking has been tremendously helpful for me as a pastor and really just as a Christian.
I've primarily been learning about this through the works of Edwin Friedman (especially his books Generation to Generation: Family Process in Church and Synagogue and A Failure of Nerve: Leadership in the Age of the Quick Fix), who was both a rabbi and a therapist. He found that his own pastoral and healing work radically changed for the better, with stronger, more permanent results, when he started applying these FST principles not just to dealing with literal families, but with congregational families, groups of co-workers, etc. In short, he found that the emotional processes that were expressed in families and described by FST worked just as well with other groups, too.
The more I've learned about this way of seeing things, the more I've come to believe that this is one way (though not the only way) for me to work out the "nuts and bolts" of becoming more dispassionate.
SO WHAT IS THE PROBLEM, EXACTLY?
So, getting back to where we started, i.e., the fact that most of us are so easily pulled or pushed by other people's reactivity or just behavior in general, what can we say about this?
One of the key concepts in FST is self-differentiation. One shorthand definition for this is "knowing where I stop and the other person begins." Being well-differentiated has nothing to do with being cold, unfeeling, not caring, etc. It also does not mean emotional cut-off. It means having a clear definition for who you are, what you believe and what you are going to do, and then having the integrity for your actions to match those things.
A person with a higher sense of self-differentiation tends to speak in terms of defining himself and his own feelings. A person with low self-differentiation will tend to define other people instead.
Self-differentiation (SD) is our ability to remain "ourselves" in the face of another person's influence. Groupthink is that force which pulls on us to lose our "selves" as we bow to the pressure to conform.
Someone with low SD could express that by always going along with the crowd. But he may also be a rebel, which is a behavior designed to make the crowd do what he wants, because he still craves their approval. Emotional systems with high levels of chronic anxiety will tend to include both behaviors.
And the "rebel" may even be the "leader" who ostensibly sets the rules for the group. Consider the leader who will not abide any dissent, for instance. The very act of dissent is a threat to him. He "leads" not by defining himself, but by forcing conformity on others. The "certainty" that comes from this approach can be very comforting, but it is actually a kind of addictive drug that always demands more and more certainty.
Again, the key is that the low SD person defines others much more than he defines himself. Criticism even of ideas is always an attack on the person himself. And when he argues, most of his sentences begin with the word You. Why? Because he's not defining himself but the other person.
Are you still with me? I know this is a lot of explanatory stuff, but we need to set up these basic concepts.
So this is where we get into the problem of someone else "making" us angry or afraid or depressed, etc. We have given that person power over our identities. Instead of defining ourselves and taking responsibility for our own feelings and sense of being, we hand that definition to another person. But because we've handed it over to them, we then try to control them by acting out ourselves, so that they don't harm the self-definition which we surrendered to them. So, we can say, "You MAKE me so mad." I get mad because of you. It's your fault.
A LITTLE EXPERIMENT
In Generation to Generation (which I have dubbed "Family Systems for Clergy Dummies"), Friedman suggests doing an experiment. He suggests giving a short talk or statement on something mildly controversial in which you simply define yourself, your beliefs and your intended actions. He then says you can watch the reactions to see who the highly SD people are and who the low SD people are.
The highly SD folks, if they agree, will say things like, "I agree. And here is why." If they disagree, they will say, "I disagree, because I believe this instead."
But if they are low SD, and if they agree, they will say things like, "You are such a wonderful person, you say that so well," etc." If they disagree, they will respond with, "How can you say that? You don't know what you're talking about. How dare you?!" etc.
I once decided to run this experiment on Facebook (I know, I know). About a year ago, I made a public post that anyone could comment on, in which I said very simply something like the following:
"I believe that beginners in Orthodoxy should avoid large Facebook groups when trying to learn about the faith."
Almost instantly, the post was set upon by a host of folks demanding to know how I could say such a thing, trashing my credentials, etc.
I interacted with them, even admitting that my post was about exploring self-differentiation. It didn't matter. They were onto me, and the fact that I mentioned some psychological concept revealed my true anti-Orthodox agenda.
I decided to press it a little further, especially because some of my interlocutors were singing the praises of their particular Facebook group (even that it was in many cases better than consulting with one's local father-confessor), talking about how their group was very "traditional." Of course, if one spends much time in self-described "traditional" Orthodox social media groups, one will likely have one's head virtually bit off at some point or another. They exhibit a very strong groupthink, and even if they are managed, it is done with a very heavy and blustery approach.
So I decided to push the envelope a little, and I said something like:
"I have found that many of the 'traditionalists' aren't really very traditional."
And, as you may imagine, that kicked things up into really high gear. Hundreds of comments. Even more folks showed up (I suppose they had become organized) and demanded to know just what I meant by that, calling me an abundant list of interesting things when I responded that I had said all I wanted to say about the matter. They had to be answered, of course. (What I was referring to was the tendency in those groups for massive vociferous pile-ons onto dissenters or even questioners, which is a behavior hardly in accord with Orthodox Christian tradition.)
So my hypothesis about those kinds of groups turned out to be rather true, at least in the instance of that particular thread. Everything I've seen since still bears out these observations.
SO WHAT DO WE DO?
The key is to develop a better sense of our own self-differentiation. We have to learn the habit of defining ourselves and just letting people be who it is they are. They have feelings. They have thoughts. It's okay. But I have to define me:
"This is who I am, what I believe, and what I am going to do."
How do we do that? For one thing, I do think that confession helps, but we need to approach confession in terms of our self-definition, not in terms of just feeling sorry or guilty, nor in terms of just trying to "manage" our sins. The key to healing is not just "trying harder." Yet that seems to be the cure that we seem to pursue more than any other.
I can do better. I could be better about this. I should do this more. I should do that less.
How is that working out for you? I've tried it, and it doesn't work. I might get "better" for a little while, but I soon lapse back into my old ways, where I let other people's behavior, words and reactivity jerk me around. And I feel terrible—angry, depressed, confused, etc.
I've seen this in my relationships in my family, with my friends, with my parishioners, and even with people online. (We've all seen this cartoon, right? Yes, someone is wrong on the Internet. I. MUST. FIX. THEM.)
The reason why we react with anger, etc., is because we see other people as a threat. But are they?
It can be easy for me to see my wife, kids or parishioners as a threat, because what they do affects me so much. But it doesn't have to affect my sense of myself. Even if they all conspire to ruin me, I can still be who I am. I can still find rest in God. I can still be at peace. This is where I end. And this is where you begin.
Once I consistently remind myself that my happiness really does not depend on other people, that my identity rests in God, that I get to define myself and get better at defining myself, then all that anxiety begins to deflate. The particular issues which we have may remain, but somehow, they are not really issues any more.
What really reveals to us our low SD, though, is how threatened we are by people we don't even know or have to face, especially people online. Why in the world should I care if some guy halfway across the country thinks I am the worst thing ever to happen to the Orthodox Church? Why should I care if some guy says to me that he thinks I don't even have a soul? I shouldn't. And I don't have to.
And you know what? The more I work on my own self-differentiation, the more I am able to act and speak with compassion toward those I connect with. Why? Because I am free. Because I do not let them control me.
Married people often feel that they are waiting on their spouse for their marriage to become good. I could be such a great husband if only my wife would… We could have a wonderful marriage if only my husband would… But they have handed over their self-definition to the other person. They have decided that they need their spouse's permission first in order to be the good husband or wife. They're waiting. And they're stuck.
But someone in the emotional system has to break free. Someone has to take a stand. Someone has to define himself. Someone has to keep his nerve and stay connected even in the face of those attempting to sabotage the change that is coming.
Because change comes when one person decides to define himself and to keep his nerve. When that happens, people usually try to sabotage things for a while (since they are addicted to the chronic anxiety), but they eventually either marginalize themselves or have to change their own behavior, too. And when that leader defines himself rather than others, that gives the people with low SD "permission" to face their own problems rather than avoid them by dumping their fears onto someone else.
Maturity in a person is the ability to self-regulate his emotions in the face of others' reactivity and other bad behavior.
Friedman says in A Failure of Nerve that anyone who defines himself clearly and sticks to that will be called all kinds of things—narcissistic, autocratic, a bad listener, incapable of taking criticism, etc. But these are just sabotaging behaviors from people who don't want to define themselves. And they eventually will always fade. And whole families, companies, churches, and even nations can find healing.
This, it seems to me, is at least one way of understanding the meaning of St. Seraphim of Sarov's famous dictum: "Acquire the Spirit of Peace, and thousands around you will be saved."
CONCLUSION: GO ON A QUEST
As I said, I'm not an expert on this stuff, and my pastoral experience doesn't span decades (I was ordained to the priesthood in 2006). But I've found that, the more I understand how emotional systems work and how to position myself within them, my own stress level goes down, my reactivity goes down, and my relationships get better.
As a pastor, I've watched my de-triangling myself from the anxiety of parishioners give them "permission" to face their problems rather than just dumping them. Counseling and confession actually make progress rather than just help someone to feel better for a while. (Friedman says that it's hard for "clients" of clergy, therapists, etc., to rise above the maturity level of their healer!) My own pursuit of better self-differentiation has helped those around me. What helps them the most is that I maintain a non-anxious presence rather than that I enter into their anxiety and try to fix its particular details.
The way that I've tried to summarize how to make this work in my own sense of being and also for others whom I work with is with this motto:
"Go on a quest."
The path to better self-differentiation is through pursuing some new mode of being so that you reposition yourself in the emotional system. This has to be done with something that takes up time on a regular basis, something that requires you to rearrange your life in some way. Perhaps it means getting a new job, picking up a new hobby, learning a new skill, etc.
One thing that I think it always requires, though, is a renewal of prayer. It's so easy for us to fall into saying "prayers" (or "daily devotions," for you Evangelicals!). And it's so easy for us to fall out of actually praying.
I will confess to you that I have turned prayer into a "duty" in many periods of my life. And even when I tried to become consistent about my daily prayer rule, I seemed to like the "rule" more than the "prayer." So my confessor gave me a new rule, something that I also had to do. (I've continued to use prescribed prayers. This has been added and is done separately.)
He told me that, each day I come into the church, I needed to open up the Scriptures, read the readings for the day, and then stand before the altar and be real before God. Say whatever I wanted. Say nothing. Confess. Petition. But just be real before God for a few minutes.
So this is my quest. It's not just about this rule of prayer but about reshaping myself by God's grace so that my relationships can find healing in every aspect—and this is a lifelong project, even for relationships that seem to be in pretty good shape.
There is a saying in Orthodox tradition which I love very much and which gives me comfort, and I think it applies very well in all this:
"Let us make a beginning."
We need to keep beginning, to keep going on new journeys, to keep seeking out the Spirit of Peace. Doing so will always earn disdain from the world, but we should remember that even those who heap disdain upon us are themselves hurting. They do that because they are in pain and are trying to get rid of their pain.
The best thing we can do for them is to stand before God and to ask Him who we truly are, to be real before Him, not to define others, but only to define ourselves. And in remaining connected with those around us, our change will offer them the same opportunity.
Thanks for reading all the way to the bottom. And say a prayer for me as I pray for you.
---
Want to know more?
I highly recommend the works of Edwin Friedman, especially the books that I mentioned. You can also read about some of the core concepts of Family Systems Theory at this link at the Bowen Center for the Study of the Family. Murray Bowen was one of the people who first developed FST.
As I said, I wouldn't say that FST is identical with Orthodox anthropology, and really, where it's correct, what it observes about human persons is really nothing new. The Church has known this stuff for centuries. But I find this to be a useful way of organizing these ideas, and I find FST to be rather not what so many might label "psycho-babble."
If you're interested especially in how this stuff applies to leadership, here's a great video that summarizes the ideas in A Failure of Nerve: