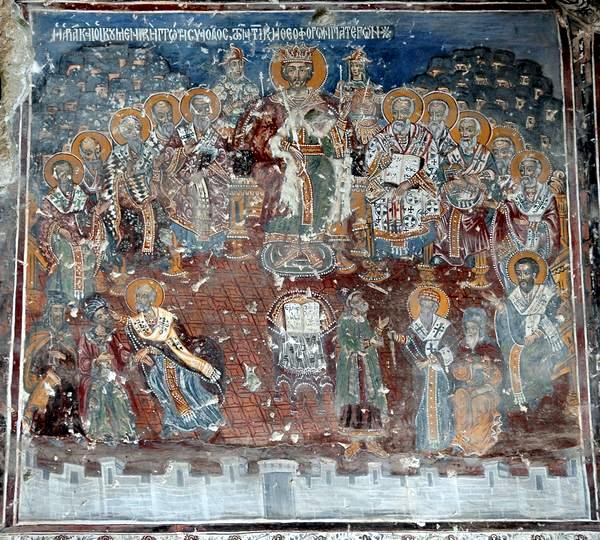 I recently posted the following on Facebook and thought I might put it here, as well:
I have sometimes seen the sentiment expressed that authentic Orthodoxy means everyone reads the Fathers (perhaps "graduating" out of everything else). But that's really a historical impossibility. Access to the writings of the Fathers for most people is a recent phenomenon that is only due, ironically, to the philological work of mainly Catholic and Protestant scholars.
I love the Fathers and refer to them often. I have quoted them in sermons and in most of my published writing. But even the Fathers have never dogmatized reading the Fathers. How could they? Most of them didn't even have access to the corpus that has only quite recently become available. And most of that corpus was not even written for public consumption but was often private letters and debates.
In terms of Christian instruction, most Orthodox Christians throughout most of history have only ever had access to the Scriptures as presented in the services, the services themselves, and whoever their local teachers were. Based on that reality, and given the premise that "everyone must read the Fathers in order to be truly Orthodox," we have to conclude that Orthodoxy is itself a recent invention.
Worse yet, it is an invention that is only available to a relative few people, since the Fathers are still not translated into most languages. And much still remains untranslated and therefore only accessible to readers of ancient Greek, Latin, Syriac, etc.
Although I do not believe in Sola Scriptura, I would be much more at ease if these people insisted that you had to quote the Scripture in order to be reliable. And they would therefore sound like the Fathers themselves, who quite often spoke in terms of authenticity being proved from the Scripture.
By all means, read the Fathers. Soak up their teachings. They are true and reliable guides and fathers in Christ. But don't turn them into idols.
---
Update: If, as several commenters here and there have indicated, your takeaway from this post is "Damick says you shouldn't read the Fathers" or "Damick says that the Fathers don't say you should read the Fathers" or "Damick says it's not important to read the Fathers," I respectfully suggest you very closely read the post again, especially the last paragraph.
But in case it's still not clear, I'll say this: Everyone who is capable of reading the Fathers and has access to them should read them as much as he can. They're awesome and super-edifying. If you need some suggestions about where to begin, I highly recommend the collection usually called The Apostolic Fathers. My personal favorite is St. Ignatius of Antioch. He's the best.
And if your takeaway is "Damick says that the Scripture and the Fathers and the divine services are opposed to each other" or "Damick says that the church services aren't patristic" or "Damick says that you don't get anything from the Fathers in the services" or any other permutation on changing definitions around to form some sort of "gotcha," I respectfully suggest that you are just making stuff up.
And if your takeaway is "Damick says you should just live the life of the Church, which means he's a clericalist" or "Damick thinks he's above criticism," I respectfully suggest that you need a new hobby.
And if you don't believe the claim that the Fathers quote Scripture far, far more than they quote other Fathers, well, all I can say is that I don't believe you've read the Fathers. You can pick almost any random patristic passage to prove it to yourself. The Fathers are obsessed with quoting the Scripture. They also sometimes quote other Fathers, but nowhere near as often.
Oh, and if your takeaway from that is "Damick says you should read the Scripture without the Fathers," then I really am starting to question whether you're actually reading what I wrote.
And finally, if you think that this post doesn't address anything that you actually think or say, well, what are you so worried about?
Another update: I've had a few folks ask exactly who it is I'm talking to or talking about with this post. It's not about anyone in particular, but even if it were, my purpose is to discuss ideas, not to call out anyone.