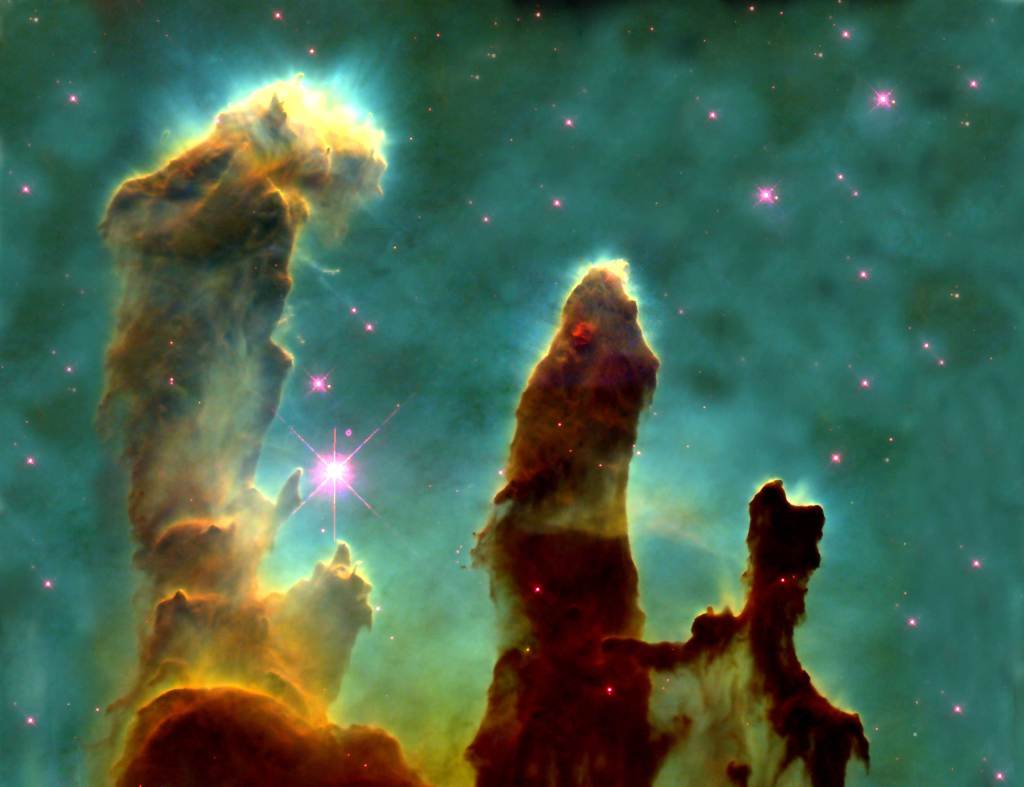 On page 20 of An Introduction to God appears this footnote:
Orthodoxy makes no definitive statement about exactly how God created the universe or in what amount of time. The important point is that He did create it ex nihilo, out of nothing.
The footnote is connected with this text: "In the beginning, God created the universe, including mankind, whom He placed at the center of the creation."
A reader recently spotted that footnote and sent me a three-page response to it, replying that it is indeed the teaching of the Church that the earth is young and that mankind is a special creation not involving evolutionary processes. Here's my reply:
A few things in response:

I did not actually write that footnote. It arose as a result of the editing process. I of course accepted it, so it's still my responsibility. But it wasn't in my original manuscripts.

That said, the point of the footnote is not to endorse evolutionary theory, but rather to explicitly reject opening up that particular can of worms. My personal opinion about how God happened to create the world is that He did it but I really don't know how. I have seen enough evidence of various kinds that I really do not know what to think about the "how." I do think there are more than two possible views here, though, especially since there is a lot more involved even in an old-earth creation model that has nothing to do with biological evolution. (I am thinking here of astronomical, geological, etc., issues.) And there is even the possibility for a view that says that most of biological creation evolved but that man himself was dropped into the creation without evolution. I do not know which (if any) of these views is true.

If the footnote had said "No one in Orthodoxy teaches ______," then I would not have accepted it. I very specifically had in mind the dogmatic pronouncements of the Church. And although one of the canons of the Quinisext Council may make reference to the Byzantine/Roman imperial year, I don't think that constitutes a dogmatic pronouncement on the age of the earth. If the Fathers of that council were intending to establish the age of the earth, then they would have said so.

All that said, I am wary of approaches to the Fathers that turn the consensus patrum into a kind of dogmatic canon. Consensus patrum is actually a Reformation idea, not an Orthodox one[*]. The Orthodox have always known where their dogma is stated, and it's not found by comparing the Fathers and trying to figure out where they agree. No, we have councils for that. (And we'd still need some authoritative body to do the comparisons!) That doesn't mean that the theology of the Fathers is worthless, of course, but it needs to be understood for what it is—many theological views from numerous different writers, not all of which are compatible with each other directly even while they may each be compatible with the dogmatic teaching of the Church. There has always been a distinction between dogma, doctrine and theology (something observed quite clearly by Florovsky), and while that distinction is not always sharply made, it is still there. This is what is meant by "definitive statement"—dogmatic teaching.

The Fathers that mention the age of the earth in their theological writings are not addressing the modern controversy specifically. They just assume the earth's age, so I'm not sure one can derive from that that this is their teaching. They relied on the science of their day (including things like Aristotle's categories, which is found in chapter III of The Fount of Knowledge by St. John of Damascus; is that an endorsement of Aristotle? I tend to think not). And like the Bible, the Fathers are not a science textbook. That means they probably get some things about it wrong.

You mention that the age of the earth was not a controversy and so it did not come up for dogmatic review. That may be true, but that doesn't mean that dogma is all merely incidental. Even the Creed is witness to that. Most of what's stated in it was not controversial at Nicea I and Constantinople I. Only a few clauses here and there are actually ad hoc for the controversies at hand, and its main text likely arose out of the use in baptism, not to address controversy. The Fathers of Nicea and Constantinople definitely intended to establish a normative dogmatic formulation, and most of what they put in it was not controversial. They did include something on creation, but they didn't mention the age of the earth.

Why? One can only speculate, I suppose, but let me speculate: One can observe in the dogmatic tradition of the Church the dedication to the soteriological motive, i.e., that all is concerned with our salvation. Is the age of the earth critical to our salvation? That is, if I believe the wrong thing about it, does that jeopardize the faith of the Church and therefore my own salvation? I am not convinced that it does. And the Church—even now aware of the controversy—does not seem in any hurry to define the age of the earth. We still have councils whose decisions are binding, and they're not ruling on this.

So I am comfortable being agnostic regarding the age of the Earth. God created everything, but I don't think it's that important exactly how He did it or how long it took. And it's really important that we understand that items that are not dogmatically defined really are open for differences of opinion. Orthodoxy is big enough and old enough to handle that and always has.

All that said, I do believe Adam was a real person, but I also believe he can be read allegorically at the same time. And on that, one final word here on some of the issues you bring up in passing, e.g., when did death come into creation, etc.: You are no doubt aware that Maximos the Confessor actually says that Adam fell from grace as he came into being (I can't recall the reference offhand, but it is in the Ambigua, I believe). Such a statement requires a rather non-literal reading of Genesis, and it also has a lot of implications for all this stuff.

Again, thank you for writing and for your concern. I hope that this has helped somewhat.
[*] A note on this, for clarification: Orthodoxy certainly has included the idea of a "consensus" of the Fathers, e.g., in the Vincentian Canon ("what has been believed everywhere, always and by all"). What I am specifically rejecting here is the idea that all you have to do to derive Orthodox dogma is compare the Fathers against each other and see where they agree. Even if that were an Orthodox methodology, there is still the gigantic problem of determining what "agree" means and even who "the Fathers" are.
Lots more on this here from Metropolitan Hilarion Alfeyev.