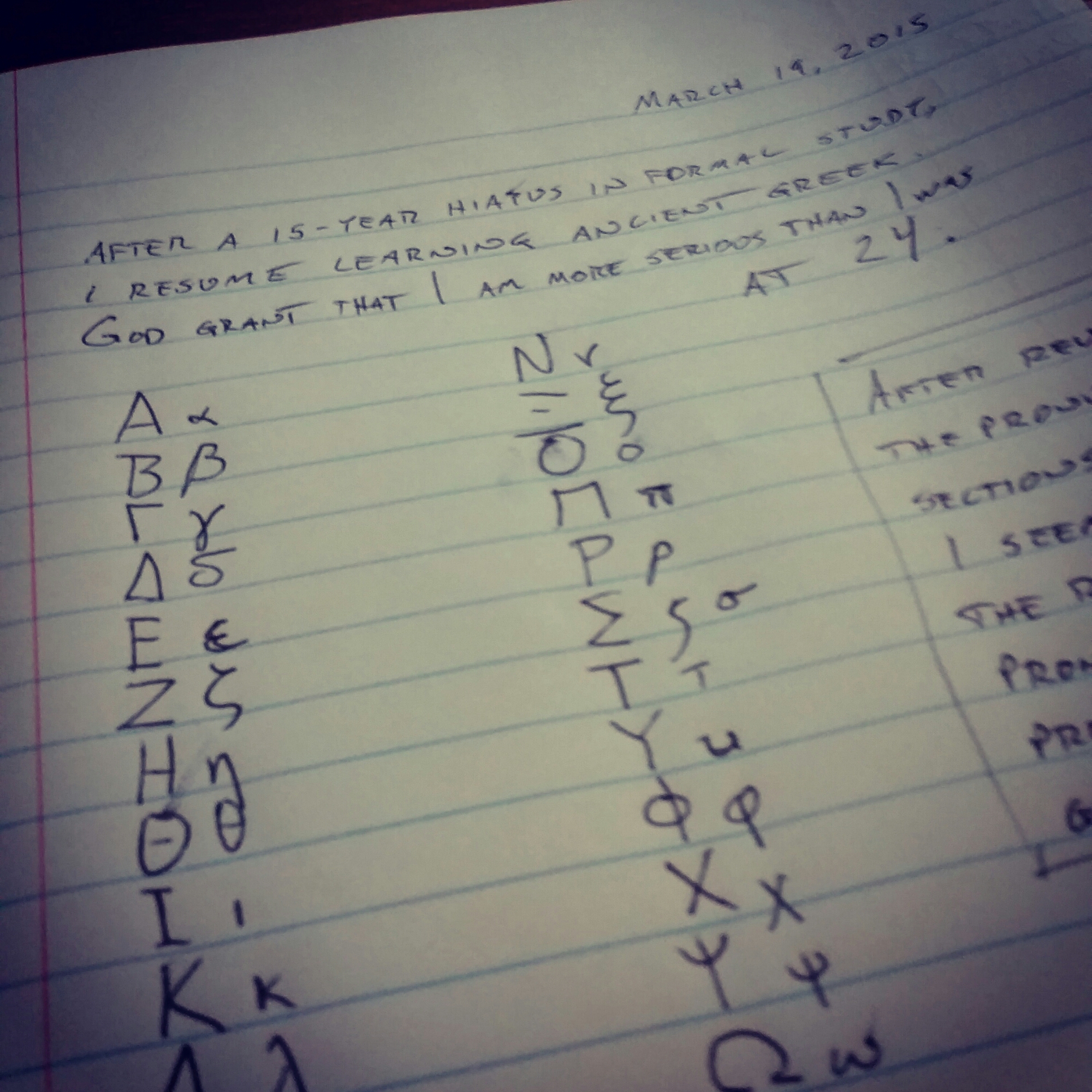 It's been fifteen years since I did formal study of Ancient Greek. I've been wanting to get back to it for a long time now.
So on the recommendation of learned friends, I got myself a copy of Greek: An Intensive Course by Hansen and Quinn. I also pulled out my two volumes of Athenaze by Balme and Lawall. (Old notes from 1999 fell out!)
I decided to keep a notebook (pictured above) to keep track of my progress, and while I've long had the alphabet memorized, it just seemed like the right thing to put on the first page.
I'm working on Classical Greek, since my purpose is to read Patristic Greek, which uses a literary form closer to Classical. I've had a "working knowledge" for a number of years, but I want to be able to read fluently.
I would like to say that it's all coming back to me, but, even though I minored in Ancient Greek in college, I never really mastered the "all" at the time, either.
That's okay, though, because the context is entirely different this time. I'm doing this just because I want to. And it also won't be in the midst of the weirdness that was my undergraduate years (which were somewhat extended, since I took a minimally full-time schedule while working nearly full-time). I do rather wish that it had been emphasized in my seminary years.
Then again, my time in seminary was just on the heels of the school attaining accreditation, which meant that lots of courses were added to meet the accreditation standards without simultaneously paring down the previous curriculum. And that meant, between required classes, required church services, required extra-curricular activities, required non-credit classes and practicums, and required special events, we were expected to be somewhere for about 60-70 hours a week. Oh, and homework. And maybe seeing our wives and kids. And some of my classmates even had jobs.
So now I remember why, even though I thought about it at the time, I wasn't interested in adding more to the workload, even something so laudable as Greek.
But now I'm feeling inspired.