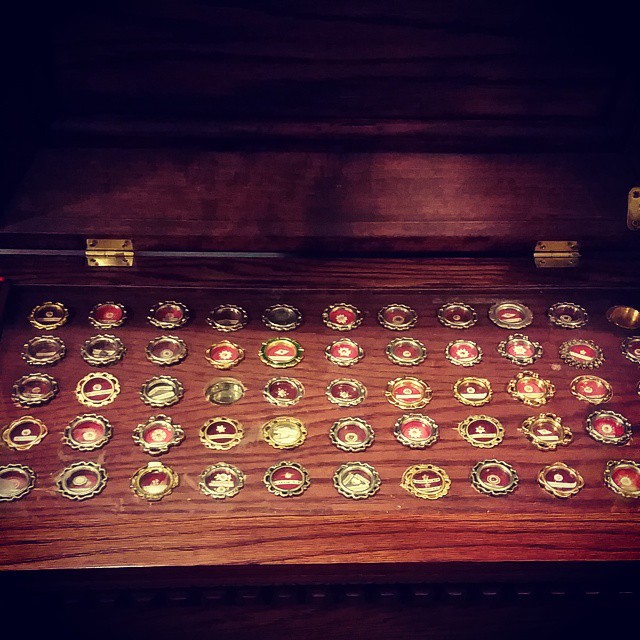 I spent the day yesterday at St. Tikhon's with some of my fellow clergy from the Lehigh Valley Orthodox Clergy Brotherhood, and we shared a beautiful day of brotherhood as guests of the monastery.
In one of our conversations, one of the priests was relating time he had spent with a holy elder in Greece (who is still living, though not in good health), Archimandrite Aimilianos (Vafeidis) of Simonopetra Monastery on Mount Athos. He told the story of a woman who came to him who was recently bereaved at her father's passing.
She asked the elder: "Geronda [Greek for 'elder'], may I pray to my father even though he is not a saint?"
Fr. Aimilianos replied: "Yes, of course, pray to him, and God will make him a saint for you."
First I should probably note here for my non-Orthodox and non-Catholic readers that "praying to saints" is not understood as being the same as prayer to God. "To pray" simply means "to ask." So, when we pray to saints, we are asking them something. And what are we asking? We are asking for their prayers, just as we ask for each other's prayers here in this life. So we Christians pray to one another all the time, actually. Orthodox and Roman Catholic Christians simply keep it up even when someone has departed this life.
What I wanted to highlight here is how the elder redirected this grieving woman so that she could retain the bond of love with her father rather than being hung up on what is "permitted," what is "official." This woman's father will probably never be canonized (though who knows?), but the elder is not speaking here of that. Instead, he was concerned with love, with the connection between a daughter and father, that it be maintained even across the boundary between this life and the next.
This does not mean that canonization (or "glorification") of saints is meaningless or should be discarded by the Church. Canonization has the purpose of establishing a Christian as a kanon ("measure") for other Christians, and it is canonization which makes formal the public inclusion of a Christian as part of the common prayer of the whole Church.
The priest who told us the story said that he was discussing the making of saints with the elder, and the elder began pointing at photographs of various holy people in his cell, none of whom had been canonized (some of whom later would be): "He's a saint. He's a saint. She's a saint."
The priest said that he wanted to ask him "Geronda, are you a saint?" But he did not ask, because he was scared to ask such a question. But he later imagined what the elder would have said: "I am if you need me to be."
This beautiful story reminded me that we can become so rigid in our thinking. We want things to be official, to be sanctioned, to be all systematized and tidy. But when we make that our primary desire, then we lose sight of what is the desire of God, "who desires all men to be saved and to come to the knowledge of the truth" (I Tim. 2:4).
Salvation does not come through systems. It comes through love and grace. If we "need" for someone to be a saint, God can make him so. The question of whether God truly shines in holiness in a particular person such that he can be canonized is an important one, but it is not as important as the question of what I will do with the grace that I have received through that person. In canonizing saints, the Church is not in the business of setting up a system of saints but of making salvation available to all through the saints. It is Jesus Christ Who is Himself our salvation.
There is space for systems, for rational schema, but they must serve our human need for salvation in Jesus. The Sabbath—a system with all its rules!—was made for man, not man for the Sabbath.
Even our dogma serves this same need. We who live so far removed from the formulation of most Christian dogma can tend to attach ourselves to particular formulations. There is nothing wrong with that in itself. We have a creed, after all. But we must remember that even those formulations were themselves often compromises of sorts (the famous homoousios of Nicea was suspicious at first even to Athanasius), designed precisely for the salvation of souls. We can compromise on words, but not on the salvific realities that those words participate in.
This is where the strength of the Church lies, in its unwavering desire and sole purpose that all should be saved.