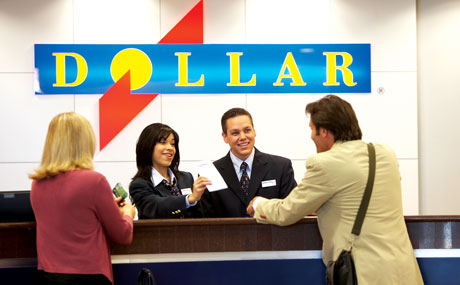 I offer up the following experience as a data point along the continuum into deeper inhumanity because of the too-big-to-care nature of much of corporate and government life in these latter days:
I recently had the misfortune of renting a car from Dollar Rent A Car at the Atlanta airport. The original estimate for the rental was $93.50 for three days' use. But in the end, I paid $233.28. I thought it might be a little more than the estimate, since I forgot my GPS device at home and asked to use one of theirs, but I was unprepared for a rate that was roughly 250% what had been estimated, though I had been prepared to get something ignominious like the screamingly red Kia they assigned me.
Somehow, I also signed for insurance and "roadsafe options," and the sales representative never once explained to me that those things were not actually required. Mind you, even though I asked questions and tried to understand all this (I am not a regular car renter), the sales representative's thick non-American accent made it hard to understand the monotone script that he no doubt had well memorized. (I do not blame him, of course, for the unavoidably degrading nature of his employ. Nor, of course, do I blame him for being from another country. I love people from other places, and I love other languages, but someone whose job it is to talk to people needs to be comprehensible to his customers.)
On top of all that, even though I knew that I was reserving a car for three days, when I returned it, I was actually only a little over 17 minutes past 48 hours' use. I sent a letter to Dollar explaining all this in a most irenic tone and not once demanding a refund (I was sure they had my signature on file for everything), but hoping that perhaps they might at least not count 17 minutes as 24 hours and give me a partial refund. I also told them that, based on my experience, I did not see myself renting from them again and would warn people off from doing business with them. This is what I got in return:
Dear Rev. Damick,

Thank you for notifying us of your recent experience with Dollar Rent A Car in Atlanta. We appreciate the opportunity to assist.

We have attached a copy of the final billing contract that we received from the location for your review. We are showing that LDW, the navigation unit and the roadsafe options we [sic; no doubt they meant "were"] accepted and signed for at the beginning of the rental. Due to this information all charges are done correctly and we are not showing a refund. Please let us know if you have any further questions.

Thank you once again, Rev. Damick, for taking the time to notify us of this situation. We look forward to serving you again soon at Dollar Rent A Car.

Sincerely,

[Name redacted – Fr. A]
Member Services Representative

Case ID: 2013018
I probably should have searched to discover that this is what I would likely get. It seems that "Refuse to adjust, relying on terms of agreement" is their S.O.P. Here's my response to that (slightly edited to fix some typos and grammatical mishaps):
I will essentially take this to mean "You signed for all this stuff, so even if we didn't really explain it to you, we have the legal upper hand, so no refund."

I'm not sure whether what I was attempting to communicate really got across, though. I was not actually demanding a refund, though it might have been a gesture of goodwill on your part to offer at least a partial one. I was sure after I realized what happened that I had indeed signed for all those things. I'm not accusing you of cheating me.

The problem, though, is that the process itself leaves almost no room for actually understanding what is being signed for, and your representative certainly did not explain these things to me, something that would perhaps be expected in the normal circumstance of a traveler renting a car after having gone through all the annoyance of air travel. That is the essence of my difficulty here.

Now, I have no doubt that you do enough business that people getting charged for things they signed for but didn't really understand does not particularly bother you. And especially since they signed, it probably doesn't have to bother you in any legal sense. But I do hope I might appeal not to your sense of legality here but rather of simple, basic courtesy and humanity (even if not morality). One would imagine you would want your customers to know exactly what they're buying and what they don't have to buy if they don't want to. I certainly didn't want to buy insurance or "roadsafe options" (I still don't even know what those are), but somehow I did anyway.

In any event, my purpose is not to come off as a pompous know-nothing who breezed through something without any care for the consequences. I asked your representative why all those charges were there, and whatever it was he said was incomprehensible to me, perhaps because the script he no doubt is required to read from is written that way and possibly that combined with his thick accent. In any event, the point is that one of your customers has walked away disappointed.

I am sure that you do not have to care, but I hope you might. We're human beings out here. Perhaps there are some in there, too. I hope so.
A shout into the darkness, I am sure, but one may as well say something and try to be civilized about it and even wax slightly philosophical. Caveat emptor, caveat lector.
Update: It looks like a problem quite similar to one of mine is actually the subject of a lawsuit against Dollar.