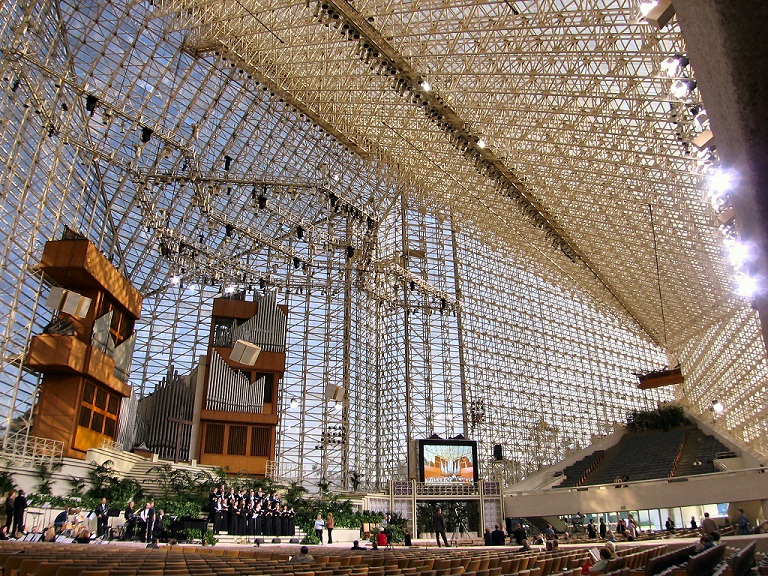 The following is essentially a piecing together of selections from a Facebook thread in which I participated today. The following quotation led off the discussion:
We have become fascinated by the idea of bigness, and we are quite convinced that if we can only 'stage' something really big before the world, we will shake it, and produce a mighty religious awakening. – D. Martin Lloyd-Jones, 1958
This response was given by a poster:
"Doing something big, for bigness sake is silly and egocentric… however we shouldn't fear something becoming something big…"
This was followed by a back-and-forth discussion. Here are my responses, more or less, stitched together and revised a bit:
I don't fear big. But I am deeply suspicious of it.
Why? "Big" almost always means systems and ideology, but rarely attention to persons. It is typically about marketing, not about communion. It almost always means vanity (though usually is not advanced enough for real pride), but almost never any humility. It is usually about control and not about freedom. That's why.
I am not talking only about church size, but about more than that, i.e., philosophy, politics, economy, architecture, education, etc. But even if we were talking solely about church size, a church designed to be big is automatically subject to all those problems. It is so prevalent one could almost assume that it's written down in some sort of mega-church mega-manual. But such things are by no means prevalent on the much smaller scale. Why? Because human beings can only truly know so many people. After one's communal capabilities are saturated, the only way to maintain things is through ideological and technocratic systems. Even the mega-churches at least sense this, which is why they do "small groups" to try to offset their technocratic leviathan.
Yes, some little church communities do indeed exert a kind of control over members, but that is rather the sectarian/cultic impulse, which is not really about the question of big/small or systematic/local, but rather of fierce personal loyalties. The fact that a mega-church cannot command such loyalties is precisely because of its inherent weakness—it is not about incarnational communion, but about marketed, corporatized consumption. Loyalty is created to a product, to programmes (which are a kind of product), not to persons.
If a mega-church is less susceptible to cultic-style control, it is essentially because it is a corporate entity that does not and cannot care. But it exerts a far more subtle and pernicious kind of control over its clients. It is one vast system, and if the mice wandering around in the maze do not realize they are in a maze, so much the better! The control here is essentially the control of the consumerist market, keeping consumers trapped in their own passions and desires. The rules it enforces are the demands of ideology and system—why do you think mega-churches need so many signs, ushers, automated check-ins for kids, etc.?
At least a little cult-like religious community still maintains the clear sense for its members that it is a set-apart elect. Members can more easily leave such a group, because all the control is usually focused into one or two people, and members may more easily have full social networks that are not comprised by the sect. And at least there is the possibility for repentance of the leadership. In a mega-church, if one head of the hydra is cut off, no one particularly questions the whole system. They just find another head to run the monster.
Loyalty should be only to Christ, not to personalities or religious products or programmes.
Yet "big" tends to lead in such directions almost without fail. "Small" actually quite rarely does. Very few small churches are cults of personality. But big ones quite often are, and they are more often (and sometimes simultaneously) cults of religious product.
It is telling that, in the early years of the Church, when congregations started becoming large enough that not everyone in the same city could easily join together for worship, the bishops began delegating their authority to presbyters to lead spin-off congregations.
And then when the faith was finally legalized in the early 4th c., there wasn't a sudden move to building gigantic church buildings so that the full Christian population of cities could recombine.
The general rule was always small and local, even when necessity did not require it. It was because of a theology of the Incarnation and the communion that it creates, something that simply cannot scale up indefinitely, because of the God-made limitations of human personhood.
A desire to scale up indefinitely is indicative of a defective theology of the Incarnation, usually one that is devoid of any ecclesiology. Church is conceived of not as communion, but as rock concert.
It is true, of course, that some 3,000 people were baptized into Christ on Pentecost. That's actually a fascinating and telling example, though—the Apostles were clearly perfectly capable of attracting a mass "rally" of sorts, but there's only one example of such a thing ever happening. This exception proves the rule.
It is one of the great (at least linguistic) ironies of modern American Christianity that it has become a mass religion—a massive religion about masses of people, but without any hint of the mass.
Ite, missa est.